PERAN BAITUL MAL WAT TAMWIL DALAM MENGIMPLEMENTASIKAN INKLUSI KEUANGAN BAGI MASYARAKAT PESISIR TUBAN: STUDY EKPLORATIF
Johan Johan

UIN Sunan Ampel

Mugiyati Mugiyati

UIN Sunan Ampel

Moh Arifin

STAI Al-Fithrah Surabaya

Sriwulan Sriwulan

Universitas PGRI Ronggolawe Tuban
Abstract
This study aims to determine the activities of BMT in implementing financial inclusion and how the role of BMT in realizing financial inclusion in the coastal community of Tuban. This research is a qualitative research with a phenomenological approach. The object of this research is BMT Surya Rahardja Tuban, with data collection techniques using interviews, observation and documentation. The analysis technique uses data grouping, reduction and elimination, filtering the eliminated data, and identifying data.Three mechanisms used by BMT Surya Rahardja in realizing financial inclusion are socialization, marketing strategy and roll play. To maximize its role as financial inclusion, BMT Surya Rahardja uses three ways namely door to door, market visit and open table. Surya Rahardja's BMT consistency in realizing the role of financial inclusion has been able to improve access to coastal communities in Tuban. The number of customers from BMT Surya Rahardja has increased in 2018 by 7,700 and in 2019 by 9,200. if in percentage, the total increase in customers consisting of savings and financing by 19%. The performance of the Surya Rahadja BMT as a non-bank Islamic financial inclusion is quite effective because from year to year the interest of the public to use financial services has increased. Key Words: BMT, Financial Inclusion, Society.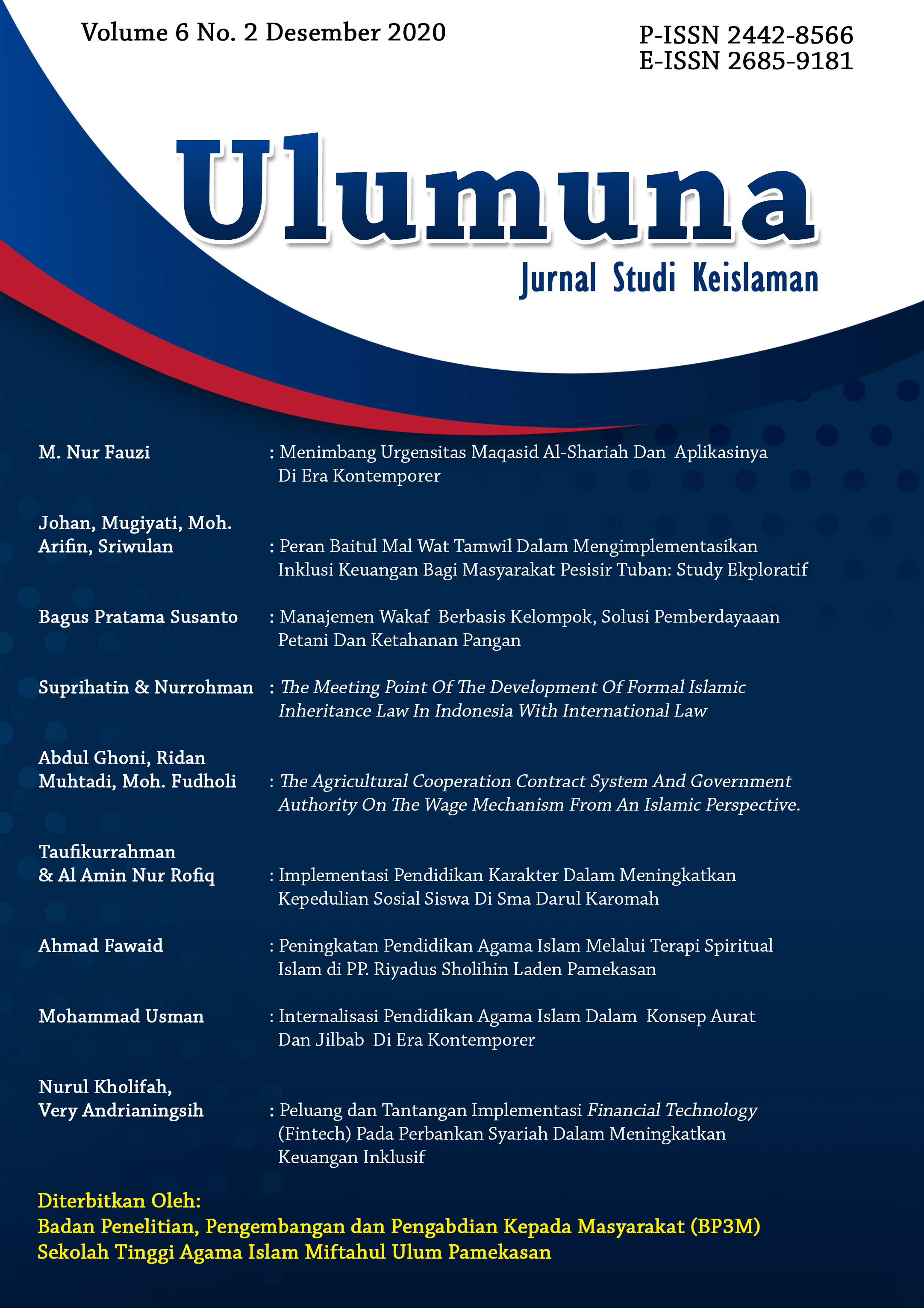 How to Cite
Johan, J., Mugiyati, M., Arifin, M., & Sriwulan, S. (2020, November 23). PERAN BAITUL MAL WAT TAMWIL DALAM MENGIMPLEMENTASIKAN INKLUSI KEUANGAN BAGI MASYARAKAT PESISIR TUBAN: STUDY EKPLORATIF. Ulumuna: Jurnal Studi Keislaman, 6(2), 183-198. Retrieved from http://ejournal.kopertais4.or.id/madura/index.php/ulumuna/article/view/4065
This work is licensed under a Creative Commons Attribution-ShareAlike 4.0 International License.
Jurnal ini terbuka untuk umun dan bisa digunakan untuk kepentingan ilmiah lainnya