IMPLEMENTASI PENDIDIKAN KARAKTER DALAM MENINGKATKAN KEPEDULIAN SOSIAL SISWA DI SMA DARUL KAROMAH
Taufikurrahman Taufikurrahman

Universitas Pembangunan Nasional "Veteran" Jatim

Al Amin Nur Rofiq

Universitas Islam Negeri Maulana Malik Ibrahim

Al Amin Nur Rofiq

Universitas Islam Negeri Maulana Malik Ibrahim
Abstract
Moral decadence has been rampant in world education so that it has become a blurry portrait in the world of education. The dire situation and condition of the nation's character has prompted the government to take the initiative to prioritize national character development. The cheapest in the 2005-2025 National Long-Term Development Plan, namely "the realization of a nation that is tough, competitive, has noble character, and morals based on Pancasila, which is characterized by the character and behavior of people and Indonesian society that are diverse, faithful and devoted to Almighty God. one, virtuous, tolerant, cooperative, potriotic, dynamic development, and oriented in science and technology. Therefore, the role of schools is very important in shaping the character of students. Through both intra and extra activities. Darul Karomah High School strives for character education in the process of this activity, the emphasis is so that students form character in increasing social awareness. This research uses a qualitative approach with the type of case study research. The research was conducted at Darul Karomah High School. The conclusion of this study states that: First, the implementation of character education in increasing students' social awareness is carried out through: moral knowledge such as Islamic education, sociology and Civics. Moral feeling through activities: Please help, clean together. Second, the strategy for implementing character education, through: curriculum, learning and habituation. Third, the implications of character education in increasing student awareness, among others. Attitude: Creating a good attitude. Behavior: Create good morals to both parents, teachers, friends and the community.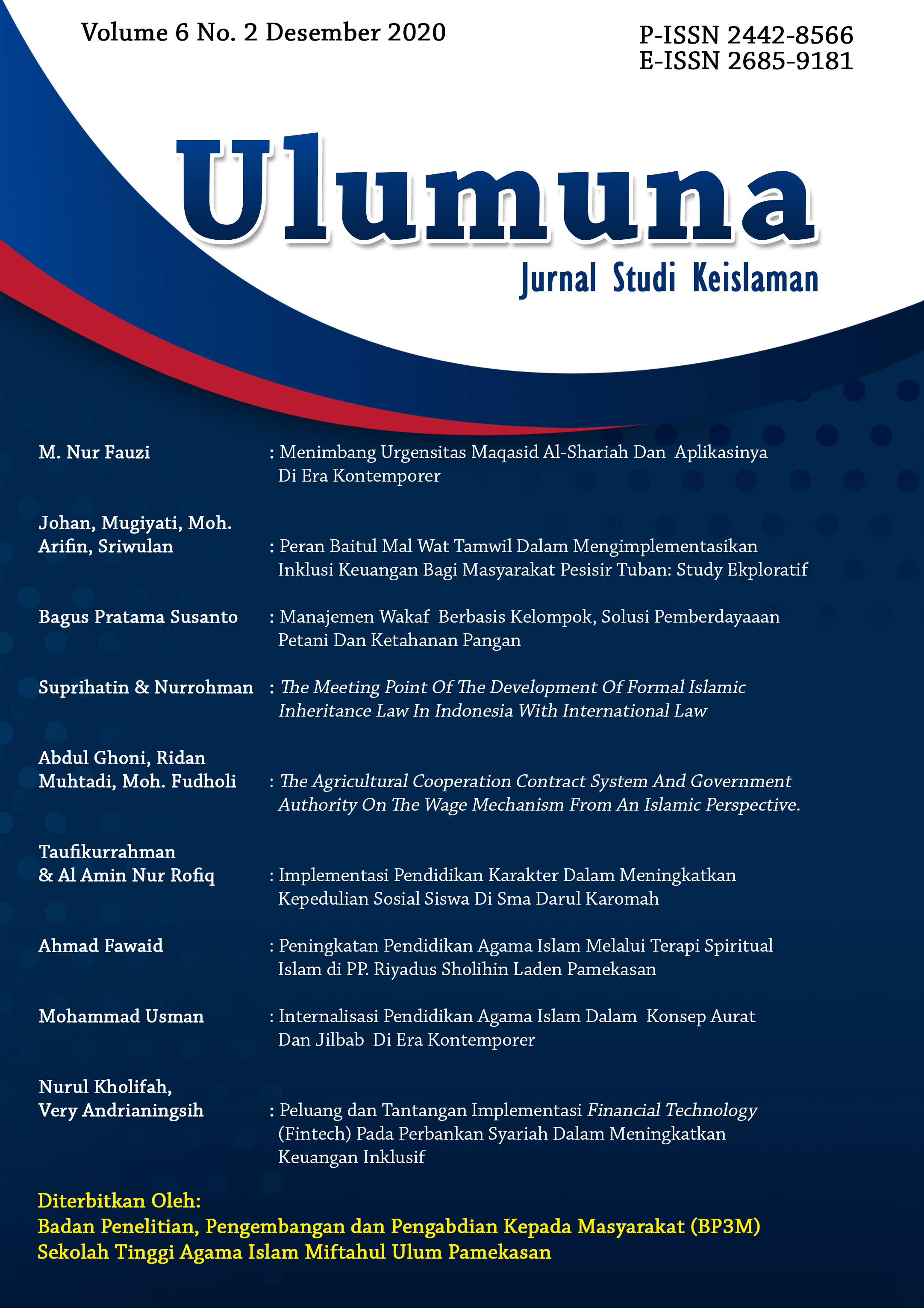 How to Cite
Taufikurrahman, T., Rofiq, A. A., & Rofiq, A. A. (2020, November 23). IMPLEMENTASI PENDIDIKAN KARAKTER DALAM MENINGKATKAN KEPEDULIAN SOSIAL SISWA DI SMA DARUL KAROMAH. Ulumuna: Jurnal Studi Keislaman, 6(2), 253-274. Retrieved from http://ejournal.kopertais4.or.id/madura/index.php/ulumuna/article/view/4112
This work is licensed under a Creative Commons Attribution-ShareAlike 4.0 International License.
Jurnal ini terbuka untuk umun dan bisa digunakan untuk kepentingan ilmiah lainnya