PELUANG DAN TANTANGAN IMPLEMENTASI FINANCIAL TECHNOLOGY (FINTECH) PADA PERBANKAN SYARIAH DALAM MENINGKATKAN KEUANGAN INKLUSIF
Nurul Kholifah

Very Andrianingsih

Program Studi Manajemen Fakultas Ekonomi dan Bisnis Universitas Wiraraja Madura
Abstract
The research was conducted at one of the existing Islamic bank in Sumenep district located on Jl. Trunojoyo No.137 Sumenep. Technological developments can be utilized to develop potential in all fields, one of which is financial technology in the field of Islamic banking. This financial technology has its own opportunities and challenges in achieving a goal both in terms of banks, customers and the government. This research aims to find out how the opportunities and challenges of implementing financial technology (fintech) in the BPRS Bhakti Sumekar Bank are related to improving financial inclusion in Sumenep. The sampling technique in this research uses purposive sampling and using data collection techniques, including observation, interviews, and documentation. The results of this research indicate that by utilizing technological developments especially financial technology can improve bank services for customers and reach the wider community. This convenience, it can attract the public to take advantage of services offered so that financial inclusion can increase.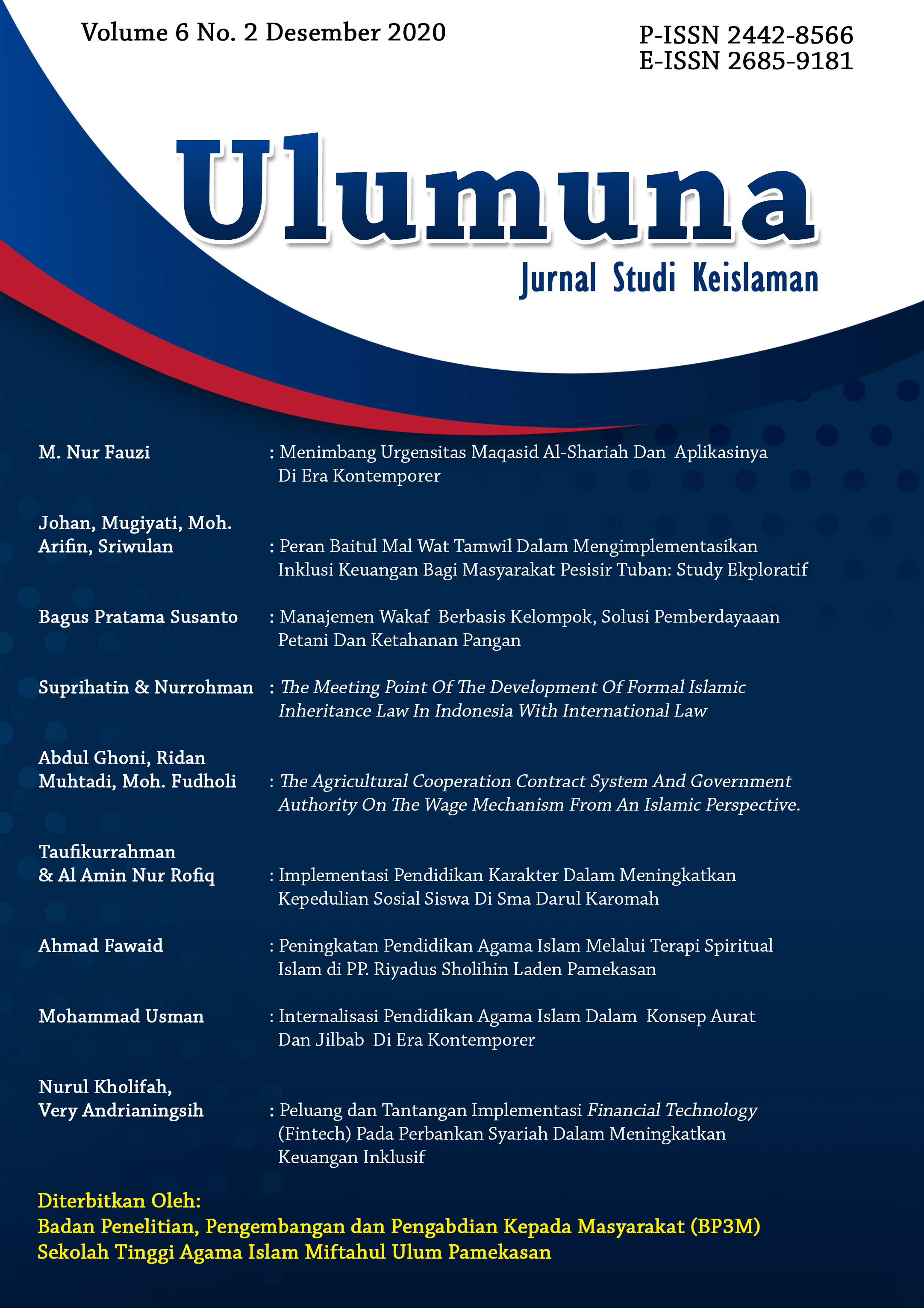 How to Cite
Kholifah, N., & Andrianingsih, V. (2020, November 25). PELUANG DAN TANTANGAN IMPLEMENTASI FINANCIAL TECHNOLOGY (FINTECH) PADA PERBANKAN SYARIAH DALAM MENINGKATKAN KEUANGAN INKLUSIF. Ulumuna: Jurnal Studi Keislaman, 6(2), 310-321. Retrieved from http://ejournal.kopertais4.or.id/madura/index.php/ulumuna/article/view/4116
This work is licensed under a Creative Commons Attribution-ShareAlike 4.0 International License.
Jurnal ini terbuka untuk umun dan bisa digunakan untuk kepentingan ilmiah lainnya