DINAMIKA KEPRIBADIAN PRESPEKTIF PSIKOLOGI ISLAM: TELAAH KRITIS PEMIKIRAN IBNU SINA
Abstract
The character of each and every individual really has its own uniqueness, as indicated by the human limit itself, lined up with the Qur'an's bayan in regards to character. This article is a subjective examination utilizing library research. Library research is a progression of exercises with the strategies for gathering library information, perusing, and overseeing research materials. In light of the consequences of the review, Ibn Sina's complete name was Abu ali al Husain container Abdullah receptacle al Hasan canister Ali receptacle Ibn Sina, Ibn Sina was brought into the world around the fourth century H. As per Ibn Sina the spirit is equivalent to the Soul. As per him the spirit is the underlying flawlessness, in light of the fact that with it the creature is culminated so it turns into a genuine individual. The Qur'an gives high concordance to human regard which is named "caliphate on the planet". Ibn Sina suggests 4 qualities in people; Subuiyyah, Bahimiyah, Syaitoniyah, and Rabbaniyah. Ibn Sina states that tension about death is the all inclusive quintessence of all infections mental problems, like despondency, fears, trouble, etc.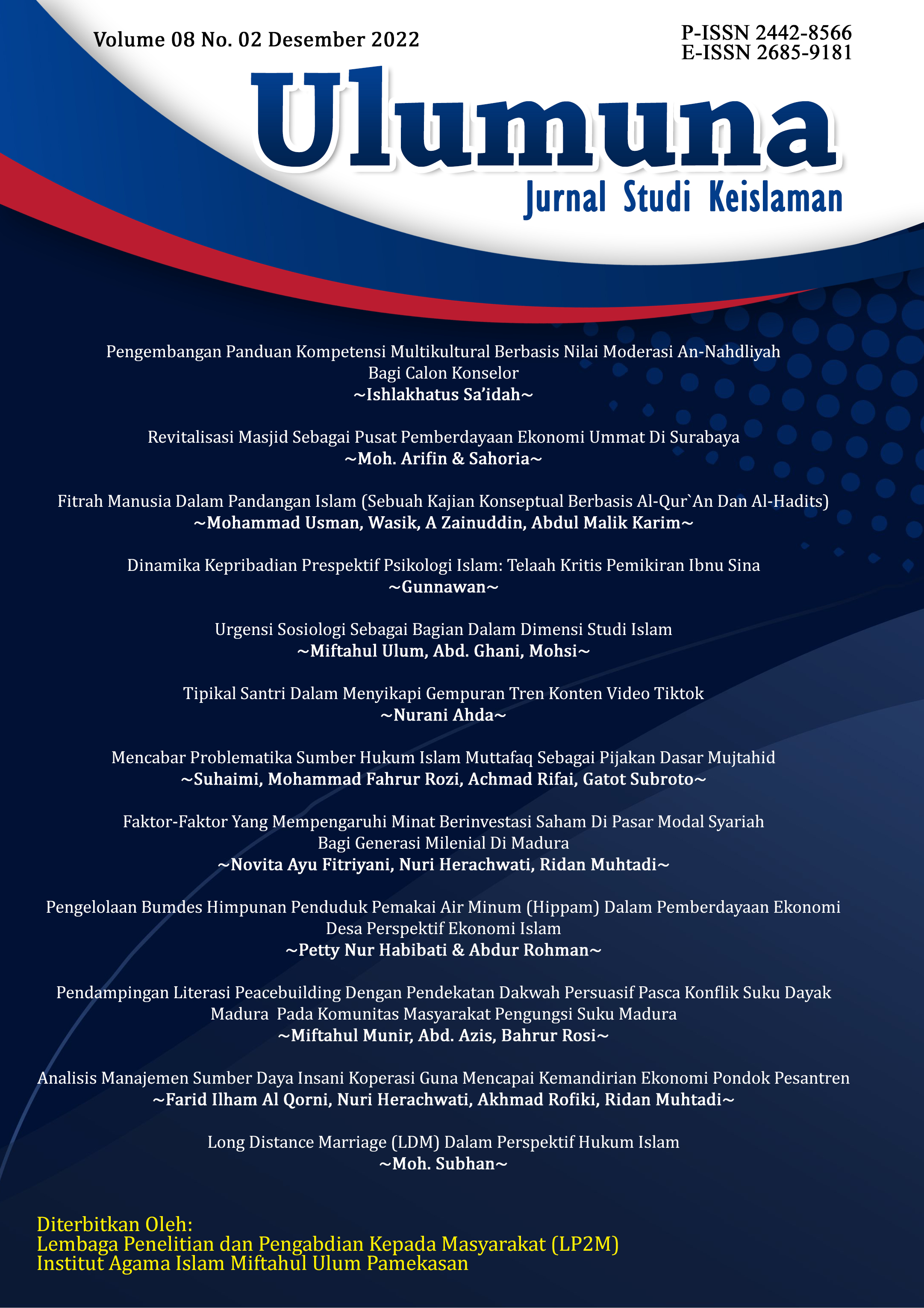 Downloads
How to Cite
Gunnawan, & Septiansyah, M. A. L. . (2022). DINAMIKA KEPRIBADIAN PRESPEKTIF PSIKOLOGI ISLAM: TELAAH KRITIS PEMIKIRAN IBNU SINA. Ulumuna: Jurnal Studi Keislaman, 8(2), 299–314. https://doi.org/10.36420/ju.v8i2.6134
License
Copyright (c) 2022 gunnawan
This work is licensed under a Creative Commons Attribution-ShareAlike 4.0 International License.
Jurnal ini terbuka untuk umun dan bisa digunakan untuk kepentingan ilmiah lainnya