OBLIGASI SYARI'AH (Analisi Normatif, Praksis dan Komparatif Perbankan Konvensional dan Perbankan Syariah)
moh sholeh

Sekolah Tinggi Agama Islam At-Tahdzib Jombang
Abstract
Obligation represent one of the monetary instrument which enough draw to investor circle in
capital market and or to company in getting fund for the development of company. Growth of
obligation product in Indonesia relative still compared to slowgoing growth of share product.
Since 1990, noted more than 23 company publishing obligation and only experiencing of
growth become 120 publisher of obligation until September month; moon 2003 with value
more than 45 triliun rupiah. Obligation represent letter owe from a[n company or institute
which selling to investor to get fresh fund. Investor will get return in the form of certain rate
of interest storey; level very depended varying strength of its publisher business. This rate
of interest can be paid fied or have ladder. In money market which have expanded better
form and obligation type can reach to flg even tens.
References
Departemen Pendidikan dan Kebudayaan, Kamus Besar Bahasa Indonesia, Jakarta:
Balai Pustaka, 1996.
Husnan, Suad. Dasar-dasar Teori Portofolio dan Analisis Sekuritas. Yogyakarta: UPP
AMP YKPN, 2005.
Huda, Nurul dan Mustafa Edwin Nasution. Investasi pada Pasar Modal Syariah.
Jakarta: Prenada Media, 2007.
Ichwan Sam (ed.) dkk. Himpunan Fatwa Dewan Syari'ah Nasional. Jakarta: DSN
MUI, 2006.
Jusmaliani (ed.). Investasi Syariah: Implementasi Konsep pada Kenyataan Empirik.
Yogyakarta: Kreasi Kencana, 2008.
Rahardjo, Sapto. Panduan Investasi Obligasi. Jakarta: PT Gramedia Pustaka Utama,
2003.
Rivai, Veithzal, dkk. Bank dan Financial Institution Management. Jakarta: PT
RajaGrafido Persada, 2007.
Sudarsono, Heri. Bank dan Lembaga Keuangan Syariah: Deskripsi dan Ilustrasi.
Yogyakarta: EKONISIA, 2004.
Sunariyah. Pengantar Pengetahuan Pasar Modal. Yogyakarta: UPP AMP YKPN,
2006.
Widjaja, Gunawan & Jono. Seri Pengetahuan Pasar Modal: Penerbitan Obligasi &
Peran Serta Tanggung Jawab Wali Amanat dalam Pasar Modal, Jakarta:
Prenada Media Group. 2006.
http://64.203.71.11/kompas-cetak/0306/04/fiansial/347914.htm (diakses
tanggal 17 Maret 2008).
http://www.mui.or.id/mui_in/product_2/fatwa.php?id=41&pg=2 (diakses
tanggal 17 Maret 2008).
http://www.kompas.com/read/xml/2008/06/17/14342185/ (diakses tanggal
22 Juni 2008 pukul 21.37).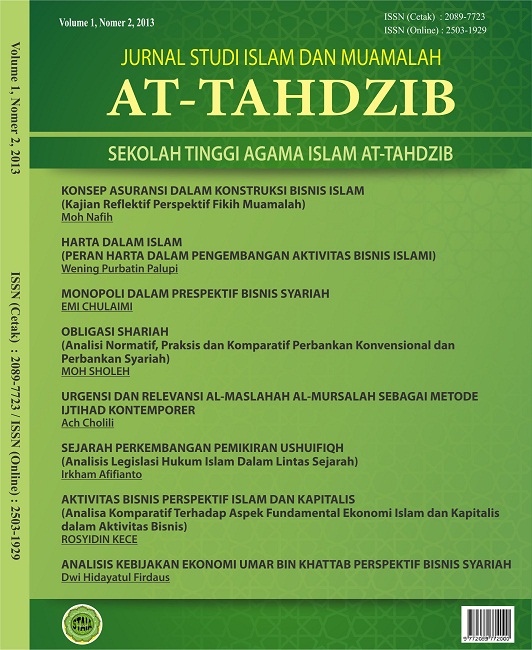 How to Cite
sholeh, moh. (2016). OBLIGASI SYARI'AH (Analisi Normatif, Praksis dan Komparatif Perbankan Konvensional dan Perbankan Syariah). At-Tahdzib: Jurnal Studi Islam Dan Muamalah, 1(2), 185-202. Retrieved from http://ejournal.kopertais4.or.id/mataraman/index.php/tahdzib/article/view/1166
Copyright (c) 2015 AT-Tahdzib: Jurnal Studi Islam
This work is licensed under a Creative Commons Attribution 4.0 International License.

Jurnal Studi Islam by At-Tahdzib is licensed under a Creative Commons Attribution 4.0 International License.
Based on a work at http://ejournal.kopertais4.or.id/mataraman/index.php/tahdzib