Fatwa Dan Demokrasi : Studi Terhadap Fatwa Majelis Ulama Indonesia (MUI)
Bustanul Arifin

Sekolah Tinggi Agama Islam At Tahdzib Jombang
Keywords:
Fatwa, Demokrasi, MUI
Abstract
Today, democracy is considered seriously threatened by the emergence of fatwasconsidered contrary to the democratic principles of the most fundamental, namely equality, freedom, and pluralism. MUI, accused of responsibility for the denial of the principles of freedom and pluralism. These include fatwa Fatwa on Ahmadiyya fatwa on pluralism, liberalism, and secularism, which received tremendous response by the Indonesian Muslim intellectuals. In the discourse of democracy at least MUI Fatwa has several implications, First, Implications MUI fatwa against democratic values ie equality values, values of freedom and values of pluralism a) fatwa related to the values of equality, contrary to the literal value of equality in a democracy. However, this edict gave legal certainty in the value equation to obtain the right protection and security. b) Fatwa related to the value of freedom, both in the perspective of social, political and cultural fatwa literally does not reflect the value of freedom, both freedom of religion, freedom of thought, freedom in politics, freedom madaniyah (live) and all forms of freedom that is essential to the truth . However, this edict is likely to want to show how a religion is a religion that is protected-Islam- Act, which should not be interpreted based on the assumption of small groups that do not comply with basic kaedah Islam, which is sourced Aqeedah Al-Quran and Hadith . c) MUI Fatwa related to Pluralism, Liberalism and Secularism, it literally does not reflect the values of pluralism in a democratic culture. Pluralism in the sense of a value system that sees the existence of pluralism in a positive and optimistic, and accept it as a reality and greatly appreciated. But it also shows that the fatwa MUI trying to protect Indonesian Muslims that do not necessarily take the thoughts that are considered not in line with Islam. Secondly, the MUI Fatwa related to motivation to citizen participation in the democratic culture of the Ahmadiyya fatwa and Pluralism, Liberalism and Secularism can lead to the emergence of religious intolerance among Muslims. This tends to make sense of intolerance Indonesian Muslims do not have a sense of trust toward others. Thus, it resulted in the involvement of Indonesian Muslims in civic organizations both religious and secular downward trend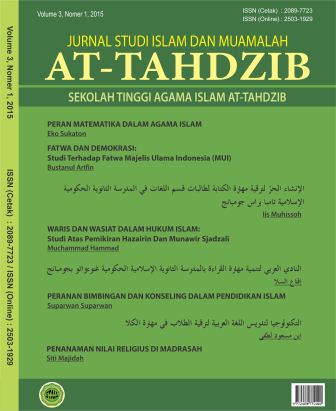 How to Cite
Arifin, B. (2015, November 18). Fatwa Dan Demokrasi : Studi Terhadap Fatwa Majelis Ulama Indonesia (MUI). At-Tahdzib: Jurnal Studi Islam Dan Muamalah, 3(1), 11-34. Retrieved from http://ejournal.kopertais4.or.id/mataraman/index.php/tahdzib/article/view/818
This work is licensed under a Creative Commons Attribution 4.0 International License.

Jurnal Studi Islam by At-Tahdzib is licensed under a Creative Commons Attribution 4.0 International License.
Based on a work at http://ejournal.kopertais4.or.id/mataraman/index.php/tahdzib