Mendamaikan Tradisi Muslim dan Ilmu Pengetahuan Modern
Kajian Eksploratif Pemikiran Nidhal Guessoum
Keywords:
Islam, Contemporary Science, Nidhal Guessoum
Abstract
This paper aims to find out the results of Nidhal Guessoum's thoughts on his studies on Islam and contemporary science issues contained in his book entitled "Islam's Quantum Question: Reconciling Muslim Tradition and Modern Science". Nidhal Guessoum's thoughts in the book, particularly in the Islamic section and contemporary science issues that can be understood through the four subsections he divides namely (1) Islam and Cosmology, which discuss Islam about the way one expresses his views freely; (2) Islam and the Rancanan Argument, which is about Islam and the arguments expressed by men such as about the law or social experience; (3) Islam and the Anthropic Principle, which deals with Islam and the revolution of human scientific thought, and (4) Islam and Evolution, which is to discuss Islam and the process of human evolution based on Darwin's theory.
References
Khoirudin, Azaki. "Nidhal Guessoum, Titisan Ibnu Rusyd di Dunia Kontemporer. IBTimes.ID (blog), 26 November 2019. https://ibtimes.id/nidhal-guessoum-titisan-ibnu-rusyd-di-dunia-kontemporer/
Abdullah, M. Amin. "Fundasi Filsafat Keilmuan Al-Islam Dan Kemuhammadiyahan Pendekatan Nilai, Visi, Strategi Dan Pembaharuan. "Prosiding Seminar Nasional Al-Islam Dan Kemuhammadiyahan "Prosiding Seminar Nasional Pendidikan Desain Pembelajaran Di Era Asean Economic Community (AEC) Untuk P (2017)
Baedhowi, B. "ISLAMOLOGI TERAPAN SEBAGAI GERBANG ANALOG PENGEMBANGAN ISLAMIC STUDIES: Kajian Eksploratif Pemikiran Mohammed Arkoun." Epistemé: Jurnal Pengembangan Ilmu Keislaman 12, no. 2 (2017)
Holilulloh, Andi. "THE ISLAMIZATION OF KNOWLEDGE : Telaah Pemikiran Nidhal Guessoum Dan Ismail Al-Faruqi Biografi Nidhal Guessoum Dan Ismail Al- Faruqi." Alfikr XVII (2020)
Ilyas Daud. "Islam Dan Sains Modern." Al-Muta'alliyah 4, no. I (2019)
M. Amin Abdullah. "Mendialogkan Nalar Agama Dan Sains Modern Di Tengah Pandemi Covid-19." Maarif 15, no. 1 (2020)
Mashuri, Ilham. "Pendekatan Sistem Dalam Teori Hukum Islam (Perspektif Jasser Auda)." FITRAH:Jurnal Kajian Ilmu-ilmu Keislaman 5, no. 1 (2020)
Purnamasari, Elvira. "Psikoterapi Dan Tasawuf Dalam Mengatasi Krisis Manusia Modern." El-Afkar: Jurnal Pemikiran Keislaman dan Tafsir Hadis 8, no. 2 (2019)
Solikhudin, Muhammad. "Rekonsiliasi Tradisi Muslim Dan Sains Modern Telaah Atas Buku Islam's Quantum Question Karya Nidhal Guessoum." Kontemplasi: Jurnal Ilmu-Ilmu Ushuluddin 4, no. 2 (2016).
Syafii, Ahmad. "Kritik Islam Atas Teori Evolusi Darwin." Hunafa 3 (2006)
Verdi, Hanifan. "Apakah Al-Quran Mengandung Mukjizat Sains." Insedia 2, no. 4 (2012)
Zain, Muhammad. "Menggagas Agama Baru Di Era Postmodernisme." Ulumuna 9, no. 2 (2017)
Zaprulkhan, Zaprulkhan. "Membangun Relasi Agama Dan Ilmu Pengetahuan." Kalam 7, no. 2 (2017)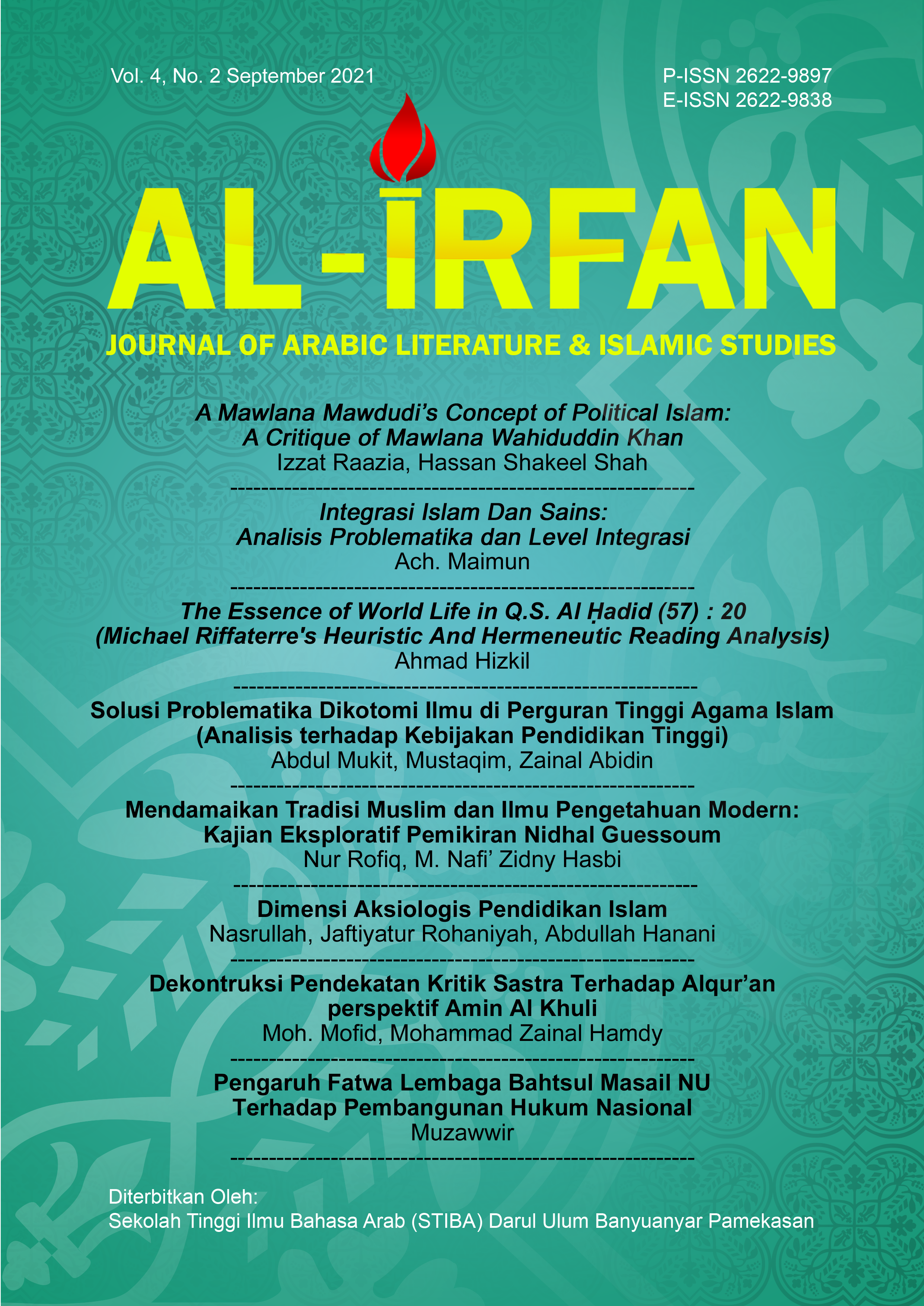 Downloads
License
Copyright (c) 2021 Nur Rofiq, M. Zidny Nafi Hasbi
This work is licensed under a Creative Commons Attribution 4.0 International License.