Cognitive Psychology of Islamic Perspective
(Critique of Modern Psychology Studies)
Keywords:
Cognitive Psychology, Perspective, Islamic
Abstract
Cognitive psychology is a psychological process that involves human knowledge. Islam has a unique view of humans from the cognitive realm, which contains God's instructions about the creation of humans. The study of human nature expressed or implied and offers problem-solving for the problems of human life. This research is a qualitative study. Data was collected through the literature review of Cognitive Psychology from an Islamic perspective. The research was conduct by collecting document studies from different research results, observations and interviews. Cognitive psychology in Islam does not only focus on the brain because the thought process also includes feelings, passions, and conscience. The study of cognitive psychology from an Islamic perspective presents the method of Islamization of knowledge and an effort to explore aspects of cognitive psychology in Islam. The Islamic perspective of cognitive psychology provides an alternative to the criticism of modern psychology, which breaks away from religious values.
References
Ali, Nuraliah. (2020). 'Measuring Religious Moderation Among Muslim Students at Public Colleges in Kalimantan Facing Disruption Era'. INFERENSI: Jurnal Penelitian Sosial Keagamaan 14 (1): 1–24. https://doi.org/10.18326/infsl3.v14i1.1-24.
Bengtsson, Mariette. (2016). 'How to Plan and Perform a Qualitative Study Using Content Analysis'. NursingPlus Open 2 (January): 8–14. https://doi.org/10.1016/j.npls.2016.01.001.
'Book Reviews : Managerial Psychology, by Harold J. Leavitt. Chicago: The University of Chicago Press, 1958. Pp. Xi + 335 - Wallace H. Best, 1959'. 1959. 1959. https://journals.sagepub.com/doi/abs/10.1177/001316445901900437?journalCode=epma.
Boshoff, C, and C D Pentz. (2010). 'In The Department Of Business Management At Stellenbosch University', 218.
Bostrom, Nick, and Anders Sandberg. 2009. 'Cognitive Enhancement: Methods, Ethics, Regulatory Challenges'. Science and Engineering Ethics 15 (3): 311–41. https://doi.org/10.1007/s11948-009-9142-5.
Chomsky, Noam. (1957). Syntactic Structures. The Hague: Mouton.
Ciarrochi, Joseph, Joseph P. Forgas, and John D. Mayer, eds. 2001. Emotional Intelligence in Everyday Life: A Scientific Inquiry. Philadelphia, PA: Psychology Press.
Emzir. (2010). Metodologi Penelitian Pendidikan Kuantitatif Dan Kualitatif. Jakarta: Rajawali Press.
Facebook, and Twitter. (2019). 'How Cognitive Psychology Explains the Science Behind Mental Processes'. Verywell Mind. 2019. https://www.verywellmind.com/cognitive-psychology-4157181.
Fernández-Berrocal, Pablo, and Natalio Extremera. 2013. 'Emotional Intelligence: A Theoretical and Empirical Review of Its First 15 Years of History', 7.
Greenfield, Thomas, and Peter Ribbins. 2015. 'Greenfield on Educational Administration: Towards a Humane Science', 295.
Herrington, Luke M. (2013). 'Globalization and Religion in Historical Perspective: A Paradoxical Relationship'. Religions 4 (1): 145–65. https://doi.org/10.3390/rel4010145.
Jahanbakhsh, Forough. (2019). 'Islam, Democracy and Religious Modernism Ln Iran (1953-1997): Frûm Bàzargxn to Soroush', 329.
Lees, Robert B. (1957). Review of Review of Syntactic Structures, by Noam Chomsky. Language 33 (3): 375–408. https://doi.org/10.2307/411160.
Litowitz, Douglas E. (1997). 'Postmodern Philosophy and Legal Thought', 361.
Lu, Zhong-Lin, and Barbara Anne Dosher. 2007. 'Cognitive Psychology'. Scholarpedia 2 (8): 2769. https://doi.org/10.4249/scholarpedia.2769.
Matthew, B. Miles. (1992). 'Analisis Data Kualitatif : Buku Sumber Tentang Metode Metode Baru / Matthew B. Miles, A. Michael Huberman ; Penerjemah, Tjetjep Rohendi ; Pendamping, Mulyarto | OPAC Perpustakaan Nasional RI.' 1992. https://opac.perpusnas.go.id/DetailOpac.aspx?id=298242.
Mohd Nasir Masroom, Siti Norlina Muhamad, and Siti A'isyah Panatik @ Abd Rahman. (2017). 'The Influence of Iman, Islam and Ihsan towards the Self Well-Being'. Jurnal Hadhari 9 (1): 63–74.
Moleong, Lexy J. (2011). Metodologi Penelitian Kualitatif. Bandung: Remaja Rosda Karya.
Muhaimin, AG. (2001). Islam Dalam Bingkai Budaya Lokal Potret Dari Cirebon. Jakarta: Logos.
Nehlig, Astrid. (2010). 'Is Caffeine a Cognitive Enhancer?' Journal of Alzheimer's Disease: JAD 20 Suppl 1: S85-94. https://doi.org/10.3233/JAD-2010-091315.
Nielson, N. (usda, Y. Lu, and P. Colling. 1992. 'Food Consumption Trends in the Pacific Rim: Expanded Opportunities for U.S. Agriculture'. Journal of International Food and Agribusiness Marketing (USA). https://agris.fao.org/agris-search/search.do?recordID=US9324228.
Niosi, Andrea. 2013. 'The Perceptual Process'. https://kpu.pressbooks.pub/introconsumerbehaviour/chapter/the-perceptual-process/.
Pellegrino, James, and Margaret Hilton. 2012. 'Education for Life and Work: Developing Transferable Knowledge and Skills in the 21st Century', January.
Petersson, K. M., A. Reis, S. Askelöf, A. Castro-Caldas, and M. Ingvar. 2000. 'Language Processing Modulated by Literacy: A Network Analysis of Verbal Repetition in Literate and Illiterate Subjects'. Journal of Cognitive Neuroscience 12 (3): 364–82. https://doi.org/10.1162/089892900562147.
'Piaget Stages of Development: What Are They and How Are They Used?' 2018. Healthline. 27 March 2018. https://www.healthline.com/health/piaget-stages-of-development.
Pontoh, Dr Winston. (2016). 'Staff Editorial Jurnal Accountability' 5 (2): 273.
Stangor, Dr Charles. (2014). 'The Cognitive Self: The Self-Concept', September. https://opentextbc.ca/socialpsychology/chapter/the-cognitive-self-the-self-concept/.
Sternberg, Robert J. (2017). 'American College Journal of English Language and Literature', 147.
Sutton, Jane, and Zubin Austin. (2015). 'Qualitative Research: Data Collection, Analysis, and Management'.The Canadian Journal of Hospital Pharmacy 68 (3): 226–31.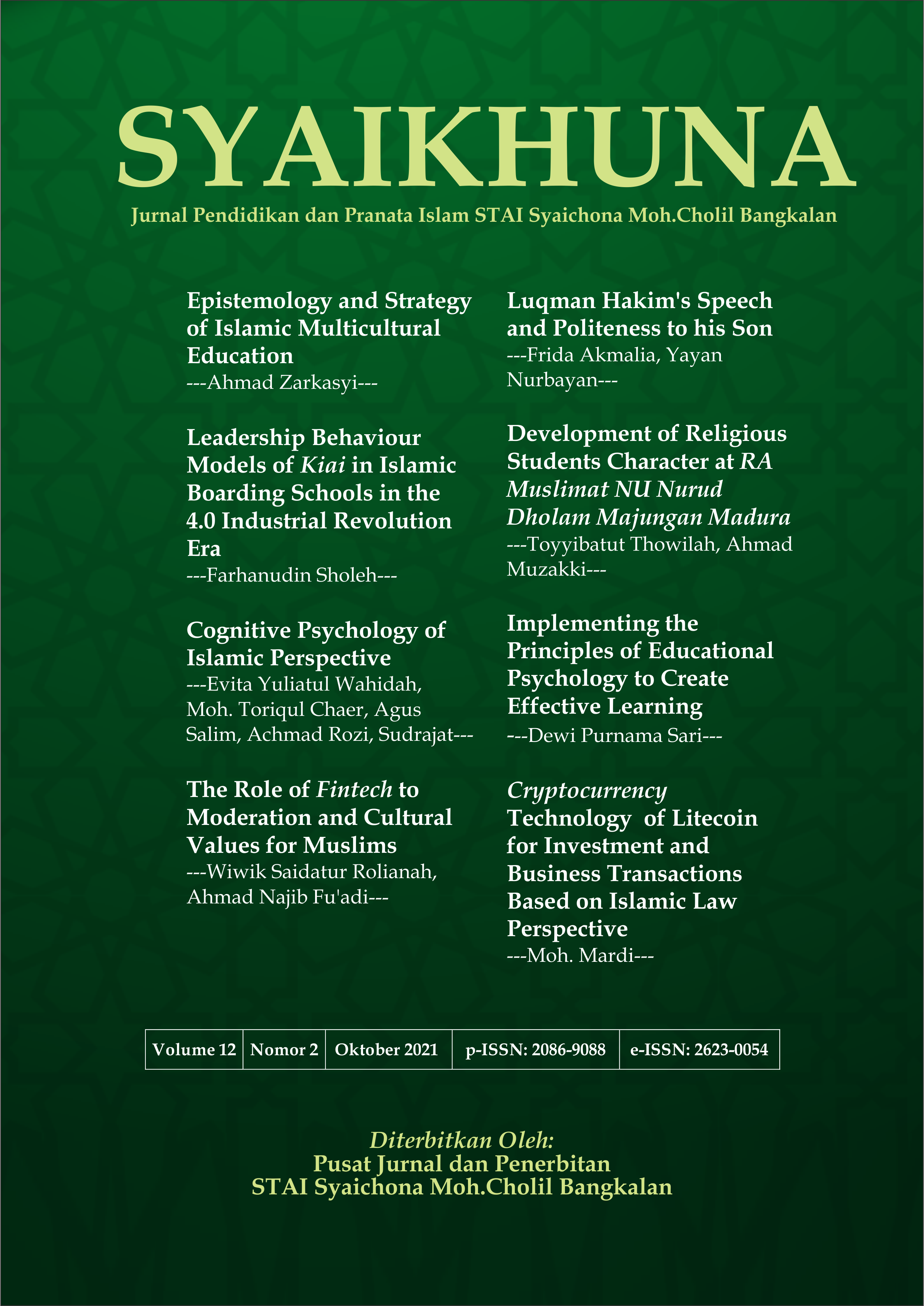 Downloads
How to Cite
Chaer, M. T., Wahidah, E. Y. ., Salim, A. ., & Rozi, A. . (2021). Cognitive Psychology of Islamic Perspective : (Critique of Modern Psychology Studies). Syaikhuna: Jurnal Pendidikan Dan Pranata Islam, 12(2), 134–147. https://doi.org/10.36835/syaikhuna.v12i2.4624
License
Copyright (c) 2021 Moh. Toriqul Chaer, Evita Yuliatul Wahidah, Agus Salim, Achmad Rozi
This work is licensed under a Creative Commons Attribution 4.0 International License.