Epistemology and Strategy of Multicultural Islamic Education
Keywords:
Epistemology, strategy, Islamic education, multicultural
Abstract
Artikel ini bertujuan untuk mengkaji epistemologi dan strategi pendidikan Islam multikultural. Penelitian ini merupakan penelitian studi kasus kualitatif. Metode pengumpulan data yang digunakan adalah dokumentasi. Analisis data menggunakan model Miles dan Huberman, meliputi reduksi data, penyajian, dan verifikasi. Kami memeriksa keabsahan data menggunakan triangulasi sumber. Hasil penelitian menunjukkan bahwa tujuan dilaksanakannya upaya pendidikan agama berwawasan multikultural adalah untuk menciptakan pemahaman beragama yang humanis, inklusif, dan penuh toleransi serta saling menghormati antar pemeluk agama lain. Dengan demikian, dari upaya tersebut, kerukunan dan kedamaian akan terwujud dalam kehidupan masyarakat dengan cita-cita dan tujuan esensial dari ajaran universal agama.
References
Abbott, Andrew. (2008). "Library Research and Its Infrastructure in the Twentieth Century Windsor Lecture University of Illinois," 1–27.
Abdurrahmansyah, Abdurrahmansyah. (2017). "Pendidikan Multikultural Dalam Desain Kurikulum Dan Pembelajaran Keagamaan Islam." Madania: Jurnal Kajian Keislaman 21 (1): 79. https://doi.org/10.29300/madania.v21i1.251.
Asrori, Mohammad. (2008). "Dinamika Pendidikan Islam." El-HARAKAH 10 (1): 1–197.
Bahri, Saiful. (2020). "Multicultural Education In Islamic Education Philosophy Perspective." Istawa : Jurnal Pendidikan Islam 5 (2): 239. https://doi.org/10.24269/ijpi.v5i2.2891.
Elhefni, Elhefni, and Apri Wahyudi. (2017). "Strategi Pengembangan Pendidikan Multikultural Di Indonesia." Elementary: Jurnal Ilmiah Pendidikan Dasar 3 (1): 53. https://doi.org/10.32332/elementary.v3i1.800.
Fauzi, Ahmad. (2018). "Paradigma Pendidikan Islam Multikultural Di Era Melenial; Sebuah Kajian Diskurtif." Edureligia; Jurnal Pendidikan Agama Islam 2 (1): 1–10. https://doi.org/10.33650/edureligia.v2i1.752.
Istiqomah, Nur Asih, Migfar Rivadah, Mohamad Nizar Potabuga, and Arif Rahman. (2020). "Strategi Dan Peluang Pembelajaran Pai Berbasis Multikultural," 291–301.
Kurniyati, Ety. (2020). "East African Scholars Journal of Education, Humanities and Literature The Urgency of Multicultural Education to Islamic Learning in Schools" 7250: 162–68. https://doi.org/10.36349/EASJEHL.2020.v03i05.022.
Latif, Muhaemin. (2016). "MULTICULTURAL EDUCATION IN ISLAMIC BOARDING SCHOOL (A Descriptive Study of Pesantren DDI Mangkoso, South Sulawesi) Muhaemin." Journal JICSA 05 (02).
Mahsun, Murzal. (2019). "Nilai Multikultural Dalam Pembelajaran Pendidikan Agama Islam (PAI) Di Sekolah: Studi Terhadap Upaya Membina Karakter Siswa Di SMKN 1 Gerung." Jurnal Penelitian Keislaman 15 (1): 66–83. https://doi.org/10.20414/jpk.v15i1.1103.
Malliari, A, and A Togia. (2016). "An Analysis of Research Strategies of Articles Published in Library Science Journals: The Example of Library and Information Science Research." Qualitative and Quantitative Methods in Libraries (QQML) 5: 805–18.
Mu'minin, Amirul. (2019). "Konsep Dasar Epistemologi Pendidikan Multikultural Dalam Islam Zainun." Jurnal At-Tarbiyat : Pendidikan Islam 1 (2). https://doi.org/10.30649/fisheries.v1i2.23.
Muliadi, Erlan. (1970). "Urgensi Pembelajaran Pendidikan Agama Islam Berbasis Multikultural Di Sekolah." Jurnal Pendidikan Islam 1 (1): 55. https://doi.org/10.14421/jpi.2011.11.55-68.
Mulyono, Mulyono. (2019). "Pembelajaran Pendidikan Agama Islam Berbasis Multikultural." El-Wasathiya 7 (1): 1–18. https://core.ac.uk/download/pdf/266978017.pdf.
Nugroho, Muhammad Aji. (2016). "Pendidikan Islam Berwawasan Multikultural; Sebuah Upaya Membangun Pemahaman Keberagamaan Inklusif Pada Umat Muslim." MUDARRISA: Jurnal Kajian Pendidikan Islam 8 (1): 31–60. https://doi.org/10.18326/mdr.v8i1.31-60.
Rofi, Zaenuri. (2018). "The Implementation of Islamic Education in Shaping Tolerant Characters in Multicultural Perspective." Attarbiyah: Journal of Islamic Culture and Education 3 (1): 86–108. https://doi.org/10.18326/attarbiyah.v3i1.86-108.
Rosyad, A M. (2020). "The Integration of Islamic Education and Multicultural Education in Indonesia." Al-Afkar, Journal For Islamic Studies 3 (1): 164–81. https://al-afkar.com/index.php/Afkar_Journal/article/view/87.
Rosyad, Ali Miftakhu. (2019). "Implementasi Nilai-Nilai Multikulturalisme Melalui Pembelajaran Pendidikan Agama Islam." Risalah: Jurnal Pendidikan Dan Studi Islam 5 (1): 1–18. https://doi.org/10.5281/zenodo.3550530.
Sari, Milya, and Asmendri. (2018). "Metode Penelitian Kepustakaan (Library Research)." Penelitian Kepustakaan (Library Research) Dalam Penelitian Pendidikan IPA 2 (1): 15. https://ejournal.uinib.ac.id/jurnal/index.php/naturalscience/article/view/1555/1159.
Tang, Muhammad, Yaqub Cikusin, and Djunaedy Ghony. 2018. "The Value Orientation of Multicultural Islamic Education in the Sipakatau Culture." International Journal on Advanced Science, Education, and Religion 1 (3): 17–29. https://doi.org/10.33648/ijoaser.v1i3.17.
Tedi Priatna, Payiz Zawahir Muntaha, Nurhamzah. (2019). "Vision of Multicultural Islamic Education Paradigm in Indonesia." American Journal of Humanities and Social Sciences Research (AJHSSR), no. November.
Thoyib, Muhammad. (2020). "The Management of Multicultural Resolution on Post- Transnationalism of Indonesian Islamic Education: Challenges for the Future." Cendekia: Jurnal Kependidikan Dan Kemasyarakatan 18 (2): 231–47. https://doi.org/10.21154/cendekia.v18i2.1901.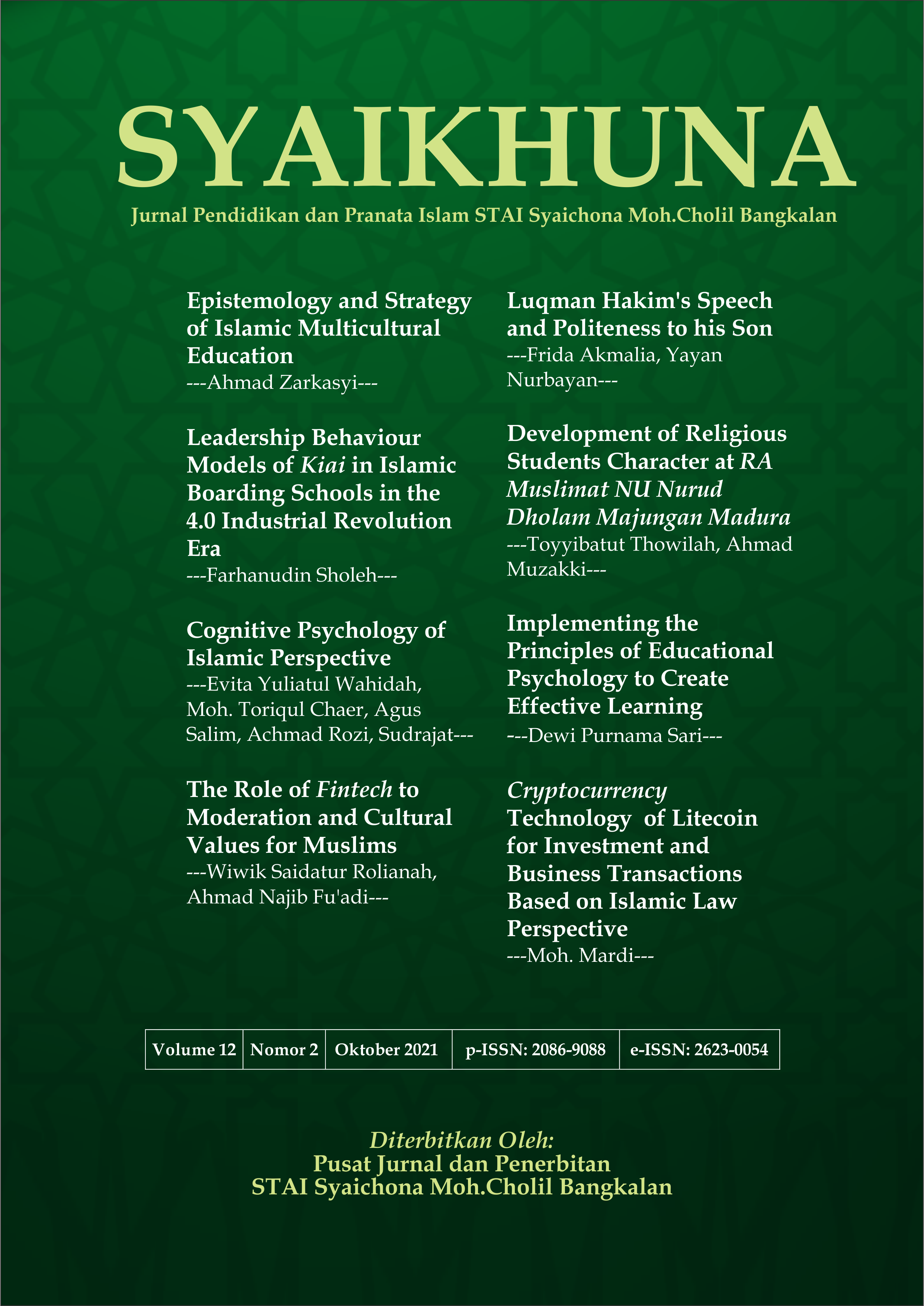 Downloads
How to Cite
Zarkasyi, A. (2021). Epistemology and Strategy of Multicultural Islamic Education. Syaikhuna: Jurnal Pendidikan Dan Pranata Islam, 12(2), 114–122. https://doi.org/10.36835/syaikhuna.v12i2.5116
License
Copyright (c) 2021 Ahmad Zarkasyi
This work is licensed under a Creative Commons Attribution 4.0 International License.