Analysis Juridical: Collaboration of Pesantren-Regional Governments in Education and Community Empowerment Functions
Keywords:
Islamic boarding school, local Government, education, community empowerment
Abstract
The role of Islamic boarding schools in community empowerment education is substantially clearly directed to establishing communication between the pesantren and the surrounding community. This research is a library research study. The processing of this research is more directed at analyzing or processing data that is descriptive, philosophical, and theoretical. The research analysis results conclude that Law Number 18 of 2019 and Presidential Regulation number 82 regulate community cooperation and participation. Collaboration can be carried out by Islamic boarding schools with other national and international institutions. Such partnership is carried out, among others, in the form of student exchanges, competitions, education system, curriculum, funding assistance, training, capacity building, and other forms of cooperation. It is carried out under the provisions of laws and regulations that Islamic boarding schools have been recognized as part of the system—of Indonesian education.
References
Abbott, Andrew. 2008. "Library Research and Its Infrastructure in the Twentieth Century Windsor Lecture University of Illinois," 1–27.
Ariatin, Adrian, Wawan Dhewanto, and Oktofa Yudha Sudrajad. 2022. "Business Model in Islamic Business Unit: A Lesson from Islamic Boarding Schools in West Java." International Journal of Applied Business Research 2022 (1): 32–49. https://doi.org/10.35313/ijabr.v4i1.193.
Arisandi, Dedy, Romi Fadillah Rahmat, Seniman, and Sawaluddin. 2021. "Financial Management Efficiency of Islamic Boarding School Based on Information Technology." ABDIMAS TALENTA: Jurnal Pengabdian Kepada Masyarakat 6 (1): 52–59. https://doi.org/10.32734/abdimastalenta.v6i1.5107.
Asád, Ali, Purwanto Purwanto, and Yusup Rohmadi. 2021. "The Development Of Financial Management In Islamic Boarding School At Jepara Indonesia." Psychology and Education 58 (2): 7308–14.
Assa'idi, Sa'dullah. 2021. "The Growth of Pesantren in Indonesia as the Islamic Venue and Social Class Status of Santri." Eurasian Journal of Educational Research 2021 (93): 425–40. https://doi.org/10.14689/EJER.2021.93.21.
Azizah, Siti, Umi Wisapti Ningsih, and Irfan H Djunaidi. 2020. "Asset Mapping as a Base for Traditional Islamic Boarding School (Pesantren) Sheep Farming Development in Ngawonggo Village, Malang Regency, Indonesia." Technium: Romanian Journal of Applied Sciences and Technology 2 (7): 190–200. https://doi.org/10.47577/technium.v2i7.1715.
Dervis, Baris. 2013. "Library Research Method." Journal of Chemical Information and Modeling 53 (9): 1689–99.
Fathurrochman, Irwan, Dina Hajja Ristianti, and Mohamad Aziz Shah bin Mohamed Arif. 2020. "Revitalization of Islamic Boarding School Management to Foster the Spirit of Islamic Moderation in Indonesia." Jurnal Pendidikan Islam 8 (2): 239–58. https://doi.org/10.14421/jpi.2019.82.239-258.
Hardianto, Hardianto. 2019. "Reposition of Historical Pesantren, Madrasah and Integrated Islamic School." Edumaspul: Jurnal Pendidikan 3 (2): 75–86. https://doi.org/10.33487/edumaspul.v3i2.106.
Ijah, Titin, Totok Sumaryanto Florentinus, and I Made Sudana. 2021. "The Quality Assurance of Islamic Boarding School Based on Total Quality Management ( TQM )." Educational Management 10 (1): 42–49.
Indah, Ariski Nuril, Isna Niah, and Muhammad Khairul Rijal. 2018. "Tantangan Dan Solusi Bagi Madrasah Dan Pesantren Dalam Menghadapi Era Globalisasi." Tarbiyah Wa Ta'lim: Jurnal Penelitian Pendidikan Dan Pembelajaran 5 (1): 7–13. https://doi.org/10.21093/twt.v5i1.2214.
Latief, Suryawahyuni, Yeasy Agustina Sari, Muhammad Yusuf, Armila Armila, and Riyan Erwin Hidayat. 2021. "The Development of Islamic Education and Strengthening of National Education System of Indonesia." International Journal on Advanced Science, Education, and Religion 4 (2): 86–99. https://doi.org/10.33648/ijoaser.v4i2.105.
Marzuki, Marzuki, Budi Santoso, and Muhammad Abdul Ghofur. 2021. "Penguatan Peran Pesantren Untuk Membangun Pertahanan Umat Islam Indonesia Di Era Society 5.0." Prosiding Seminar Nasional Sains Teknologi Dan Inovasi Indonesia (SENASTINDO) 3 (November): 269–78. https://doi.org/10.54706/senastindo.v3.2021.154.
Meiriki, Andri, Ety Rahayu, and Risna Resnawaty. 2020. "A Community Empowerment Model through Pesantren-Based Family Empowerment Post (POSDAYA)." IJEBD (International Journal Of Entrepreneurship And Business Development) 3 (02): 183–96. https://doi.org/10.29138/ijebd.v3i02.1008.
Nila, Faridatun, R Wahyu Agung Utama, Imron Mawardi, Moh Fudholi, and Ridan Muhtadi. 2019. "Sharia Local Funding (Salaf Card): Innovation on SMES Funding Using Islamic Bording School Ventura Capital." Junal Ekonomi Islam 10 (2012): 38–48.
Nurhadi, Imam. 2018. "PEMBERDAYAAN MASYARAKAT PONDOK PESANTREN UNTUK MENINGKATKAN MINAT MASYARAKAT: Studi Kasus Pemberdayaan Santri Pondok Pesantren Nurul Ulum Munjungan." Al-Idarah: Jurnal Kependidikan Islam 8 (1): 142. https://doi.org/10.24042/alidarah.v8i1.3085.
Patel, Mimansha. 2019. "Exploring Research Methodology : Review Article." International Journal of Research and Review 6 (3): 48–55.
Patriadi, Himawan Bayu, Mohd. Zaini Abu Bakar, and Zahri Hamat. 2015. "Human Security in Local Wisdom Perspective: Pesantren and Its Responsibility to Protect People." Procedia Environmental Sciences 28 (SustaiN 2014): 100–105. https://doi.org/10.1016/j.proenv.2015.07.015.
Peraturan Presiden RI. 2021. "Undang-Undang No 82 Tahun 2021 Tentang Pendanaan Penyelenggara Pesantren." Peraturan Presiden Republik Indonesia, 1–13.
Putra, Dhian Wahana. 2021. "Pesantren Dan Pemberdayaan Masyarakat (Analisis Terhadap Undang-Undang Nomor 18 Tahun 2019)." PROCEEDING IAIN Batusangkar 1 (1): 71–80. https://ojs.iainbatusangkar.ac.id/ojs/index.php/proceedings/article/view/2909.
Rusmanah, Enok, Amelia Rahmi, Fredi Andria, and Jalaludin Almahali. 2021. "Al-Mahali Islamic Boarding School Administration Empowerment through Financial Management in Conformity with Accounting Standards." Journal of Community Practice and Social Welfare 1 (1): 33–47. https://doi.org/10.33479/jacips.2021.1.1.33-47.
Saefullah, Asep Ahmad. 2021. "Dana Abadi Pesantren : Keberpihakan Pemerintah Bagi Pendidikan Di Pesantren." Budget Issue Brief 20 (1).
Syafe'i, Imam. 2017. "PONDOK PESANTREN: Lembaga Pendidikan Pembentukan Karakter." Al-Tadzkiyyah: Jurnal Pendidikan Islam 8 (1): 61. https://doi.org/10.24042/atjpi.v8i1.2097.
Syaprudin, Arip. 2019. "Santri's Economic Empowerment Model in Pesantren Al-Ittifaq Ciwidey District of Bandung." International Journal of Nusantara Islam 5 (2): 213–22. https://doi.org/10.15575/ijni.v5i2.4793.
Syar'i, Ahmad, A Akrim, and Hamdanah. 2020. "The Development of Madrasa Education in Indonesia." Revista Argentina de Clínica Psicológica 29 (4): 513. https://doi.org/10.24205/03276716.2020.858.
"Undang-Undang Republik Indonesia Nomor 18 Tahun 2019 Tentang Pesantren." 2019, no. 42.
Usman, Muhammad, and Anton Widyanto. 2021. "Undang-Undang Pesantren: Meneropong Arah Kebijakan Pendidikan Pesantren Di Indonesia." Ar-Raniry, International Journal of Islamic Studies 8 (1): 57–70. https://jurnal.ar-raniry.ac.id/index.php/jar/article/view/10991.
Widayanti, Sri. 2020. "Pesantren and Social Empowerment: A Critical Analysis On Pesantren Al-Imdad Yogyakarta And Pesantren Maslakul Huda Central Java." Analisa: Journal of Social Science and Religion 5 (01): 51–70. https://doi.org/10.18784/analisa.v5i1.1055.
Wijayanti, Fantri Agustin, and Ghanis Putra Widhanarto. 2019. "The Implementation and Improvisation of Islamic School Curriculum in Buddhist Country." Indonesian Journal of Curriculum and Educational Technology Studies 7 (2): 96–103. https://doi.org/10.15294/ijcets.v7i2.24567.
Zarkasyi, Ahmad. n.d. "Pendidikan Diniyah Kajian Filsafat Pendidikan Islam." Qolamuna (Jurnal Studi Islam) 6 (1): 135–52.
———. 2017. "Policy on Access, Quality and Competitiveness Islamic Education." Educatio: Jurnal Pendidikan STAIM Nganjuk 2 (1): 64–83.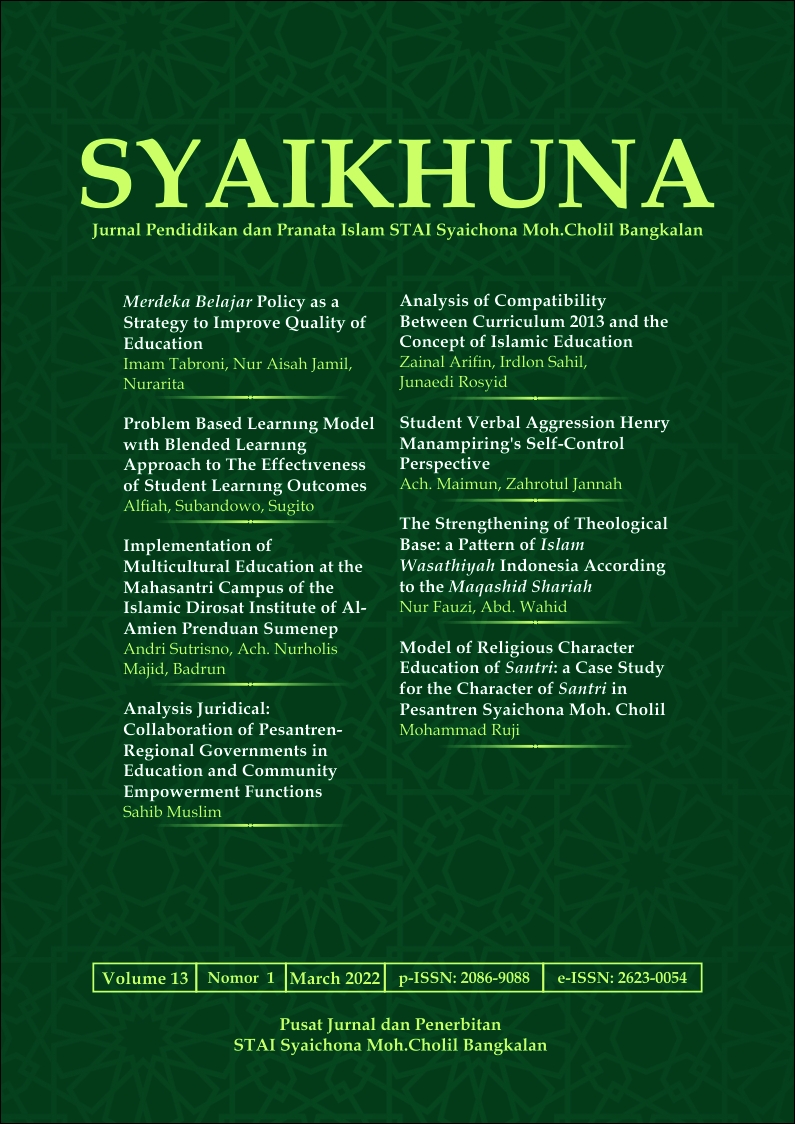 Downloads
How to Cite
Muslim, S. . (2022). Analysis Juridical: Collaboration of Pesantren-Regional Governments in Education and Community Empowerment Functions. Syaikhuna: Jurnal Pendidikan Dan Pranata Islam, 13(01), 41–53. https://doi.org/10.36835/syaikhuna.v13i01.5571
License
Copyright (c) 2022 Shohib Muslim
This work is licensed under a Creative Commons Attribution 4.0 International License.