Developing Dirasah Islamiyah Materials Based on Character Values for Afkaaruna Islamic School
Keywords:
Material development, Dirasah Islamiyah, Character values
Abstract
Integrating character values on materials is essential. This research aimed to develop Dirasah Islamiyah teaching materials based on character values for the fifth-grade students of Afkaaruna Islamic School Yogyakarta. The learning materials, especially Dirasah Islamiyah presented, still needed to be fully integrated with character values. This research was a research and development (R&D) study referred to the Thomlinson model, which included need analysis, stating goals and objectives, designing a syllabus design, developing methodology/material, and conducting testing and evaluation. Needs analysis questionnaires were employed as the instrument for collecting data. The data obtained from the need analysis was analyzed quantitatively. Afterwards, the course grid was developed. The material developed was I Love Good Muamalah and developed into three sub-themes. Although each sub-theme had a different number of tasks, it followed the unit design of which the components were: (1) introduction; (2) main lesson; and (3) reinforcement. The results of the expert judgment showed that the developed materials were appropriate and deserved to be used. The mean values of all aspects were 71, categorized as "good" in the 61 < x < 80.
References
Agus Wismanto. (2013). "Pengembangan Bahan Ajar Bermuatan Budi Pekerti pada Pembelajaran Menulis Cerpen untuk Siswa Kelas IX". Jurnal Sasindo, Vol. 1, No. 1.
Andi Prastowo. (2015). Panduan Kreatif Membuat Bahan Ajar Inovatif Menciptakan Metode Pembelajaran yang Menarik dan Menyenangkan. Yogyakarta: Diva Press.
Ary, D. et al. (2010). Introduction to Researcher in Education. Canada: Nelson Education, Ltd.
Bintek KTSP. (2009). Pengembangan Bahan Ajar. http://bandono.web.id/2009/04/02/pengembangan-bahan-ajar.php.
Cece Wijaya. (1992). Upaya Pembaharuan dalam Pendidikan dan Pengajaran. Bandung: Remaja Rosda Karya.
Depdiknas. (2006). Pedoman Memilih dan Menyusun Bahan Ajar. Jakarta.
Dianna Ratnawati. (2016). "Kontribusi Pendidikan Karakter dan Lingkungan Keluarga terhadap Soft Skill Siswa SMK". Tadris: Jurnal Keguruan dan Ilmu Tarbiyah, Vol. 01, No. 01. ISSN: 2301-7562.
Eka Misminartri. (2016). Tesis Pengembangan Bahan Ajar Bahasa Indonesia Melalui Cerita Islami di MIN Beji Pasuruan. Malang: Universitas Islam Negeri Maulana Maliki Ibrahim.
Hidayatulloh, Agus, dkk. (2012). Aljamil Al Quran Tajwid Warna, Terjemah per Kata, Terjemah Inggris. Bekasi: Cipta Bagus Segara
Hikmah, Harisna dan Edy Wahyu Wibowo. (2020). Pengembangan Modul Pembelajaran Bahasa Inggris Berbasis HOTS untuk Kelas VII. Dwija Cendekia: Jurnal Riset Pedagogik. Vol. 04, No. 02. ISSN: 2581-1835
Malk, Wanto R, Rustiyarso S. (2013). Fungsi Pendidikan Karakter Mengatasi Kenakalan Remaja di Lembaga Pemsyarakatan Anak Kelas II B Kecamatan Sungai Raya. Jurnal Pendidikan dan Pembelajaran. Vol. 2, No. 12.
Moh. Khoerul Anwar. (2017). Pembelajaran Mendalam untuk Membentuk Karakter Siswa sebagai Pembelajar. Tadris: Jurnal Keguruan dan Ilmu Tarbiyah, Vol. 02, No. 02, p-ISSN: 2301- 7562, e-ISSN: 2579-7964.
Muhaimin, Abdul Mujib, Jusuf Mudzakkir. (2015). Kawasan dan Wawasan Studi Islam. Jakarta: Kencana.
Nana Sudjana dan Ahmad Rivai. (2007). Teknologi Pengajaran. Bandung: Sinar Baru AL Gesindo.
Nasrul Fauzi. (2015). Tesis Pengembangan Modul Pembelajaran IPA Berbasis Nilai-Nilai Humanis John P. Miller untuk Meningkatkan Kepekaan Sosial Peserta Didik MI/SD Kelas IV. Yogyakarta: Universitas Islam Negeri Yogyakarta.
Nur A. Fadhil Lubis. (2000). "Mengembangkan Studi Hukum Islam", dalam Komaruddin Hidayat dan Hendro Prasetyo (ed.), Problem dan Prospek IAIN, Antologi Pendidikan Tinggi Islam. Jakarta: Direktorat Pembinaan Perguruan Tinggi Agama Islam.
Sugiono. (2014). Metode Penelitian Administrasi Dilengkapi dengan Metode R&D. Bandung: Alfabeta.
Syamsul Arifin, Agus Purwadi, Khoirul Habib. (1996). Spiritualitas Islam dan Peradaban Masa Depan. Yogyakarta: SIPRESS.
Syaodih Sukmadinata. (2013). Metode Penelitian Pendidikan. Bandung: PT. Remaja Rosdakarya.
Tomlinson, B. (1998). Materials Development in Language Teaching Second Edition. New York: Cambridge University Press.
Trianto Ibnu Badar al-Tabany. (2015). Mendesain Model Pembelajaran Inovatif, Progresif, dan Kontekstual Konsep, Landasan, dan Implementasinya pada Kurikulum 2013 (Kurikulum Tematik Integratif/KTI). Jakarta: Prenadamedia Group.
William H. Bristow and Paul Treatman. (2015). "Chapter III Teaching Materials". Review of Educational Research, Vol. XXIV, No. 3.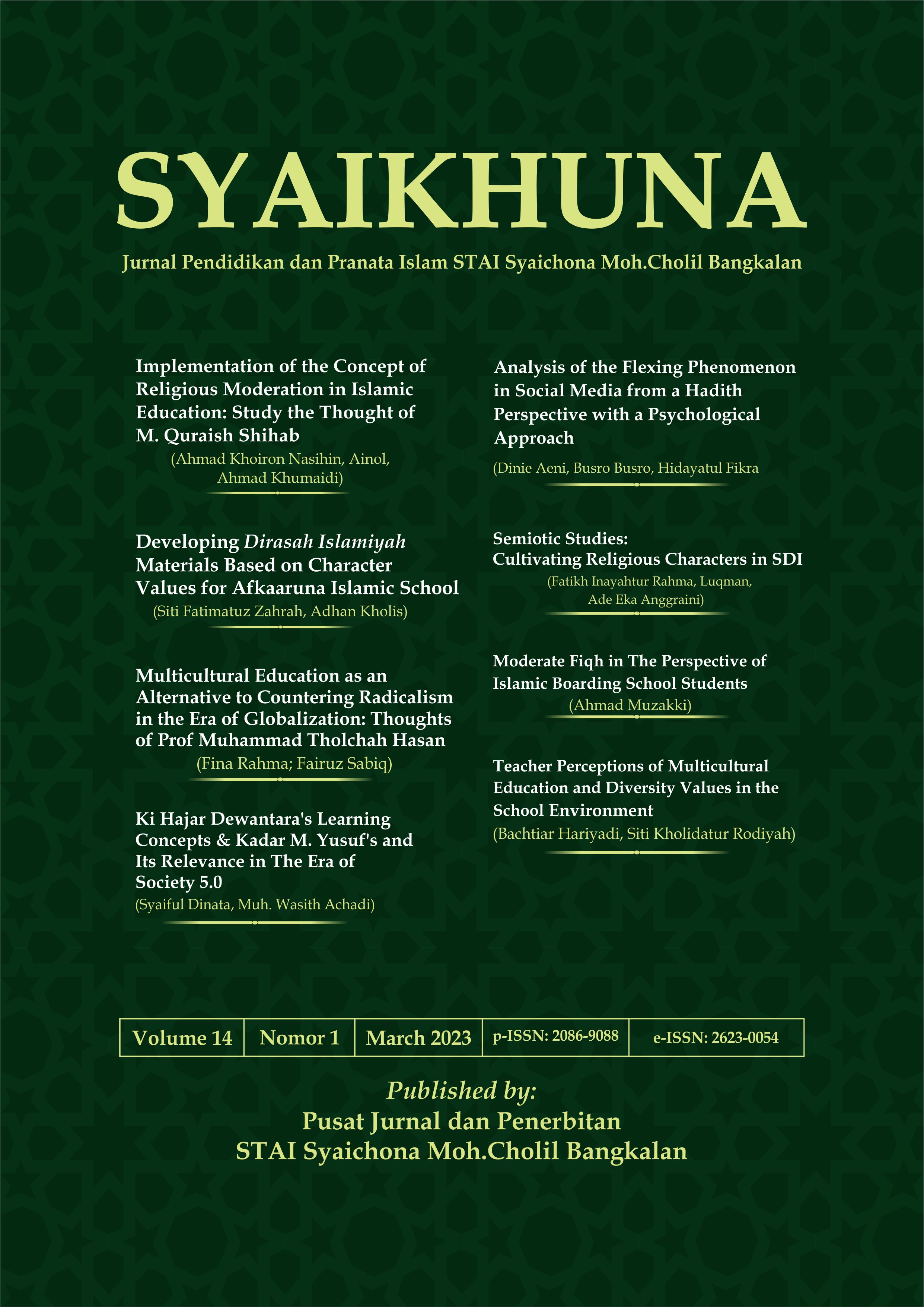 Downloads
How to Cite
Zahrah, S. F. ., & Kholis, A. (2023). Developing Dirasah Islamiyah Materials Based on Character Values for Afkaaruna Islamic School. Syaikhuna: Jurnal Pendidikan Dan Pranata Islam, 14(01), 20–33. https://doi.org/10.58223/syaikhuna.v14i01.6478
License
Copyright (c) 2023 Siti Fatimatuz Zahrah, Adhan Kholis
This work is licensed under a Creative Commons Attribution 4.0 International License.