Konsep Pendidikan Dalam Pemikiran Ki Hajar Dewantara dan Relevansinya Terhadap Pendidikan Di Indonesia
Ikhwan Aziz Q.

Institut Agama Islam Ma'arif (IAIM) NU Metro Lampung

Subandi

Institut Agama Islam Ma'arif (IAIM) NU Metro Lampung

Retno Firmawati Nafi'ah

Institut Agama Islam Ma'arif (IAIM) NU Metro Lampung
Keywords:
Educational Concept, Ki Hajar Dewantara, Education in Indonesia
Abstract
Abstract
This study focuses on the concept of education by Ki Hajar Dewantara and its relevance to education in Indonesia. The purpose of this research theoretically, can contribute to developing the concept of education in Indonesia and benefit all Indonesian people, especially in developing insight into the knowledge and thinking patterns of educators.
This research is a qualitative research with a type of library research that is exploring the ideas of Ki Hajar Dewantara about education. Data collection techniques by collecting books, journals and others related to discussion. Data that has been collected is analyzed using descriptive methods, namely research methods that attempt to reveal the facts of an event, object, activity, process, and human beings as they are at the present time or the time period that is still possible in the memory of the respondent.
The results of this study indicate that the concept of Ki Hajar's education is still relevant today. Judging from his thoughts in accordance with the concepts that are still being implemented, namely education and teaching which is a deliberate effort to liberate the physical and inner aspects of the human being.
Keywords: Educational Concept, Ki Hajar Dewantara, Education in Indonesia
References
DAFTAR PUSTAKA

Dewantara, Ki Hajar, Pendidikan, (Yogyakarta: Majelis Luhur Persatuan Taman Siswa, 1977)
Dewatara, Ki Hajar, Kebudayaan, (Yogyakarta: Majelis Luhur Persatuan Taman Siswa, 1967)
Idris, Muh., "Konsep Pendidikan Humanis Dalam Pengembangan Pendidikan Islam", dalam Jurnal MIQOT, Manado, Sulawesi Utara: Jurusan Tarbiyah STAIN, Volume 38, Nomor 2, Desember, 2014
Muthoifin dan Mutohharun Jinan, "Pendidikan Karakter Ki Hadjar Dewantara: Studi Kritis Pemikiran Karakter dan Budi Pekerti Dalam Tinjauan Islam", dalam Jurnal Studi Islam, Surakarta: Universitas Muhammadiyah Surakarta, Volume 16, Nomor 2, Desember 2015
Samho, Bartolomeus, Oscar Yasunari, Konsep Pendidikan Ki Hadjar Dewantara dan Tantangan-Tantangan Implementasinya di Indonesia Dewasa Ini, (Dalam Skripsi) Lembaga Penelitian Dan Pengabdian Kepada Masyarakat Universitas Katolik Parahyangan Bandung, 2010
Subandi, Subandi, "Menderadikalisasi Faham Radikal Melalui Pendidikan Multikultural dan Karakter Lokal di Lampung" dalam Fikri, No. 2, Vol. 2 (2017)
Sukardjo dan Ukim Komarudin, Landasan Pendidikan Konsep dan Aplikasinya, (Jakarta: PT Raja Grafindo Persada, 2009)
Suparlan, Henricus, "Filsafat Pendidikan Ki Hadjar Dewantara dan Sumbangannya Bagi Pendidikan Indonesia", dalam Jurnal Filsafat, Yogaykarta: Fakultas Psikologi Universitas Sarjanawiyata Tamansiswa, Volume 25, Nomor 1, Februari, 2015
Suroso, Pemikiran Ki Hadjar Dewantara Tentang Belajar dan Pembelajaran, Jurnal Scholaria, Staff Pengajar Progdi S1 PGSD-FKIP-UKSW, Volume 1, Nomor 1, Mei, 2011.
Syaikhudin, Ahmad, "Konsep Pemikiran Pendidikan Menurut Paulo Freire dan Ki Hajar Dewantoro", dalam Jurnal Cendikia, Ponorogo: Jurusan Tarbiyah STAIN Ponorogo, Volume 10, Nomor 1, Juni 2012
Utami, Puji Nur, Konsep Pendidikan Karakter Menurut Ki Hajar Dewantara, (Dalam Skripsi) Institut Agama Islam Negeri Salatiga, 2017
Yohana, Neni, "Konsepsi Pendidikan Dalam Keluarga Menurut Pemikiran Ki Hadjar Dewantara dan Hasan Langgulung", dalam Jurnal Ilmiah Kajian Islam, Cirebon: IAIN Syekh Nutjati, Volume 2, Nomor 1, Februari, 2017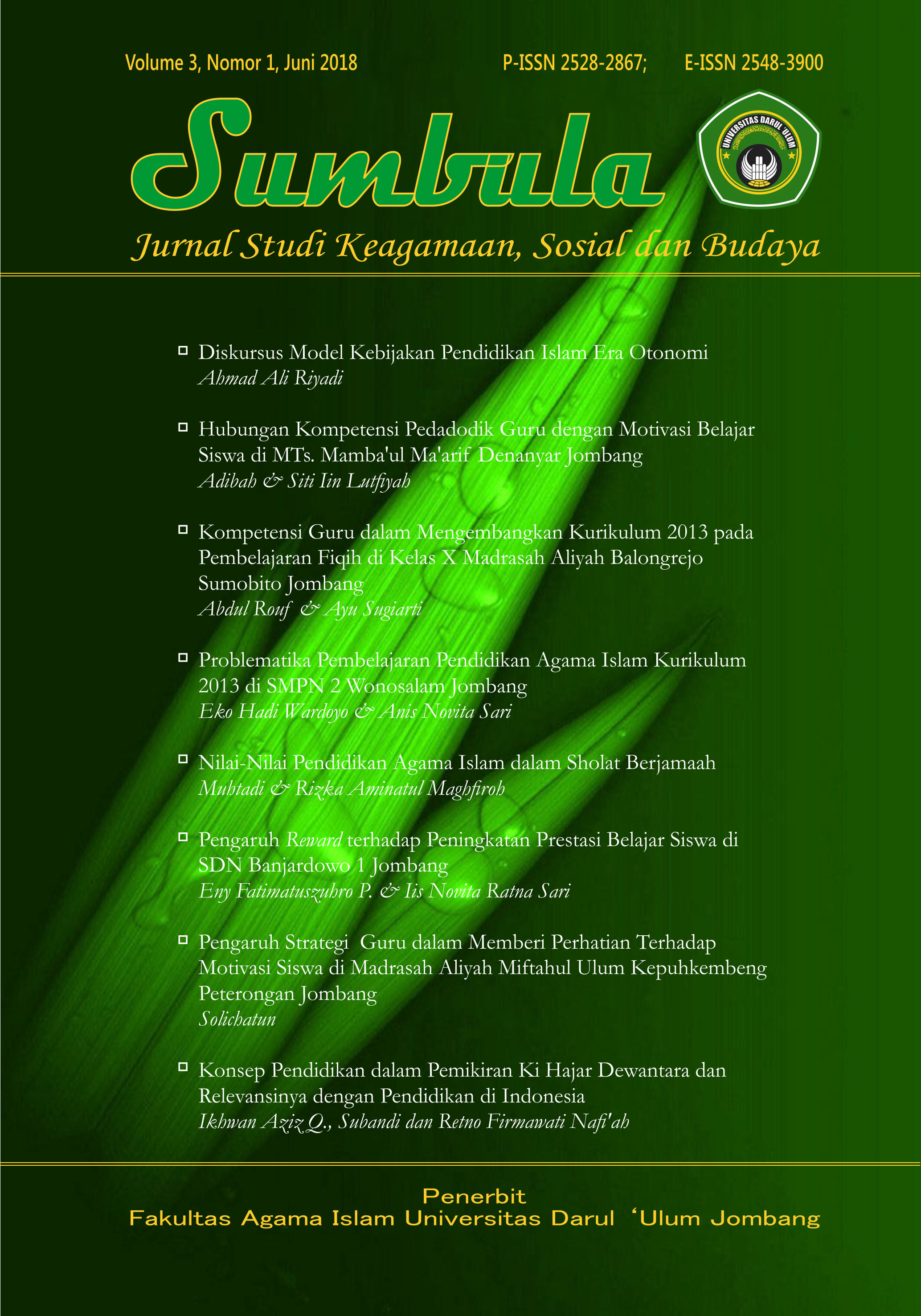 Copyright (c) 2018 Ikhwan Aziz Q., Subandi dan Retno Firmawati Nafi'ah (Author)
This work is licensed under a Creative Commons Attribution-ShareAlike 4.0 International License.
All material contained in this site is protected by law. It is prohibited to quote part or all of the contents of this website for commercial use without the approval of the board of editors of this journal.
If you find one or more articles contained in Sumbula: Journal of Religious, Social and Cultural Studies that violate or potentially infringe your copyright, please report it to us, via email to Priciple Contact.
The formal legal aspect of access to any information and articles contained in this journal site refers to the terms of the Creative Commons Attribution-ShareAlike (CC BY-SA) license.
All Information contained in Sumbula: Journal of Religious, Social and Cultural Studies is academic. Sumbula: Journal of Religious, Social and Cultural Studies shall not be liable for any losses incurred by misuse of information from this site.