Implementasi Pendidikan Karakter Gotong Royong dan Peduli Sosial Masyarakat
(Studi Kasus pada Pembangunan Mushola Nurul Hidayah di Kelurahan Purwosari Kecamatan Metro Utara Kota Metro)
Ehwanudin dan Mispani

Institut Agama Islam Ma'arif NU (IAIMNU) Metro Lampung
Keywords:
Keywords: Character Education, Mutual Cooperation, Social Care, Consecrated Work
Abstract
This study aims to describe the implementation of mutual assistance character education and social care for the community in the construction of the Nurul Hidayah mosque in Purwosari Village, Metro North Subdistrict, Metro City. Mutual cooperation is an attitude of willingness to work together so that the work is quickly completed. Social care is an attitude to willingly help other people's difficulties without coercion. Both are part of the practice of Pancasila and in accordance with the teachings of Islam. The data source of this research is the resource person or informant and some literature related to the subject matter of the discussion. The data collection technique uses observation, documentation and interview instruments. While the data analysis techniques use interactive models through the process of collecting data, reducing data, presenting data and drawing conclusions. From the results of this study, it can be concluded that the implementation of mutual cooperation character education and social care for the construction of Nurul Hidayah prayer room in Purwosari Village Metro Metro Subdistrict, Metro City, based on mutual cooperation indicators shows that people have good willingness to cooperate and are not selfish. Whereas based on social care indicators show that the community in devotional work can treat other people politely and politely, want to listen to others and not demean others. Keywords: Character Education, Mutual Cooperation, Social Care, Consecrated Work
References
Agus Wibowo, Pendidikan Karakter Strategi Membangun Karakter Bangsa Berperadaban (Yogyakarta: Pustaka Pelajar, 2012)
Andi Prastowo, Menyusun Rencana Pelaksanaan Pembelajaran (RPP) Tehnik Terpadu Implementasi Kurikulum 2013, (Jakarta: Prenademedia Group, 2015)
Arikunto, Suharsini, Prosedur Penelitian Suatu Pendekatan Praktik (Jakarta: Rineka Cipta, 2006)
Azizy, A. Qodry, Pendidikan Agama Untuk Membangun Etika Sosial, (Semarang: Aneka Ilmu, 2003)
Doni Koesoema A, Pendidikan Karakter Setrategi Mendidik Anak di Zaman Global, Cet ke 2 (Jakarta: PT Grasindo, 2010)
Fihris, Pendidikan Karakter di Madrasah Salafiyah, (Semarang: PUSLIT IAIN Walisongo, 2010)
http://tobroni.staff.umm.ac.id/2010/11/24/pendidikan-karakter-dalam-perspektif-islam-pendahulan/
Lexy J. Moleong, Metodologi Penelitian Kualitatif, (Bandung; PT. Remaja Rosdakarya, 2008)
Pendidikan Karakter Berbasis Pesantren, (Pelajar dan Santri Dalam Era IT dan Ciber Culturs), Imtiyaz, 2017
Samani, Muchlas dan Haryanto. Pendidikan Karakter. (Bandung: PT Remaja Rosdakarya, 2011)
Sapury, Rafy, Psikologi Islam, ( Jakarta : PT. Raja grafindo, 2009)
Sudarto, Metodologi Penelitian Filsafat, (Jakarta; Raja Grafindo Persada, 2008)
Sukmadinata, Nana Syaodih. Metode Penelitian Pendidikan, (Bandung: Remaja Rosdakarya, 2009)
Tafsîr al-Qurthûbi (6/45), Taisîrul Karîmir Rahmân
Tafsîrul Qur'ânil 'Azhîm ar-Risâlah at-Tabûkiyyah Tafsîr al-Qurthubi (Al-Jâmi' li Ahkâmil-Qur'ân), Muhammad bin Ahmad al-Qurthûbi, tahqîq: 'Abdur-Razzaq al-Mahdi, Dâr Al-Kitab Al-'Arabi, Cetakan II, Tahun 1421 H, Vol. 6
Zainal Aqib, Pendidikan Karakter Membangun Prilaku Positif, (Bandung: CV Irama Widya, 2011)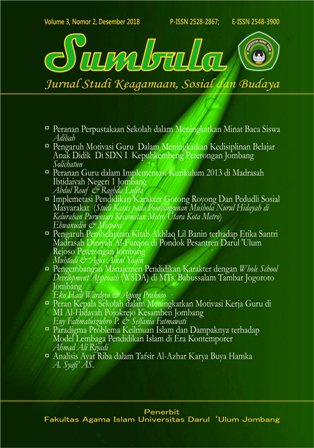 This work is licensed under a Creative Commons Attribution-ShareAlike 4.0 International License.
All material contained in this site is protected by law. It is prohibited to quote part or all of the contents of this website for commercial use without the approval of the board of editors of this journal.
If you find one or more articles contained in Sumbula: Journal of Religious, Social and Cultural Studies that violate or potentially infringe your copyright, please report it to us, via email to Priciple Contact.
The formal legal aspect of access to any information and articles contained in this journal site refers to the terms of the Creative Commons Attribution-ShareAlike (CC BY-SA) license.
All Information contained in Sumbula: Journal of Religious, Social and Cultural Studies is academic. Sumbula: Journal of Religious, Social and Cultural Studies shall not be liable for any losses incurred by misuse of information from this site.