Measuring the Existence of Islamic Religious Instructor in Milennial Era
Fawait Syaiful Rahman

Sekolah Tinggi Islam Blambangan Banyuwangi
Keywords:
Islamic Extension Workers, Millennial Era
Abstract
Abstract The millennial era is a continuation of the globalization era as well as becoming a new era of challenges. Anyone who can make good use of it can become a great opportunity so that the challenge brings blessings. Conversely, for people who cannot utilize properly and appropriately, in navigating the ark of life this can experience failure and even deterioration. People who can turn challenges into opportunities will succeed in achieving life's ideals, reach their material and spiritual life well-being, and proportionally position their physical and spiritual needs. To help people who are not good at maximizing opportunities and challenges, especially in the millennial era, Islamic Extensiontake full responsibility and contribute to be part of the government to produce a generation ofWorkersmorality, smart, smart, devoted to achieving a noble life. This article uses qualitative research with a literature study approach. A literature study is a study conducted with a focus on books, scientific works such as journals, and various other scientific writings. This article concludes that the existence of Islamic Extension Workers in the middle of the community is very strategic with several potentials. First, PAI's strategic position helps to explore various information that is directly experienced by the community. Second, PAI's strategic position helps to understand the different characters of the community and requires handling different solutions. Third, it helps the government to form a society that is virtuous, moral who are praiseworthy, devoted, love the motherland, productive, directing people to achieve world success until the hereafter.
References
Departemen Agama RI. 2010. Al-Qur'an dan Terjemahnya. Surabaya: Pustaka Assalam.

Dadan Sumara, Sahadi Humaedi, Meilanny Budiarti Santoso, Kenakalan Remaja Dan Penanganannya, Jurnal Penelitian dan PPM, ISSN: 2442-448x, Vol 4, No: 2, Juli 2017.

Hanafi, Hasan. 2007. Islam dan Humanisme Aktualisasi Humanisme Islam di Tengah Krisis Humanisme Universal. Yogyakarta: Pustaka Pelajar.

Hadi, Sutrisno. 1990. Metodologi Research. Yogyakarta: Fak. Psikologi UGM

Hofman, B., Kaiser, K., & Schulze, G. Decentralization and Regional Autonomy in Indonesia: Implementation and Challenges: Corruption and Decentralization. (C. Holtzappel & M. Ramstedt, Eds.). (Singapore: Institute of Southeast Asian Studies. 2009.

Iffah Al Walidah, Tabayyun Di Era Generasi Millennial, Jurnal Living Hadis, Vol. 2 Nomor 1, Oktober, 2017; P-Issn: 2528-756; E-Issn: 2548-4761, 344.

Ja'far, Abu. 1414. Takhriju al-Aqidati at-Thowiyati, Juz 1. Mesir: Maktabah al-Islamiyah

Kalfaris Lalo, Menciptakan Generasi Milenial Berkarakter dengan Pendidikan Karakter guna Menyongsong Era Globalisasi, Jurnal Ilmu Kepolisian, Volume 12, Nomor 2 Juli 2018

Kementerian Agama, Pedoman Penyuluh Agama Islam Non PNS No. 298 Tahun 2017

Kahmad Dadang. 2009. Sosiologi Agama. Bandung: Remaja Rosdakarya.

Marzuki. 2005. Metodologi Riset. Yogyakarta: Ekonisia.

Mardalis. 2009. Metode Penelitian Suatu Pendekatan Proposal. Jakarta: PT Bumi Aksara.

Munawwir, Achmad, Warson. 1992. Kamus al-Munawwir Arab-Indonesia Terlengkap. Surabaya: Pustaka Prgressif.

Nata. Abuddin. Pendidikan Islam Di Era Milenial, Conciancia, Jurnal Pendidikan Islam.

Soegiono. Agie, Nugroho. Agenda Open Government: Memerangi Korupsi Melalui Inisiatif Open Data, Integritas, Volume 3 Nomor 2 - Desember 2017.

Sutrisno, Ancaman Keamanan Era Milenial dan Tekstur Pendidikan Tinggi (Sebuah Pembacaan Sosiologik), Jurnal Ilmu Kepolisian, Volume 12, Nomor 2, Juli 2018.

Syafa'ah Mamik, 2019. Bahan Ajar Tugas Dan Fungsi Penyuluh Agama Non Pns, Balai Diklat Keagamaan Surabaya Kementerian Agama RI.

Sukoco, Padmo. 2002. Penelitian Kualitatif: Metodologi, Aplikasi, dan Evaluasi. Jakarta: Gunung Agung.

Sugiono. 2012. Memahami Penelitian Kualititatif. Bandung: Alfabeta, cv.

Tim Dosen Ketamansiswaan. 2014. Materi kuliah ketamansiswaan. Yogyakarta: Universitas Sarjanawiyata Tamansiswa Yogyakarta.

Tim Penulis. 2008. Kamus Besar Bahasa Indonesia. Jakarta: Pusat Bahasa Kementarian Pendidikan dan Kebudayaan.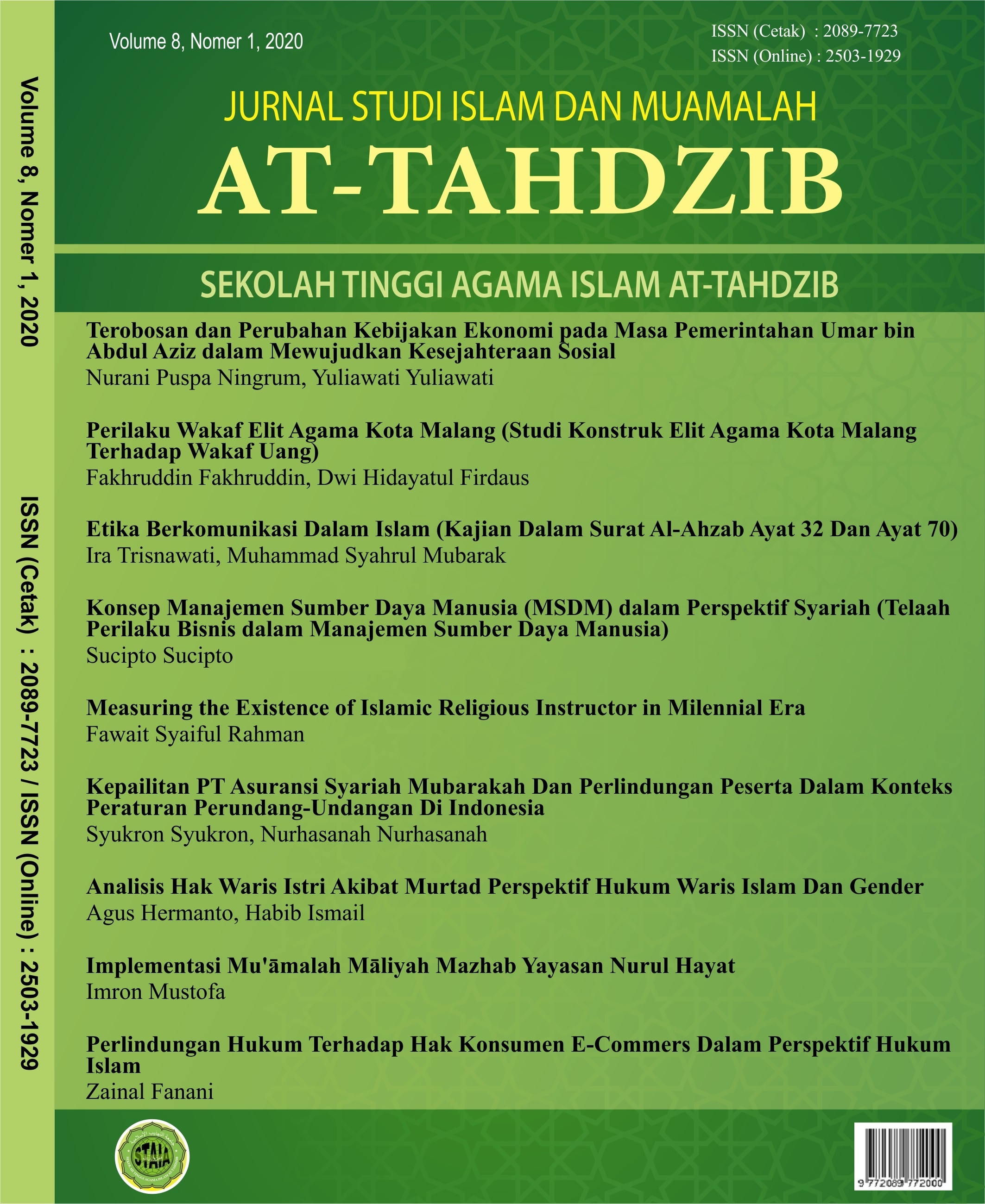 How to Cite
Rahman, F. S. (2020). Measuring the Existence of Islamic Religious Instructor in Milennial Era. At-Tahdzib: Jurnal Studi Islam Dan Muamalah, 8(1), 81 - 97. Retrieved from http://ejournal.kopertais4.or.id/mataraman/index.php/tahdzib/article/view/3838
Copyright (c) 2020 At-Tahdzib: Jurnal Studi Islam dan Muamalah
This work is licensed under a Creative Commons Attribution 4.0 International License.

Jurnal Studi Islam by At-Tahdzib is licensed under a Creative Commons Attribution 4.0 International License.
Based on a work at http://ejournal.kopertais4.or.id/mataraman/index.php/tahdzib