Model Program Pengembangan Diri dalam Mengembangkan Potensi Siswa di Sekolah Menengah Pertama Negeri 3 Peterongan Jombang
Moh Takwil

STAI Alif Laam Miim Surabaya
Keywords:
Self-Development, Student Potential, Extracurricular, Counseling Guidance.
Abstract
Self-development programs are a must in schools in the form of extracurricular activities and counseling. This aims to explore and develop students' interest in talents to grow according to their talents. This study is a qualitative study to describe the implementation of self-development programs at SMP Negeri 3 Peterongan Jombang. This research is a type of field research using descriptive analytic. The results showed that the implementation of the self-development program at SMP Negeri 3 Peterongan Jombang was carried out by: First the extracurricular program, which was carried out in three stages, namely (1) the planning stage by evaluating the extracurricular program of the previous year and producing recommendations for the current year. (2) The grouping stage, where before the activity is carried out students are grouped based on their interests and talents. (3) The implementation stage, namely extracurricular activities carried out on Saturdays and Sundays accompanied by the supervisor and the person in charge in this case is student time. Second, the guidance and counseling program conducted by BK teachers refers to needs based on research or student talent interest surveys. There are four services implemented, namely: basic services, individual request and planning services, Responsive Services, system support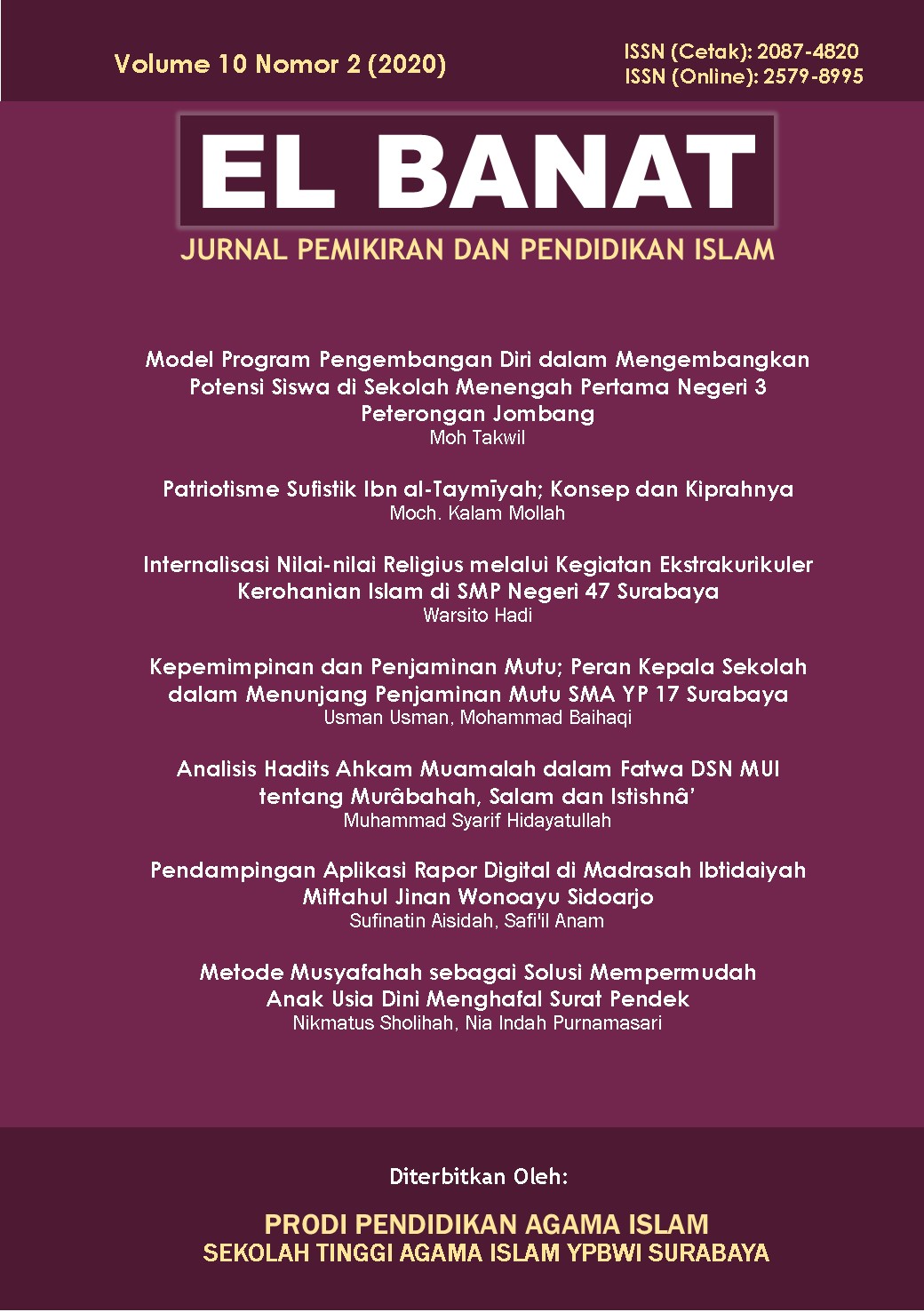 How to Cite
Takwil, M. (2020). Model Program Pengembangan Diri dalam Mengembangkan Potensi Siswa di Sekolah Menengah Pertama Negeri 3 Peterongan Jombang. EL-BANAT: Jurnal Pemikiran Dan Pendidikan Islam, 10(2), 149-168. https://doi.org/10.54180/elbanat.2020.10.2.149-168
Copyright (c) 2020 EL-BANAT: Jurnal Pemikiran dan Pendidikan Islam
This work is licensed under a Creative Commons Attribution-ShareAlike 4.0 International License.