Aktivasi Nilai Pendidikan Dalam Konsep Aswaja
Keywords:
Pendidikan, Karakter dan ASWAJA
Abstract
Education in Indonesia is like being in a tangled yarn winding. Growth is lush yet full of mud and moss. There is a happy face, but there was an air-rada rada black. Simply put, our education (Indonesia) like a ship sailing aimlessly and goals. Appeared later than this confusion about the various interpretations of education in Indonesia. Such as Character Education, Cultural Value-Based Education, Social, Religious and others. The times, the movement of ideas and seek solutions to the problems of education in Indonesia continues to grow. A number of researchers, experts and practitioners work together to look for the hallmark of education in Indonesia. Various methods and stratgei done in order to find distinctive character education formulations ness. There are various kinds of character education are taken from the values of both groups, a particular doctrine or custom. This new discovery is the responsibility of the observer forms, practitioners and education experts on wajahpendidikan in Indonesia. One of these ideas Aswaja Value-Based Character Education. Is this keaswajaan effective and could be part of the establishment of the nation's private good?
References
Abdullah, I, 1999, Pengembangan Kurikulum (Teori dan Praktik), Jakarta: Radar Jaya.
Arikunto, S, 1996Pengelolaan Kelas dan Siswa, Jakarya: PT Raja Grafindo Persada.
Dimyati, 1999, Belajar dan Pembelajaran, Jakarta: Dirjen Dikti Depdikbud.
Devis, E., 1990, Teachers as Curiculum Evaluation, George Allen dan Unwin, Australia:

Hamalik, O, 1990, Pengembangan Kurikulum: Dasar-Dasar dan Perkembangannya, Bandung: Mandar Maju.
Hamilton, D, 1977, Curricullum Evaluation, Boston: Open Books Publishing Ltd.
Jalaluddin & Usman, S, 1994, Filsafat Pendidikan Islam: Konsep dan Perkembangan Pemikirannya, Jakarta: PT. Raja Grafindo.
John P M, Seller, W, 1985, Curicullum Perpsektif and Praktice, London: Longman.
Maryanto, A., 1994, Kurikulum Lintas Bidang Study, Jakarta: Grasindo.
Muhaimin, 1991, Konsep Pendidikan Islam, Solo: Ramadhani.
Sardiman, A.M, 1990, Interaksi dan Motivasi Belajar Mengajar, Jakarta: Rajawali Persada.
Syah, M, 2006, Psikologi Belajar, Jakarta: PT Raja Grafindo.
Subandijah., 1933, Pengembangan dan Inovasi Kurikulum, Jakarta: PT. Raja Grafindo Persada.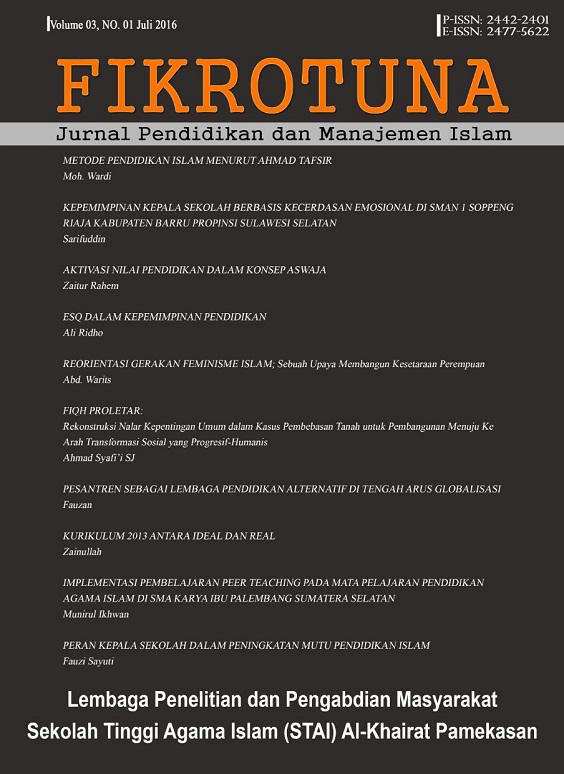 Downloads
How to Cite
RAHEM, Z. (2017). Aktivasi Nilai Pendidikan Dalam Konsep Aswaja. FIKROTUNA: Jurnal Pendidikan Dan Manajemen Islam, 3(1). https://doi.org/10.32806/jf.v3i1.2708
License
Publishing your paper with Al FIKROTUNA: Jurnal Pendidikan dan Manajemen Islam means that the author or authors retain the copyright in the paper. Al Ihkam granted an exclusive non commercial reuse license by the author(s), but the author(s) are able to put the paper onto a website, distribute it to colleagues, give it to students, use it in your thesis etc, so long as the use is not directed at commercial advantage or toward private monetary gain. The author(s) can reuse the figures and tables and other information contained in their paper published by FIKROTUNA: Jurnal Pendidikan dan Manajemen Islam in future papers or work without having to ask anyone for permission, provided that the figures, tables or other information that is included in the new paper or work properly references the published paper as the source of the figures, tables or other information, and the new paper or work is not direct at private monetary gain or commercial advantage.
FIKROTUNA: Jurnal Pendidikan dan Manajemen Islam provides immediate open access to its content on the principle that making research freely available to the public supports a greater global exchange of knowledge. This journal is licensed under a Creative Commons Attribution-NonCommercial 4.0 International License.This license lets others remix, tweak, and build upon your work non-commercially, and although their new works must also acknowledge & be non-commercial, they don't have to license their derivative works on the same terms.
FIKROTUNA: Jurnal Pendidikan dan Manajemen Islam Open Access articles are distributed under this Creative Commons Attribution-Noncommercial 4.0 International License (CC BY-NC). Articles can be read and shared for noncommercial purposes under the following conditions:
BY: Attribution must be given to the original source (Attribution)
NC: Works may not be used for commercial purposes (Noncommercial)