Aktivasi Nilai Pendidikan Dalam Konsep Aswaja
ZAITUR RAHEM

STIT Aqidah Usymuni Sumenep
Keywords:
Pendidikan, Karakter dan ASWAJA
Abstract
Education in Indonesia is like being in a tangled yarn winding. Growth is lush yet full of mud and moss. There is a happy face, but there was an air-rada rada black. Simply put, our education (Indonesia) like a ship sailing aimlessly and goals. Appeared later than this confusion about the various interpretations of education in Indonesia. Such as Character Education, Cultural Value-Based Education, Social, Religious and others. The times, the movement of ideas and seek solutions to the problems of education in Indonesia continues to grow. A number of researchers, experts and practitioners work together to look for the hallmark of education in Indonesia. Various methods and stratgei done in order to find distinctive character education formulations ness. There are various kinds of character education are taken from the values of both groups, a particular doctrine or custom. This new discovery is the responsibility of the observer forms, practitioners and education experts on wajahpendidikan in Indonesia. One of these ideas Aswaja Value-Based Character Education. Is this keaswajaan effective and could be part of the establishment of the nation's private good?
References
Abdullah, I, 1999, Pengembangan Kurikulum (Teori dan Praktik), Jakarta: Radar Jaya.
Arikunto, S, 1996Pengelolaan Kelas dan Siswa, Jakarya: PT Raja Grafindo Persada.
Dimyati, 1999, Belajar dan Pembelajaran, Jakarta: Dirjen Dikti Depdikbud.
Devis, E., 1990, Teachers as Curiculum Evaluation, George Allen dan Unwin, Australia:

Hamalik, O, 1990, Pengembangan Kurikulum: Dasar-Dasar dan Perkembangannya, Bandung: Mandar Maju.
Hamilton, D, 1977, Curricullum Evaluation, Boston: Open Books Publishing Ltd.
Jalaluddin & Usman, S, 1994, Filsafat Pendidikan Islam: Konsep dan Perkembangan Pemikirannya, Jakarta: PT. Raja Grafindo.
John P M, Seller, W, 1985, Curicullum Perpsektif and Praktice, London: Longman.
Maryanto, A., 1994, Kurikulum Lintas Bidang Study, Jakarta: Grasindo.
Muhaimin, 1991, Konsep Pendidikan Islam, Solo: Ramadhani.
Sardiman, A.M, 1990, Interaksi dan Motivasi Belajar Mengajar, Jakarta: Rajawali Persada.
Syah, M, 2006, Psikologi Belajar, Jakarta: PT Raja Grafindo.
Subandijah., 1933, Pengembangan dan Inovasi Kurikulum, Jakarta: PT. Raja Grafindo Persada.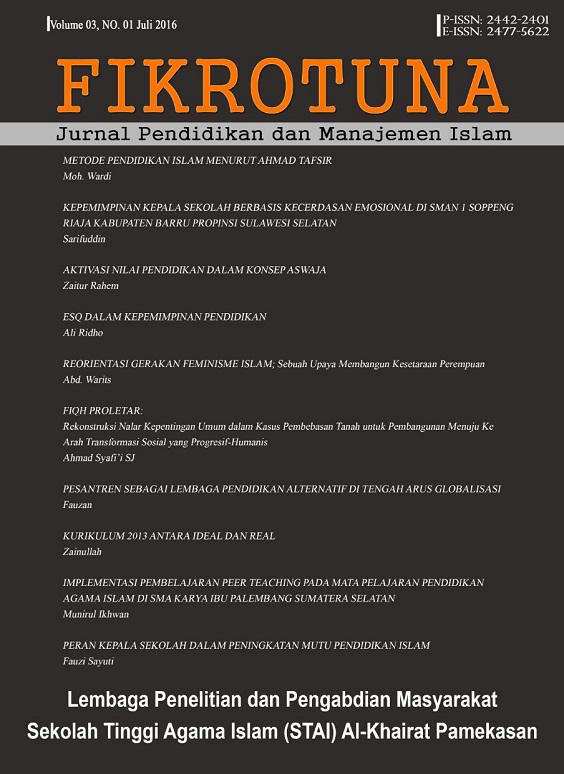 How to Cite
RAHEM, Z. (2017, February 20). Aktivasi Nilai Pendidikan Dalam Konsep Aswaja. FIKROTUNA, 3(1). https://doi.org/https://doi.org/10.32806/jf.v3i1.2708

This work is licensed under a Creative Commons Attribution-NonCommercial 4.0 International License.