Implementasi Pembelajaran Peer Teaching Pada Mata Pelajaran Pendidikan Agama Islam di SMA Karya Ibu Palembang Sumatera Selatan
MUNIRUL IKHWAN

STIE APRIN Palembang, Sumatera Selatan)
Keywords:
Implementasi, Peer Teaching, PAI, Active Learning
Abstract
The purpose of this study is to describe the activities of Islamic religious education and the implementation of peer teaching on PAI subject at SMA Karya Ibu Palembang. Therefore, this research is a descriptive study, the research that explores the description a symptom, specific activities with the data qualitatively. The data analysis used in this study is interactive model (data reduction, data display, data verification).The findings of the study showed that the school policy to the implementation of Islamic education is; that PAI subject was taught in SMA Karya Ibu with the time allocation 3 hours of subject per week. Two hours of subject was a core school hours, while the one-hour subject is a subject hours plus extra for religious programs. The implementation of peer teaching on PAI subject can be quite successful, but it still needs to be improved further. Because there are some things that need to be considered in order to improve the quality of learning, especially in PAI subject at SMA Karya Ibu Palembang in the future time.
References
Arifin, M., 1991, Ilmu Pendidikan Islam: Suatu Tinjauan Teoritis dan Praktis Berdasarkan Pendekatan Indisipliner, Jakarta: Bumi Aksara.

Muliawan, Jasa U, 2005, Pendidikan Islam Integratif, Yogyakarta: Pustaka Pelajar.

Sardiman, A.M., 2001, Interaksi & Motivasi Belajar Mengajar, Jakarta: PT. Raja Grafindo Persada.

Silberman, Mel, 2001, Active Learning: 101 Strategi Pembelajaran Aktif, Yogyakarta: YAPPENDIS.

Zamroni, 2007, Pendidikan dan Demokrasi dalam Transisi (Prakondisi Menuju Era Globalisasi), Jakarta: Muhammadiyah.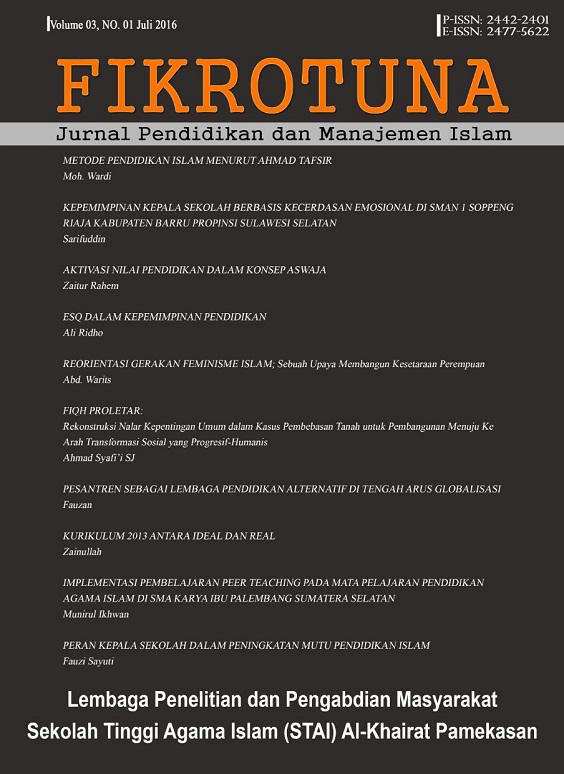 How to Cite
IKHWAN, M. (2017, February 20). Implementasi Pembelajaran Peer Teaching Pada Mata Pelajaran Pendidikan Agama Islam di SMA Karya Ibu Palembang Sumatera Selatan. FIKROTUNA, 3(1). https://doi.org/https://doi.org/10.32806/jf.v3i1.2713

This work is licensed under a Creative Commons Attribution-NonCommercial 4.0 International License.