Pendidikan Islam Inklusif Pesantren ( Kajian Historis - Sosiologis di Indonesia )
Keywords:
Inclusive Islam; Boarding School.
Abstract
Transformasi pesantren ke arah modernitas untuk menyongsong pengaruh dari luar peranan pada kyai sebagai figur pemimpin. Ada pesantren yang tetap mempertahankan misi pesantren sebagai lembaga tafaqquh fiddin, akan tetapi ada juga pesantren yang didesain sebagai lembaga yang bergerak di bidang sosial ekonomi keagamaan di samping pengkajian kitab-kitab klasik sebagai ciri khas pesantren. Inklusif adalah keterbukaan sikap dalam menerima keberbedaan dengan tetap berinteraksi dalam kehidupan, sehingga dalam konteks kultur yang beraneka ragam. Perlunya pesantren lembaga pendidikan melihat proses transformasi sosial dan yang kedua pengembangan pesantren tidak tercerabut dari akar tradisinya Kata Kunci : Islam Inklusif, Pesantren  The transformation of pesantren toward modernity to meet the influence from outside role on kyai as leader figure. There is a boarding school that still maintains the mission of pesantren as a tafaqquh fiddin institution, but there are also pesantren designed as an institution engaged in the field of religious social economy in addition to the study of the classic books as a characteristic of pesantren.Inclusive is the openness of attitudes in accepting diversity by staying interacting in life, so in the context of diverse cultures. The need for pesantren educational institutions to see the process of social transformation and the second development of pesantren not tercerabut from the roots of tradition. Keywords: Inclusive Islam, Boarding School.    
References
Mulkhan, A.M. 2001."Humanisasi Pendidikan Islam" dalam Tashwirul Afkar, Jurnal Refleksi Pemikiran Keagamaan dan Kebudayaan, Edisi No. 11
___________________, "Pendidikan Monokultur Versus Multikultural dalam Politik" dalam Harian Kompas, Edisi Sabtu, 18 September 2004.
Mas'ud, A. 2004. "Format Baru Pola Pendidikan Keagamaan pada Masyarakat Multikultural dalam Perspektif Sisdiknas" dalam Mu'amar Ramadhan dan Hesti Hardinah (ed.), Antologi Studi Agama dan Pendidikan Semarang: CV Aneka Ilmu.
Fanani, A.F. "Pendidikan Pluralis-Multikultural dan Liberatif" dalam Harian Kompas, Edisi 3 Juli, 2002.
Abdullah, A. "Pengajaran Kalam dan Teologi di Era Kemajemukan: Sebuah Tinjauan Materi dan Metode Pendidikan Agama" dalam Tashwirul Afkar, Jurnal Refleksi Pemikiran Keagamaan dan Kebudayaan, Edisi No. 11, 2001.
Abdullah, A. 2016, Studi Islam, Ilmu Humaniora, dan Sosial Sebuah Perspektif Terpadu, dalam Memahami Hubungan Antar Agama ( Surabaya, Sunan Ampel,
Azra, A "Identitas dan Krisis Budaya: Membangun Multikulturalisme Indonesia," dalam Makalah, disampaikan pada Simposium Internasional Jurnal Antropologi Indonesia ke-3, Membangun Kembali Indonesia yang Bhinneka Tunggal Ika: Menuju Masyarakat Multikultural, 16-19 Juli 2002, di Universitas Udayana, Denpasar, Bali
Bhamra, T., dan Lofthouse, V., 2007, Design for Sustainability: A practical approach (A practical Approach), Gower Publishing Limited, Hampshire.
Taylor, C. 1994, "The Politics of Recognation" dalam Amy Gutman. Multiculturalism, Examining the Politics of Recognation (Princenton: Princenton University Press.
Rahardjo, D. "Kyai dalam Perubahan Sosial," dalam Pesantren, No. 4/ Vol. II/1985.
Maryono, E. "Aktualisasi Peran Kemasyarakatan Pesantren: Refleksi Pengalaman LPSM," dalam Pesantren No. 3/Vol. V/1998.
Osman, F. 2006, The Childern of Adam; An Islamic Perspective on Pluralism , (terj.) Islam, Pluralisme dan Toleransi Keagamaan; Pandangan Alqur'an, Kemanusiaan, Sejarah, dan Peradaban, Jakarta : Paramadina.
__________, 2001, Islam and Human Right, The Challenge to Muslim and The World, dalam Rethinking Islam and Modernity, ed. Abdel Wahab El-Effandi (London: The Islamic Foundation.
Tilaar, H.A.R. 2003. "Pendidikan Multikultural" dalam H.A.R. Tilaar, Kekuasaan dan Pendidikan: Suatu Tinjauan dari Perspektif Studi Kultural Magelang: Indonesia Tera,
Hawasi, 2005. "Aktualisasi Paradigma Multikulturalisme dalam Budaya Indonesia yang Plural" dalam Proceeding Seminar Nasional PESAT 2005 di Universitas Gunadarma, Yogyakarta.
Horikoshi, H. 1987, Kyai Dan Perubahan Sosial ,Jakarta; P3M.
Burhanuddin, J. 2003. "Ulama dan Politik Pembentukan Umat: Sekilas Pengalaman Sejarah Indonesia," dalam Jajat Burhanuddin dan Ahmad Baedlowi, Transformasi Otoritas Keagamaan: Pengalaman Islam Indonesia Jakarta; Gramedia.
James A. B. "Multicultural Education: Historical Development, Dimensions, and Practice" dalam James A. Banks dan Cherry A. McGee, op.
Kymlica W. Multicultural, 1995, Citizenship: a Liberal Theory of Minority Rights, Oxford: Clarendon Press.
Suryadinata, L. dkk. 2003. Indonesia's Population: Etnicity and Religion in a Changing Political Landscape (Singapore: Institute of Southeast Asian Studies.
Listia . 2007, Problematika Pendidikan Agama di Sekolah: Hasil Penelitian tentang Pendidikan Agama di Yogyakarta 2004-2006, (Yogyakarta: Interfidei.
Bruinessen, M. V. 2002, "Genealogies of Islamic Radicalism in post-Suharto Indonesia", Southeast Asia Research no 2.
Mas'ud, M. 1989. Ekonomi dan Struktur Politik Orde Baru 1966-1971 Jakarta; LP3ES,.
Muammar, M. A, dkk. 2013. Studi Islam: Perspektif Insider/Outsider, Yogyakarta: IRCiSoD,
Ali, M. 2002. "Pendidikan Pluralis-Multikulturalis" dalam Harian Kompas, Edisi 26 April.
Asy'arie, M 2004 "Pendidikan Multikultural dan Konflik Bangsa", dalam Harian Kompas, Edisi Jum'at, 3 September.
Madjid, N 1997. Bilik-bilik Pesantren: Sebuah Potret Perjalanan Jakarta: Paramadian.
Pusat Kurikulum Balitbang Depdiknas RI, "Bab II: Prinsip Pengembangan Kurikulum" dalam 2006, Kurikulum Tingkat Satuan Pendidikan (KTSP) Jakarta: Puskur Balitbang Depdiknas,
Ronald , A. L. 2004. Jihad ala Pesantren di Mata Antropolog Amerika . Yogyakarta: Gama Media.
Lash, S dan Featherstone, M. 2002, Recognition and Difference: Politics, Identity, Multiculture. London: Sage Publication.
Fuller, S. 2002, "Social Epistemology as a Critical Philosophy of Multiculturalism" dalam Ram Mahalingan dan Cameron McCarthy, Multiculturalism Curriculum,.
Zaini, W. 1995, Dunia Pemikiran Kaum Santri Yogyakarta; LPSM NU DIY.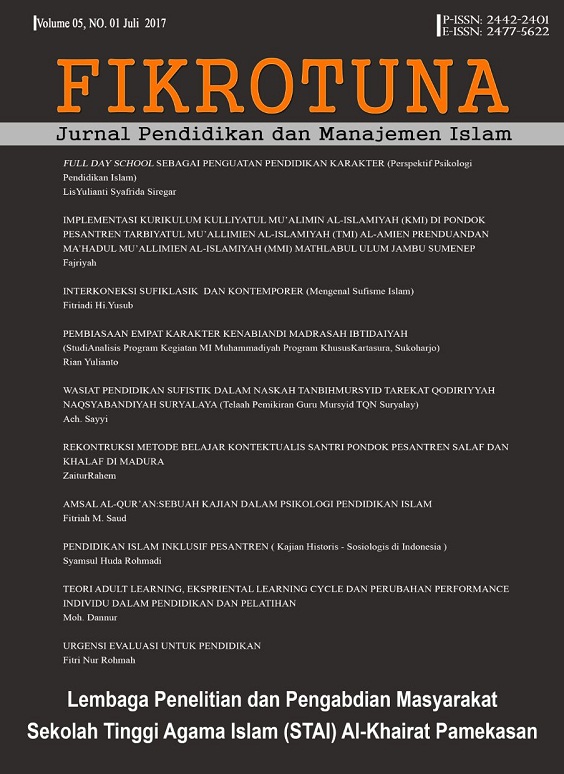 Downloads
How to Cite
Rohmadi, S. H. (2017). Pendidikan Islam Inklusif Pesantren ( Kajian Historis - Sosiologis di Indonesia ). FIKROTUNA: Jurnal Pendidikan Dan Manajemen Islam, 5(1). https://doi.org/10.32806/jf.v5i1.2949
License
Publishing your paper with Al FIKROTUNA: Jurnal Pendidikan dan Manajemen Islam means that the author or authors retain the copyright in the paper. Al Ihkam granted an exclusive non commercial reuse license by the author(s), but the author(s) are able to put the paper onto a website, distribute it to colleagues, give it to students, use it in your thesis etc, so long as the use is not directed at commercial advantage or toward private monetary gain. The author(s) can reuse the figures and tables and other information contained in their paper published by FIKROTUNA: Jurnal Pendidikan dan Manajemen Islam in future papers or work without having to ask anyone for permission, provided that the figures, tables or other information that is included in the new paper or work properly references the published paper as the source of the figures, tables or other information, and the new paper or work is not direct at private monetary gain or commercial advantage.
FIKROTUNA: Jurnal Pendidikan dan Manajemen Islam provides immediate open access to its content on the principle that making research freely available to the public supports a greater global exchange of knowledge. This journal is licensed under a Creative Commons Attribution-NonCommercial 4.0 International License.This license lets others remix, tweak, and build upon your work non-commercially, and although their new works must also acknowledge & be non-commercial, they don't have to license their derivative works on the same terms.
FIKROTUNA: Jurnal Pendidikan dan Manajemen Islam Open Access articles are distributed under this Creative Commons Attribution-Noncommercial 4.0 International License (CC BY-NC). Articles can be read and shared for noncommercial purposes under the following conditions:
BY: Attribution must be given to the original source (Attribution)
NC: Works may not be used for commercial purposes (Noncommercial)