Teori Adult Learning, Ekspriental Learning Cycle dan Perubahan Performance Individu dalam Pendidikan dan Pelatihan
Moh. Dannur

Sekolah Tinggi Agama Islam Al Khairat Pamekasan
Keywords:
Adult learning; expriental learning cycle; performance.
Abstract
Teori belajar merupakan hal yang sangat penting dalam Manajmen Pendidikan dan Pelatihan apabila ingin meraih hasil yang maksimal dalam proses transformasi pengetahuan. Adult Learning dan Ekspriental Learning Cycle salah satu teori yang paling masyhur di dalamnya. Dalam upaya meraih hasil yang maksimal juga perlu adanya pengetahuan tentang motivasi dan faktor-faktor dalam pengembangan individu, perubahan performanya, serta dinamika individu kelompok. Sehingga dengan pengetahuan yang dimilikiakan dengan mudah merealisasikan yang diinginkan. Kata kunci: Adult learning, expriental learning cycle, performance.  Learning theory is very important in Management of Education and Training if you want to achieve the maximum results in the transformation process of knowledge. Adult Learning and Expriental Learning Cycle are the most famous theories within it. In the effort to achieve the maximum results also needs the knowledge about motivation, the factors in the development of individuals, the changes of performance, and the dynamics of individual groups. So with this knowledge you will easily realize the thing you desired. Keywords: Adult learning, expriental learning cycle, performance.      
References
Basleman, A. M. S. 2011. Teori Belajar Orang Dewasa. Bandung: Remaja Rosdakarya.

Jamrah, S. B. A, Z. 2013. Strategi Belajar Mengajar Jakarta: Rineka Cipta

Kartika, I. F. 2011 Mengelola Pelatihan Partisipatif. Bandung: Alfabeta.

Mujiman, H. 20011. Manajmen Pelatihan Berbasis Belajar Mandiri. Yogyakarta: Pustaka Belajar.

Permana, W. A. 2008. Efektivitas Sumberdaya Manusia, Tesis. Surabaya:Unair.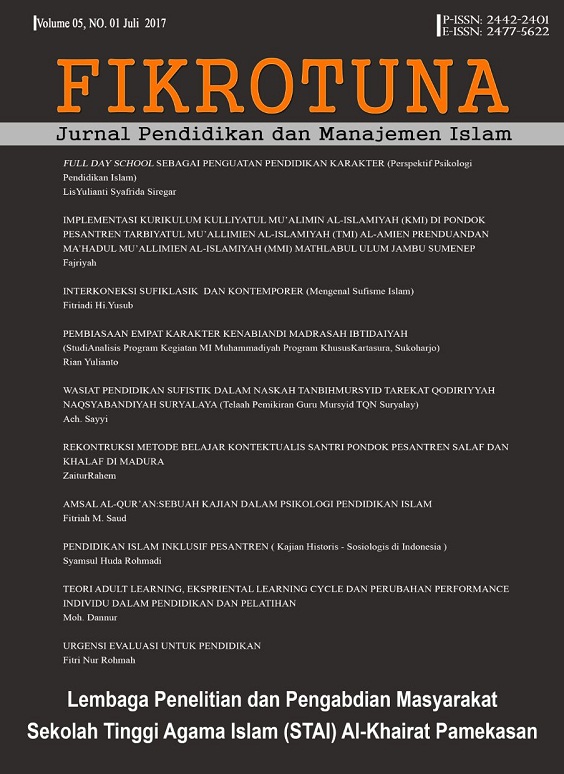 How to Cite
Dannur, M. (2017, July 1). Teori Adult Learning, Ekspriental Learning Cycle dan Perubahan Performance Individu dalam Pendidikan dan Pelatihan. FIKROTUNA, 5(1). https://doi.org/https://doi.org/10.32806/jf.v5i1.2953

This work is licensed under a Creative Commons Attribution-NonCommercial 4.0 International License.