Urgensi Evaluasi Untuk Pendidikan
Keywords:
Evaluation; educational.
Abstract
salah satu kompetensi utama yang harus dimiliki oleh seorang guru adalah mampu melakukan evaluasi dengan baik. Ini penting dilakukan karena tujuan evaluasi selain untuk mengetahui tingkat keberhasilan siswa dan KBM, juga sangat penting digunakan untuk memilih strategi dan metode pembelajaran yang tepat dalam pembelajaran. Penerapan sistem evaluasi yang benar sangat dibutuhkan mengingat tidak semua guru bisa melakukannya. Secara teoritis mungkin mereka memahami evaluasi,tetapimasih banyak yang belum menerapkan langkah-langkah evaluasi yang benar. Oleh karena itu sangat diperlukan pengetahuan tentang langkah pelaksanaan evaluasi yang benar agar hasil evaluasi benar-benar menggambarkan kemampuandan keadaan siswa sehingga hasil evaluasi bisa digunakan sesuai dengan fungsi dan tujuan evalausi dalam pendidikan. Kata kunci: evaluasi, tujuan pendidikan.     One of the main competencies that a teacher must have is able to evaluate well. This is important to do because the purpose of evaluation beside to know the success degree of students and teaching and learning activity, is also very important to choose the appropriate strategies and methods in learning. The Implementation of a correct evaluation system is needed because not all teachers can do it. Scientifically and theorically they understood very well, but applying the correct evaluation steps is still very rare to conduct. Therefore it is necessary to have a knowledge of correct evaluation steps so that evaluation result will really describe the ability and state of student, hopefully the evaluation result can be used as a function and purpose of evalution in education. Keywords: evaluation, educational.
References
Cronbach, L.E. 1963.Course Improvement through Evaluation, dalam Educational Evaluation: Theory and Practice (ed. Worthen, B.R dan Sanders, J.R.) Belmonth: Wardworth Publishing. Co.
Cronbach, L.E. 1970.Essential of Psychology Testing, New York: Harper.
Djemari Mardapi. 2003. Penyusunan Evaluasi Hasil Belajar. Universitas Negeri Yogyakarta. Diktat Kuliah: Tidak diterbitkan.
Ebel, R.L. 1972. Essential of Educational Measurement, Englewood Cliffs, New Jersey: Prentice-Hall.
Mulyadi. 2010. Evaluasi Pendidikan, Pengembangan Model Evaluasi Pendidikan Agama di Sekolah. Malang: UIN-MALIKI Press.
Scriven, Madaus. 1967. The Methodology of Evaluation dalam Perspective of Curriculum Evaluation. AERA I. (ed. Tyler, R.,et.al.). Chicago: Rand McNally and Company.
Stufflebeam, D.L. 1973. Educational Evaluation and Decision Making. Itasca Illionis: F.E. Peacock Publisher.
Suharsimi Arikunto, 2012. Dasar-dasar Evaluasi Pendidikan. Edisi 2. Jakarta: Bumi Aksara.
Zainal Arifin, 2013.Evaluasi Pembelajaran (prinsip teknik dan prosedur). Bandung: PT. Remaja Rosdakarya.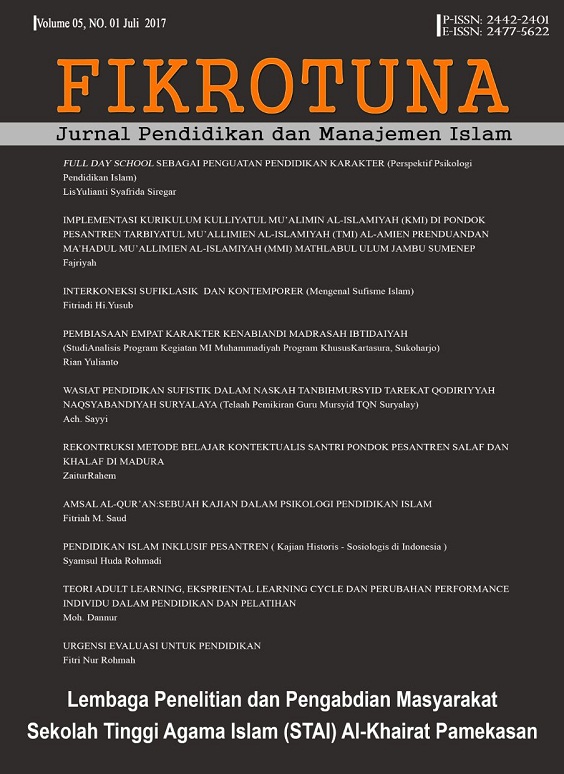 Downloads
How to Cite
Rohmah, F. N. (2017). Urgensi Evaluasi Untuk Pendidikan. FIKROTUNA: Jurnal Pendidikan Dan Manajemen Islam, 5(1). https://doi.org/10.32806/jf.v5i1.2954
License
Publishing your paper with Al FIKROTUNA: Jurnal Pendidikan dan Manajemen Islam means that the author or authors retain the copyright in the paper. Al Ihkam granted an exclusive non commercial reuse license by the author(s), but the author(s) are able to put the paper onto a website, distribute it to colleagues, give it to students, use it in your thesis etc, so long as the use is not directed at commercial advantage or toward private monetary gain. The author(s) can reuse the figures and tables and other information contained in their paper published by FIKROTUNA: Jurnal Pendidikan dan Manajemen Islam in future papers or work without having to ask anyone for permission, provided that the figures, tables or other information that is included in the new paper or work properly references the published paper as the source of the figures, tables or other information, and the new paper or work is not direct at private monetary gain or commercial advantage.
FIKROTUNA: Jurnal Pendidikan dan Manajemen Islam provides immediate open access to its content on the principle that making research freely available to the public supports a greater global exchange of knowledge. This journal is licensed under a Creative Commons Attribution-NonCommercial 4.0 International License.This license lets others remix, tweak, and build upon your work non-commercially, and although their new works must also acknowledge & be non-commercial, they don't have to license their derivative works on the same terms.
FIKROTUNA: Jurnal Pendidikan dan Manajemen Islam Open Access articles are distributed under this Creative Commons Attribution-Noncommercial 4.0 International License (CC BY-NC). Articles can be read and shared for noncommercial purposes under the following conditions:
BY: Attribution must be given to the original source (Attribution)
NC: Works may not be used for commercial purposes (Noncommercial)