Meningkatkan Mutu Manajemen Madrasah (Kajian Minat Masyarakat dan Prinsip Dasar Manajemen Lembaga Pendidikan Islam)
Keywords:
Madrasah, Interests, Quality
Abstract
Recently, madrasah education has begun to dim its existence, the Islamic educational institutions have become less popular among the public in terms of output and quality, so that Madrasah education generally is in second class in real condition when it is juxtaposed with educational institutions in general in Indonesia. This condition occurs because the Madrasah only think about how education continues to run regardless of the factors that can attract the public to be the main choice in processing the son or his daughter, in addition madrasah is lost identity as an Islamic educational institution that should be principled in accordance with the values- the value of Islamic educational institutions contained in the Qur'an and Hadith as the main guidance in the effort to maintain its existence. In theory of interest, the most important thing to note is the view of parents in choosing a Madrasah which if it is ranked in percentage above 50%, so the sequence is qualified, excelling, then the closeness to school / madrasah with home. While if we ranked in percentage under 50%, then the sequence is a low cost, discipline, madrasah status, easy transportation and a supportive environment to the development of children creativity. So to fulfill all efforts which become the desire of the community become the key to the emergence of these interests, but the main thing is to maintain the quality of education continuously with the appropriate management model, meaning it is in accordance with the basic concept of management of Islamic Education Institution, so that objectively society will assess and care for the existence of madrasah education together with madrasah stakeholder
References
Anastasi, Anne, 1977, Psychological Testing, diterjemah oleh Robertus Hariono S. Imam dalam Tes Psikologi, Jilid 2, Jakarta : Prenhalindo
Crow, Alice, and Lester D. Crow, 1989, Educational Psychology, diterjemah oleh Abd. Rachman Abror dalam Psychologi Pendidikan, Yogyakarta: Nur Cahaya.
Dwiningrum, Siti Irene Astuti, 2011, Desentralisasi Dan Partisipasi Masyarakat Dalam Pendidikan Suatu Kajian Teoritis Emperik, Yogyakarta: Pustaka Pelajar.
Gunarso. 1995. Meningkatkan Minat Belajar Anak. Jakarta: LPTK dan ISPI
Hurlock, Elizabeth B, 1978, Child Development, diterjemah oleh Med. Meitasari Tjandrasa dalam, Perkembangan Anak, Jilid 2, Jakarta: Erlangga
Krathwohl, David R, et.al, 1956, Taxonomy of Educational Objectives, The Classification of Educational Goals, Handbook II: Affective Domain, London: Longmans
Koentjaraningrat, 2002, Pengantar Ilmu Antropologi, Jakarta: Rineka Cipta.
Khozin, Wahid, Masyarakat dan Eksistensi Madrasah Diniyah, Jurnal Penelitian Pendidikan Agama Dan Keagamaan Edukasi, Volume 4, Nomor 4, Oktober-Desember 2006, Jakarta: Puslitbang Pendidikan Agama dan Keagamaan Kemenag RI.
Muliawan, Jasa Unggul, 2005, Pendidikan Islam Integratif, Upaya Mengintegrasikan Kembali Dikotomi Ilmu dan Pendidikan Islam, Yogyakarta: Pustaka Pelajar.
Ramayulis, 2002, Pengantar Psikologi Agama, Jakarta: Kalam Mulia.
Rifa'i, Achmad, 2010, Psikologi Pendidikan, Semarang: Universitas Negeri Semarang Press,
Ridho, Ali. Pendidikan Islam Berwawasan Pluralis (Sebuah Solusi Dari Keberagaman Pemahaman Internal dan antar Agama). Ahsana Media: Jurnal Pemikiran, Pendidikan dan Penelitian Ke-Islaman, 2017.
Ridho, Ali. ESQ Dalam Kepemimpinan Pendidikan. Fikrotuna, 2017.
Saniri, 2012, Studi Deskriptif Tentang Minat Masyarakat Bawean Terhadap Madrasah, Semarang : Tesis
Supiana, 2008, Sistem Pendidikan Madrasah Unggulan Di Madrasah Aliyah Negeri Insan Cendekia Tangerang, Madrasah Aliyah Negeri Bandung Dan Madrasah Aliyah Negeri 1 Bandung Dan Madrasah Aliyah Negeri Darussalam Ciamis, Jakarta: Balitbang Departemen Agama RI.
Singer, Kurt, 1973, Verhindert Die Schule Das Lernen, diterjemah oleh Bergman Sitorus, Membina Hasrat Belajar Di Sekolah, Bandung: Remaja Karya.
Undang-Undang Sistem Pendidikan Nasional No. 20 tahun 2003
Usman, Husaini, 2009, Manajemen, Teori, Praktik, dan Riset Pendidikan, Jakarta: Bumi Aksara.
Walgito, Bimo, 2002, Psikologi Sosial, Suatu Pengantar, Yogyakarta: Andi.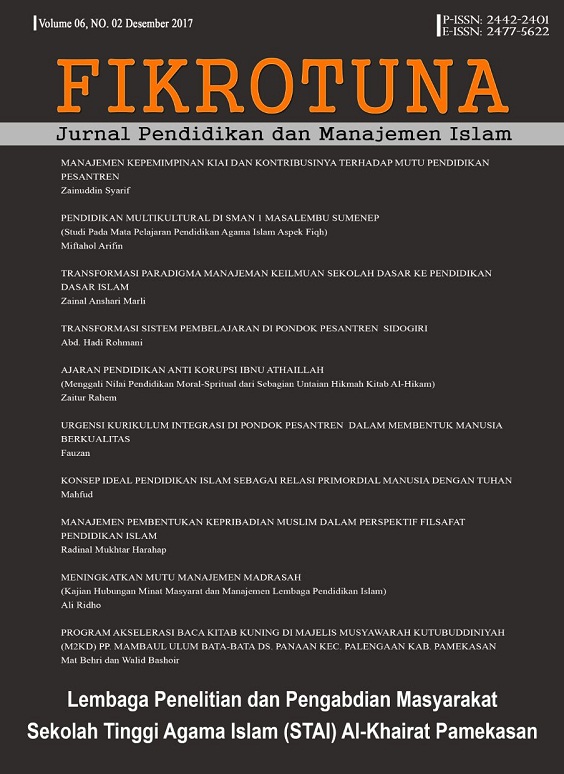 Downloads
How to Cite
Ridho, A. (2017). Meningkatkan Mutu Manajemen Madrasah (Kajian Minat Masyarakat dan Prinsip Dasar Manajemen Lembaga Pendidikan Islam). FIKROTUNA: Jurnal Pendidikan Dan Manajemen Islam, 6(2). https://doi.org/10.32806/jf.v6i2.3096
License
Publishing your paper with Al FIKROTUNA: Jurnal Pendidikan dan Manajemen Islam means that the author or authors retain the copyright in the paper. Al Ihkam granted an exclusive non commercial reuse license by the author(s), but the author(s) are able to put the paper onto a website, distribute it to colleagues, give it to students, use it in your thesis etc, so long as the use is not directed at commercial advantage or toward private monetary gain. The author(s) can reuse the figures and tables and other information contained in their paper published by FIKROTUNA: Jurnal Pendidikan dan Manajemen Islam in future papers or work without having to ask anyone for permission, provided that the figures, tables or other information that is included in the new paper or work properly references the published paper as the source of the figures, tables or other information, and the new paper or work is not direct at private monetary gain or commercial advantage.
FIKROTUNA: Jurnal Pendidikan dan Manajemen Islam provides immediate open access to its content on the principle that making research freely available to the public supports a greater global exchange of knowledge. This journal is licensed under a Creative Commons Attribution-NonCommercial 4.0 International License.This license lets others remix, tweak, and build upon your work non-commercially, and although their new works must also acknowledge & be non-commercial, they don't have to license their derivative works on the same terms.
FIKROTUNA: Jurnal Pendidikan dan Manajemen Islam Open Access articles are distributed under this Creative Commons Attribution-Noncommercial 4.0 International License (CC BY-NC). Articles can be read and shared for noncommercial purposes under the following conditions:
BY: Attribution must be given to the original source (Attribution)
NC: Works may not be used for commercial purposes (Noncommercial)