Transformasi Sistem Pembelajaran di Pondok Pesantren Sidogiri
Keywords:
Transformation, Learning System,
Abstract
Sidogiri is one of the major schools, even the oldest in East Java. In its long history, almost three centuries, Sidogiri remain concerned at the development of Islamic education schools, but by doing a number of innovations in learning systems, both from the aspect of the methods and curriculum. One form of amendments is Aliyah-level learning system with the majors, which is actually a learning system such as this is usually only found in vocational schools and colleges. Until now there are five majors developed by Madrasah Aliyah Sidogiri, namely MT, Dakwah, Tenets, Tafsir and Hadith. Policy Department Sidogiri implementing this system is not born in a vacuum without intent, but rather a manifestation of the jargon that had been held firmly, to preserve the old system are still worth taking and adopt a new system that is more relevant to the times. In fact, in terms of teaching methods, Sidogiri yellow book has reached the point of realizing the new system is better than ever before.
References
Arif, Muhammad. 2012. Pondok Pesantren dan Perubahan Sosial, Disertasi. Surabaya: IAIN Surabaya.
Bakhri Mokh, Syaiful. 2004. Kebangkitan Ekonomi Syariah Di Pesantren: Belajar Dari Pengalaman Sidogiri. Pasuruan: Cipta Pustaka Utama.
Ditjen Kelembagaan Agama Islam. 2003. Pola Pemberdayaan Masyarakat Melalui Pondok Pesantren. Jakarta: Depag RI.
Faozan, Achmad. 2006. Pondok Pesantren dan Pemberdayaan Ekonomi, Ibda': Jurnal Studi Islam dan Budaya, Vol. 4, No. 1. Purwokerto: LP3M STAIN.
Feillard, Andree. 1999. NU Vis a Vis Negara; Pencarian isi, Bentuk dan Makna, Yogyakarta: LkiS.
Ghazali, Bahri. 2003. Pesantren Berwawasan Lingkungan, Jakarta: CV. Prasasti.
Hasanah, Arifatul. 2003. Renungan Kaum Bersarung Untuk Indonesia Yang Sedang Berkabung. Yogyakarta: Qirtas.
https://sidogiri.net/2017/05/pesantren-lembaga-pencetak-ulama-pembela-bangsa/ diakses pada 12 Juni 2017.
Huda, M., Nuril. 2016. Revitalisasi Madrasah di Wilayah Eksplorasi dan Eksploitasi Migas Blok Cepu, Maraji': Jurnal Ilmu Keislaman, vol. 2 no. 2, (Surabaya: Kopertais IV.
Huzaimi, Anshory. 2003. Kepesantrenan 3: Buku Pedoman Bagi Wali Santri PP Sidogiri, Pasuruan: Sidogiri Press.
Ihya' ulumuddin. 2016. Demokrasi Pendidikan Islam Perspektif Muhammad Natsir dan Relevansi dengan Sistem Pendidikan Nasional, Maraji'; Jurnal Ilmu Keislaman, vol. 2, no. 2 . Surabaya: Kopertais IV.
Ismail. 2017. Kecerdasan IQ, EQ Dan SQ Dalam Pembentukan Kepribadian Mukmin, Kabilah. Vol. 2 No. 1 Juni: 170.
Karni, S, Asrori. 2009. Etos Studi Kamum Santri; Wajah Baru Pendidikan Islam, Jakarta: Noura Books Publishing.
Khozin, et al., 2006. Manajemen Pemberdayaan Madrasah. Malang: UMM Press.
Naji, Saifullah. 2011. Jurnal Tamassya. Pasuruan: Sekretariat Ponpes Sidogiri.
Nasih, Munjin. 2015. Kaum Santri Menjawab Problematika Sosial. Malang: UM Press.
Nasir, Ridlwan. 2005. Mencari Format Pendidikan Ideal; Pondok Pesantren Di Tengah Arus Perubahan. Yogyakarta: Pustaka Pelajar.
Peraturan Pemerintah, http://peraturan.go.id/inc/view/ 11e52124d3d35be 4b0f530383 4323536. html, pada tanggal 05 Desember 2017 23:43.
Rimbawan, Yoyok. 2012. Pesantren Dan Ekonomi Kajian Pemberdayaan Ekonomi Pesantren Darul Falah Bendo Mungal Krian Sidoarjo Jawa Timur, Conference Proceedings, AICIS XII. Surabaya: 5-8 November.
Rizal Ahmad, Syamsul. 2001. Transformasi Corak Edukasi Dalam Sistem Pendidikan pesantren, Jurnal Ta'lim, vol. 9, no. 2. Bandung: Upi Press.
Rosidin. 2016. Problematika Pendidikan Islam Perspektif Maqasid shariah, Maraji': Jurnal Ilmu Keislaman, vol 3, No. 1. Surabaya: Kopertais IV.
Syafruddin, Amir. Pesantren Pembangkit Moral Bangsa, www.pikiran–rakyat.com (diakses pada 03 Januari 2017).
Ta'rifin, Ahmad, dkk. Formalisasi dan Transformasi Pendidikan Pesantren, http://e-journal.iainpekalongan.ac.id/index.php/Penelitian/article/view/244. Diakses pada 12 Juni 2017.
Tafsir, Ahmad. 2005. Ilmu Pendidikan Dalam Perspektif Islam. Bandung: PT Remaja Rosdakarya.
Team Redaksi Majalah Ijtihad. 2006. Jejak Langkah Masyayikh Sidogiri. Pasuruan: OMIM PPS.
Undang-Undang Sisdiknas no. 20 tahun 2003. 2009. Bandung: Fokus Media.
Wahid, Marzuki. 1999. Pesantren Masa Depan. Bandung: Pustaka Hidayah.
Wardi, Moh. 2014. Modernisasi Mu'allimin. Ta'limuna, Vol 7 No 1. Maret
Wardi, Moh. 2017. Pengembangan Entrepreneurship Berbasis Experiential Learning Di Pesantren Al-Amien Prenduan SumenepDan Darul Ulum Banyuanyar Pamekasan. Ph.D . diss., Pascasarjana Universitas Islam Negeri Sunan Ampel Surabaya.
www.sidogiri.net/madrasah/ diakses pada 16 Juni 2017.
Yasmadi. 2002. Modernisasi Pesantren; Kritik Nurcholis Majid Terhadap Pendidikan Islam Tradisional. Jakarta: Quantum Teaching.
Zainuddin, M. dkk. 2005. Dalam kata pengantar buku Horizon Baru Pengembangan Pendidikan Islam. Malang: IUN Press.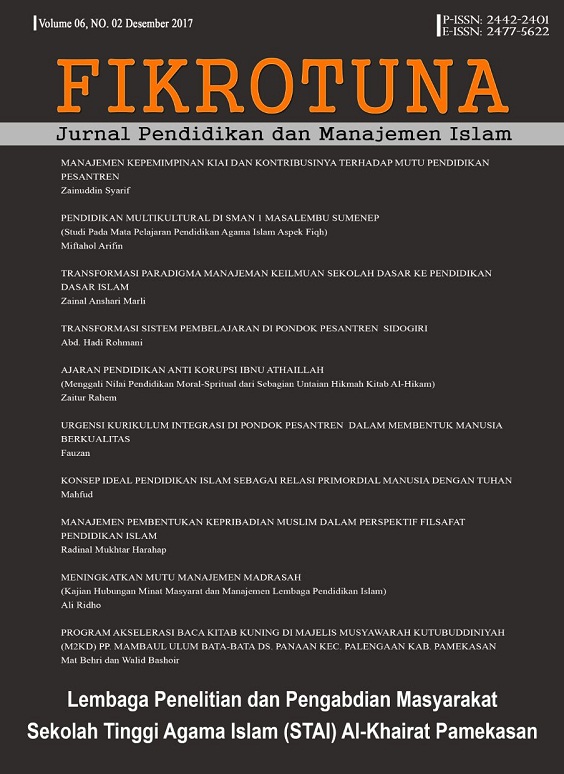 Downloads
How to Cite
Rohmani, A. H. (2017). Transformasi Sistem Pembelajaran di Pondok Pesantren Sidogiri. FIKROTUNA: Jurnal Pendidikan Dan Manajemen Islam, 6(2). https://doi.org/10.32806/jf.v6i2.3100
License
Publishing your paper with Al FIKROTUNA: Jurnal Pendidikan dan Manajemen Islam means that the author or authors retain the copyright in the paper. Al Ihkam granted an exclusive non commercial reuse license by the author(s), but the author(s) are able to put the paper onto a website, distribute it to colleagues, give it to students, use it in your thesis etc, so long as the use is not directed at commercial advantage or toward private monetary gain. The author(s) can reuse the figures and tables and other information contained in their paper published by FIKROTUNA: Jurnal Pendidikan dan Manajemen Islam in future papers or work without having to ask anyone for permission, provided that the figures, tables or other information that is included in the new paper or work properly references the published paper as the source of the figures, tables or other information, and the new paper or work is not direct at private monetary gain or commercial advantage.
FIKROTUNA: Jurnal Pendidikan dan Manajemen Islam provides immediate open access to its content on the principle that making research freely available to the public supports a greater global exchange of knowledge. This journal is licensed under a Creative Commons Attribution-NonCommercial 4.0 International License.This license lets others remix, tweak, and build upon your work non-commercially, and although their new works must also acknowledge & be non-commercial, they don't have to license their derivative works on the same terms.
FIKROTUNA: Jurnal Pendidikan dan Manajemen Islam Open Access articles are distributed under this Creative Commons Attribution-Noncommercial 4.0 International License (CC BY-NC). Articles can be read and shared for noncommercial purposes under the following conditions:
BY: Attribution must be given to the original source (Attribution)
NC: Works may not be used for commercial purposes (Noncommercial)