Transformasi Paradigma Manajeman Keilmuan Sekolah Dasar Menuju Pendidikan Dasar Islam
Keywords:
Transformation, Elementary School, Madrasah Ibtidaiyah, Islamic Elementary School.
Abstract
Islami Elementary School is combination Islamic education institution that was born from non formal education in Islamic boarding school formed as formal  education of madrasah with elementary school as the continuing of Sekolah Rakyat (SR). This school is an elementary school formed by Dutch colonialist for the local students in Indonesia as the basic need of education. Sekolah Rakyat for the next transformation become elementary school created to make a combination the heritage of colonial education with the heritage of Indonesian Islamic education so that it is called Islamic Elementary School that still drive formal education mission and madrasah generally. Islamic Elementary School is a respond of muslim that shown by doing some innovation and creation of development of education institution in a complex society. Islamic elementary school not always using Islamic term, some of them stil use elementary school but the subject elaborate between elementary school and Madrasah Ibtidaiyah, so the content of this school become an Islamic Elementary School. It means the combination elementlary school with Madrasah Ibtidaiyah like Elementary Full Day School al-Baitul Amien Jember as the object focus of this paper.
References
Zainal, Anshari. 2016. Anak Muda Masjid Membangun Negeri; Kisah-Kisah Unik Remaja Masjid Al-Baitul Amien, Surabaya: Pustaka Radja.
Saifuddin, Anshori, Endang. 1990. Ilmu, Filsafat Dan Agama, Pendahuluan Pendidikan Agama Islam Di Perguruan Tinggi, Surabaya: PT. Bina Ilmu.
Chotib, Moch. 2010. Pesantren Dan Masyarakat Transformatif. Jember: Pena Salsabila.
Haris, Abd. dan Kivah Aha Putra. 2012, Filsafat Pendidikan Islam. Jakarta: Amzah.
Hilmy, Masdar. 2016, Pendidikan Islam dan Tradisi Ilmiah. Malang: Madani.
Ichsan, Moch. dan Anshari, Zainal 2017. Sejarah Masjid Jami' Al-Baitul Amien Jember; Mengurai Peran Dan Kontribusinya. Jember: Superior
Marinda, Leny. 2011,"implementasi pembelajaran Full Day School dalam meningkatkan ke-cerdasan social peserta didik di SD al-Baitul Amien Jember", Jember: STAIN Jember. skripsi tidak dipublikasikan.
Moch. Chotib. 2010. Cakrawala Pesantren; Melacak Geneologi Pendidikan Pesantren. Jember: Pena Salsabila.
Observasi dan wawancara kepada bapak Rifan Humaidi dan ibu Nurul, Januari – Juni 2016.
Qomar, Mujammil. 2015. Dimensi Manajemen Pendidikan Islam. Jakarta: Emir-Erlangga.
Rafik, Ainur. 2013. Pendidikan Islam Dalam Sisdiknas, Jember: STAIN Jember Press.
Sallis, Edward. 2011. Total Quality Management in Education. Yogyakarta: IRCiSoD.
Sisdiknas nomor 20 tahun 2003 tentang system pendidikan nasional Indonesia.
Soebahar, Abd. Halim. 2009. Matriks Pendidikan Islam. Yogyakarta: Pustaka Marwa.
Soebahar, Abd. Halim. 2013. Modernisasi Pesantren; Studi Transformasi Kepemimpinan Kiai dan System Pendidikan Pesantren. Yogyakarta: LKIS.
Steenbrink, Karel A. 1974. Pesantren, Madrasah, Sekolah Pendidikan Islam dalam Kurun Modern. Jakarta: LP3ES.
Winoto, Suhadi. 2011. Manajemen Berbasis Sekolah. Jember: Pena Salsabila.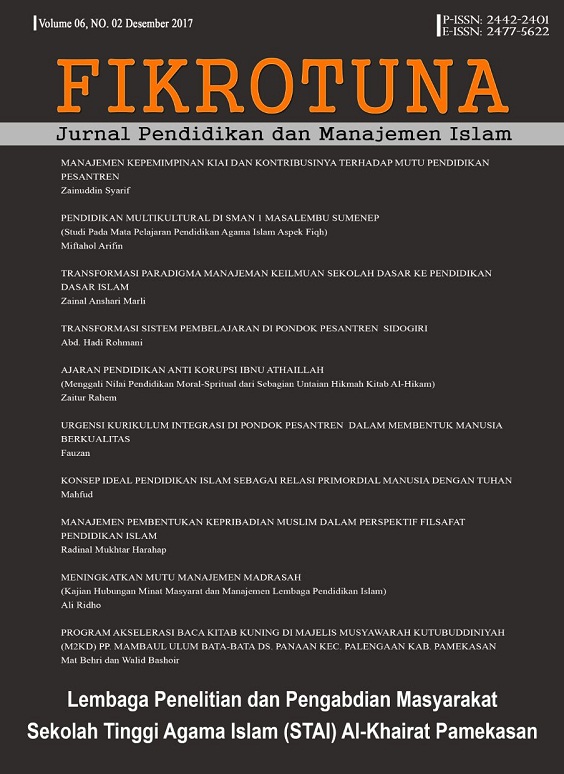 Downloads
How to Cite
Marli, Z. A. (2017). Transformasi Paradigma Manajeman Keilmuan Sekolah Dasar Menuju Pendidikan Dasar Islam. FIKROTUNA: Jurnal Pendidikan Dan Manajemen Islam, 6(2). https://doi.org/10.32806/jf.v6i2.3101
License
Publishing your paper with Al FIKROTUNA: Jurnal Pendidikan dan Manajemen Islam means that the author or authors retain the copyright in the paper. Al Ihkam granted an exclusive non commercial reuse license by the author(s), but the author(s) are able to put the paper onto a website, distribute it to colleagues, give it to students, use it in your thesis etc, so long as the use is not directed at commercial advantage or toward private monetary gain. The author(s) can reuse the figures and tables and other information contained in their paper published by FIKROTUNA: Jurnal Pendidikan dan Manajemen Islam in future papers or work without having to ask anyone for permission, provided that the figures, tables or other information that is included in the new paper or work properly references the published paper as the source of the figures, tables or other information, and the new paper or work is not direct at private monetary gain or commercial advantage.
FIKROTUNA: Jurnal Pendidikan dan Manajemen Islam provides immediate open access to its content on the principle that making research freely available to the public supports a greater global exchange of knowledge. This journal is licensed under a Creative Commons Attribution-NonCommercial 4.0 International License.This license lets others remix, tweak, and build upon your work non-commercially, and although their new works must also acknowledge & be non-commercial, they don't have to license their derivative works on the same terms.
FIKROTUNA: Jurnal Pendidikan dan Manajemen Islam Open Access articles are distributed under this Creative Commons Attribution-Noncommercial 4.0 International License (CC BY-NC). Articles can be read and shared for noncommercial purposes under the following conditions:
BY: Attribution must be given to the original source (Attribution)
NC: Works may not be used for commercial purposes (Noncommercial)