Pembentukan Kepribadian Muslim dalam Perspektif Filsafat Pendidikan Islam
Keywords:
Personal behavior management, Islamic education philosophy
Abstract
Management of forming muslim behavior  according to Islamic education studies is accrued;  first, concept , that educations should looked forward to the second  Human Values, physically or non, body, soul, desire, hearth and mind. Second, from side of environment education should being conducted by all part around students, either, societies, state or its institution. Third, implementing, that implementing education of faith, education of science, educations of practice, education of moral and social education. forth, education should being strongly conducted to make the peoples felt closely to the Quran and remembering syahadah that the peoples promised to their God before, through knowledge and culture, learning, education, and  ta'dib (morality)
References
al-Dariyah, Fayiz 1990 Mu'jam al-Mushtalahat al-'Ilmiyah al-'Arabiyah li al-Kindi wa al-Farabi wa al-Khawarizmi wa Ibn Sina wa al-Ghazali. Damaskus: Darul Fikr,)
al-Fairuz Abadi, Majduddin. 2008. al-Qamus al-Muhith. Kairo: Darul Hadits.
Al-Ghazali, Imam Abu Hamid. 2005. Ihya\' Ulum al-Din. Beirut: Darul Ibn Hazm.
al-Hajjaji, Hasan bin Ali bin Hasan 1988. Al-Fikru al-Tarbawiy 'inda Ibnu al-Qoyyim Riyadh: Dar Hafiz.
al-Qahtani, Muhammad bin Salim. 1994. Dirasah wa Tahqih fi Risalati Tazkiyah al-Nafs Syaikh al-Islam Abu al-'Abbas Ahmad bin Abdul Halim bin Taimiyah al-Hurrani. Riyadh: Dar al-Muslim
Al-Rasyidin, Falsafah Pendidikan Islami: Membangun Kerangka Ontologi, Epistemologi, dan Aksiologi Praktik Pendidikan Islami, Cet. V (Bandung: Citapustaka Media Perintis, 2017)
Alwisol, Psikologi Kepribadian (Malang: UMM Press, 2007)
Anis, Ibrahim. 2004. al-Mu'jam al-Wasith, cet. IV, Kairo: Maktabah Syuruq al-Dauliyah, M/ 1425 H
Arisatul Cholik, Ahmad. Relasi Akal dan Hati Menurut Al-Ghazali dalam Kalimah Vol. 13, No.2, September 2015
Azhari Noer, Kautsar. Pemerintahan Ilahi Atas Kerajaan Manusia: Psikologi Ibn 'Arabi Tentang Roh dalam Kanz Philosophia, Vol. 1, No. 2, Agustus-Desember, 2011
Boeree, George Personality Theories .Jogjakarta: Prismashopie, 2005
Fadil , Muhammad dan Wisnawati, Struktur Kepribadian dalam Paradigma, Volume. 8, Nomor. 1, 2007
Faizin,. Zaenal, Membangun Generasi Progresif Berbasis Kepribadian Religus di Era Multikultural dalam Wahana Akademika, Vol. 14, No.2, Oktober, 2012
Goleman, Daniel. 2007. Kecerdasan Emotional terj. Jakarta: Gramedia Pustaka Utama
Gumiandari, Septi Kepribadian Manusia dalam Perspektif Psikologi Islam: Telaah Kritis Atas Psikologi Kepribadian Modern, dalam Holistik, Volume. 12, Nomor. 1, Juni 2011
Hunawan, Heri 2012. Pendidikan Karakter; Konsep dan Implementasi. Bandung: Alfabeta,
Jalaludin, 1996. Psikologi Agama: Memahami Perilaku Keagamaan dengan Mengaplikasikan Prinsip-Prinsip Psikologi. Jakarta: Raja Grafindo Persada,
Khadijah, Nyanyu. 2001. Psikologi Pendidikan. Palembang: Grafika Telindo Press,
Mansur, Ahmad. 2016. Pendidikan Karakter Berbasis Wahyu. Jakarta: Gaung Persada
Manzur, Ibnu Lisan al-'Arab tk: Dar al-Ma'arif.
Muhammad bin Ismail bin Ibrahim bin Mughirah al-Ju'fi al-Bukhori, Imam Abu 'Abdillah Muhammad bin Ismail bin Ibrahim bin Mughirah al-Ju'fi al-Bukhori, al-Jami' al-Shahih (tk: Dar Tuq Najah, tt)
Mukholiq, Telaah Kepribadian Manusia dan Korelasinya dengan Pendidikan Islam dalam Episteme, Volume. 8, Nomor. 2, Desember 2013
Naquib al-Attas, Syed Muhammad. 1995. Prolegomena to The Metaphysics of Islam; an Exposition of The Fundamental Elements of The Worldview of Islam. Kuala Lumpur: International Institute of Islamic Thought and Civilization,
Navlia Khulaisie, Rusdiana Hakikat Kepribadian Muslim, Seri Pemahaman Jiwa Terhadap Konsep Insan Kamil dalam Jurnal Reflektika, Volume. 11, Nomor. 1, Januari 2016
Nawawi, Imam. Nasihat-nasihat bagi untuk Para Hamba. Bandung: Irsyad Baitus Salam,
Nor Wan Daud, Wan Mohd. 2017. Peranan University: Pengislaman Ilmu Semasa, Penafibaratan dan Penafijajahan. Kuala Lumpur: Casis-Hakim
Nurjannah, Lima Pilar Rukun Islam Sebagai Pembentuk Kepribadian Muslim dalam Jurnal Hisbah, Volume. 11, Nomor. 1, Juni 2014
Rahmatiah, St. Konsep Manusia Menurut Islam dalam al-Isrsyad al-Nafs: Jurnal Bimbingan Penyuluhan Islam, Vol. 2, No. 1, Desember 2015
Shaleh, Abdul Rahman. 2015. Psikologi: Suatu Pengantar Dalam Perspektif Islam .Jakarta: Prenadamedia Group.
Shihab, M. Quraish 2008. Tafsir al-Mishbah: Pesan, Kesan, dan Keserasian alQuran, Vol. 7 (Jakarta: Lentera Hati,)
Shihab, M. Quraish. 2012. Tafsir al-Mishbah: Pesan, Kesan, dan Keserasian alQuran, Vol. 13. Jakarta: Lentera Hati.
Tim Penyusun, 2008. Kamus Besar Bahasa Indonesia. Jakarta: Pusat Bahasa Departemen Pendidikan Nasional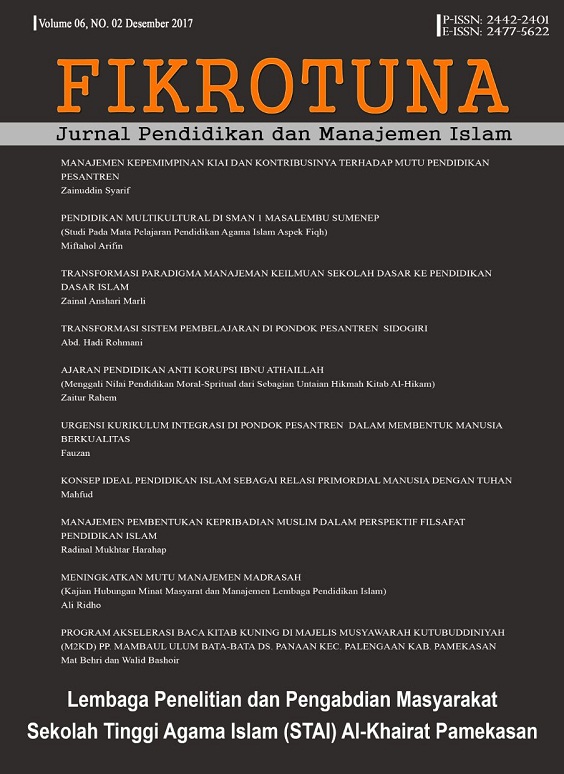 Downloads
How to Cite
Harahap, R. M. (2017). Pembentukan Kepribadian Muslim dalam Perspektif Filsafat Pendidikan Islam. FIKROTUNA: Jurnal Pendidikan Dan Manajemen Islam, 6(2). https://doi.org/10.32806/jf.v6i2.3102
License
Publishing your paper with Al FIKROTUNA: Jurnal Pendidikan dan Manajemen Islam means that the author or authors retain the copyright in the paper. Al Ihkam granted an exclusive non commercial reuse license by the author(s), but the author(s) are able to put the paper onto a website, distribute it to colleagues, give it to students, use it in your thesis etc, so long as the use is not directed at commercial advantage or toward private monetary gain. The author(s) can reuse the figures and tables and other information contained in their paper published by FIKROTUNA: Jurnal Pendidikan dan Manajemen Islam in future papers or work without having to ask anyone for permission, provided that the figures, tables or other information that is included in the new paper or work properly references the published paper as the source of the figures, tables or other information, and the new paper or work is not direct at private monetary gain or commercial advantage.
FIKROTUNA: Jurnal Pendidikan dan Manajemen Islam provides immediate open access to its content on the principle that making research freely available to the public supports a greater global exchange of knowledge. This journal is licensed under a Creative Commons Attribution-NonCommercial 4.0 International License.This license lets others remix, tweak, and build upon your work non-commercially, and although their new works must also acknowledge & be non-commercial, they don't have to license their derivative works on the same terms.
FIKROTUNA: Jurnal Pendidikan dan Manajemen Islam Open Access articles are distributed under this Creative Commons Attribution-Noncommercial 4.0 International License (CC BY-NC). Articles can be read and shared for noncommercial purposes under the following conditions:
BY: Attribution must be given to the original source (Attribution)
NC: Works may not be used for commercial purposes (Noncommercial)