Manajemen Kepemimpinan Kiai dan Kontribusinya Terhadap Mutu Pendidikan Pesantren
Keywords:
Leadership Management, Kiai and Pesantren
Abstract
Pesantren is the most important part of some education in Indonesia, it is the oldest institution of Islamic education in Indonesia and is also part of indegenous culture. Pondok Pesantren has a religious purpose, according to founder kiai, the habit of establishing pesantren is influenced by personal experience of kiai during studying in pesantren.Tulisan try to analyze about management aspect in leadership of a kiai in pesantren and its contribution to quality of pesantren education, kiai has been able to strengthen existence pesantren institutions are mostly successful in producing santri who are mah-mahmah and qualified in religious matters, but are less able to respond and accommodate to the needs of the times.
References
A. Mughni, Syafiq. 2002. Dinamika Intelektual Islam; Pada Abad Kegelapan", Surabaya: LPAM.
Azra, Azyumardi. 2000. Pendidikan Islam: Tradisidan Modernisasi menuju Millenium Baru, Jakarta: Logos Wacana Ilmu.
Baharun, Hasan. 2017 Total Moral Quality: A New Approach For Character Education In Pesantren " Ulumuna Journal of Islamic Studies Published by State Islamic Institute Mataram Vol. 21, No. 1
Dhofier, Zamahsyari. 1982. Tradisi Pesantren; Studi tentang Pandangan Hidup Kiai Jakarta: LP3ES.
Dubin, A.E 1991. The Principal as Chief Executive Officer London: The Falmer Press.
Harrison, R. dan G.R. Carrol, Desember 1991, Keeping The Faith: A Model of Cultural Transmission in Forma Organizations, Administrative Science Quartely.
Ismail, 2017. "Politik Pendidikan Islam di Daerah (Studi Kebijakan Pemerintah Provinsi Jawa Timur Dalam Pengembangan Madrasah Diniah)", (Ph. D. Diss., Pascasarjana Universitas Islam Negeri Sunan Ampel Surabaya),
Majid, Nurcholis 1995. Bilik-BilikPesantren: Sebuah Potret Perjalanan. Jakarta: Para-madina.
Permadi 1996. Pemimpin dan Kepemimpinan dalam Manajemen Jakarta: Rineka Cipta.
Pidarta, Made. 1988. Manajemen Pendidikan Indonesia, Jakarta: Bina Aksara.
Robbins , Stephen P. and Timoty A. Judge (2007). Organizational Behavior (New Jersey: Pearson Interntional Education).
Shate, Vijay 1982. Culture and Related Corporate Realistics, (Homewood: Illinois: Ri-card D. Irwin, Inc.
Sigit, Suhardi. 2003. Prilaku Organisasional Common Understanding (Yogyakarta: BPFE-UTS) .
Syarif, Zainuddin. 2010. Dinamika politik Kiai, (Desertasi, IAIN Surabaya).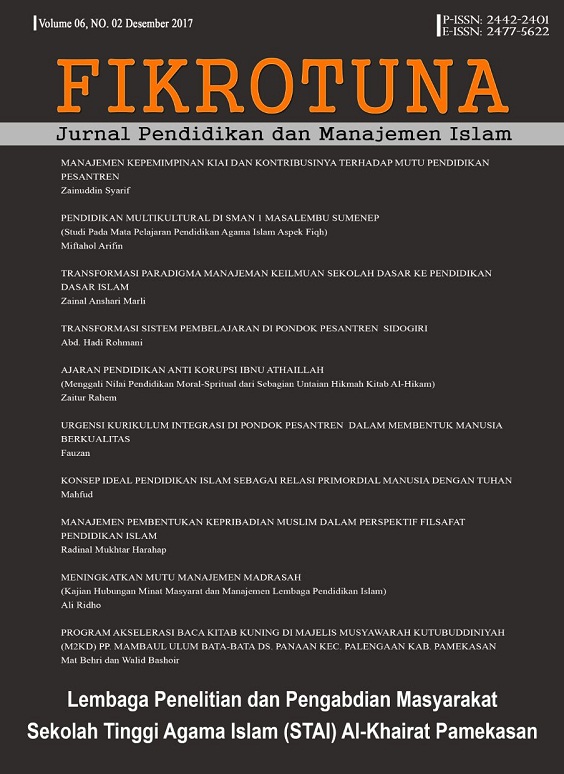 Downloads
How to Cite
Syarif, Z. (2017). Manajemen Kepemimpinan Kiai dan Kontribusinya Terhadap Mutu Pendidikan Pesantren. FIKROTUNA: Jurnal Pendidikan Dan Manajemen Islam, 6(2). https://doi.org/10.32806/jf.v6i2.3112
License
Publishing your paper with Al FIKROTUNA: Jurnal Pendidikan dan Manajemen Islam means that the author or authors retain the copyright in the paper. Al Ihkam granted an exclusive non commercial reuse license by the author(s), but the author(s) are able to put the paper onto a website, distribute it to colleagues, give it to students, use it in your thesis etc, so long as the use is not directed at commercial advantage or toward private monetary gain. The author(s) can reuse the figures and tables and other information contained in their paper published by FIKROTUNA: Jurnal Pendidikan dan Manajemen Islam in future papers or work without having to ask anyone for permission, provided that the figures, tables or other information that is included in the new paper or work properly references the published paper as the source of the figures, tables or other information, and the new paper or work is not direct at private monetary gain or commercial advantage.
FIKROTUNA: Jurnal Pendidikan dan Manajemen Islam provides immediate open access to its content on the principle that making research freely available to the public supports a greater global exchange of knowledge. This journal is licensed under a Creative Commons Attribution-NonCommercial 4.0 International License.This license lets others remix, tweak, and build upon your work non-commercially, and although their new works must also acknowledge & be non-commercial, they don't have to license their derivative works on the same terms.
FIKROTUNA: Jurnal Pendidikan dan Manajemen Islam Open Access articles are distributed under this Creative Commons Attribution-Noncommercial 4.0 International License (CC BY-NC). Articles can be read and shared for noncommercial purposes under the following conditions:
BY: Attribution must be given to the original source (Attribution)
NC: Works may not be used for commercial purposes (Noncommercial)