Manajemen Kepemimpinan Kiai dan Kontribusinya Terhadap Mutu Pendidikan Pesantren
Zainuddin Syarif

Sekolah Tinggi Agama Islam Negeri Pamekasan
Keywords:
Leadership Management, Kiai and Pesantren
Abstract
Pesantren is the most important part of some education in Indonesia, it is the oldest institution of Islamic education in Indonesia and is also part of indegenous culture. Pondok Pesantren has a religious purpose, according to founder kiai, the habit of establishing pesantren is influenced by personal experience of kiai during studying in pesantren.Tulisan try to analyze about management aspect in leadership of a kiai in pesantren and its contribution to quality of pesantren education, kiai has been able to strengthen existence pesantren institutions are mostly successful in producing santri who are mah-mahmah and qualified in religious matters, but are less able to respond and accommodate to the needs of the times.
References
A. Mughni, Syafiq. 2002. Dinamika Intelektual Islam; Pada Abad Kegelapan", Surabaya: LPAM.
Azra, Azyumardi. 2000. Pendidikan Islam: Tradisidan Modernisasi menuju Millenium Baru, Jakarta: Logos Wacana Ilmu.
Baharun, Hasan. 2017 Total Moral Quality: A New Approach For Character Education In Pesantren " Ulumuna Journal of Islamic Studies Published by State Islamic Institute Mataram Vol. 21, No. 1
Dhofier, Zamahsyari. 1982. Tradisi Pesantren; Studi tentang Pandangan Hidup Kiai Jakarta: LP3ES.
Dubin, A.E 1991. The Principal as Chief Executive Officer London: The Falmer Press.
Harrison, R. dan G.R. Carrol, Desember 1991, Keeping The Faith: A Model of Cultural Transmission in Forma Organizations, Administrative Science Quartely.
Ismail, 2017. "Politik Pendidikan Islam di Daerah (Studi Kebijakan Pemerintah Provinsi Jawa Timur Dalam Pengembangan Madrasah Diniah)", (Ph. D. Diss., Pascasarjana Universitas Islam Negeri Sunan Ampel Surabaya),
Majid, Nurcholis 1995. Bilik-BilikPesantren: Sebuah Potret Perjalanan. Jakarta: Para-madina.
Permadi 1996. Pemimpin dan Kepemimpinan dalam Manajemen Jakarta: Rineka Cipta.
Pidarta, Made. 1988. Manajemen Pendidikan Indonesia, Jakarta: Bina Aksara.
Robbins , Stephen P. and Timoty A. Judge (2007). Organizational Behavior (New Jersey: Pearson Interntional Education).
Shate, Vijay 1982. Culture and Related Corporate Realistics, (Homewood: Illinois: Ri-card D. Irwin, Inc.
Sigit, Suhardi. 2003. Prilaku Organisasional Common Understanding (Yogyakarta: BPFE-UTS) .
Syarif, Zainuddin. 2010. Dinamika politik Kiai, (Desertasi, IAIN Surabaya).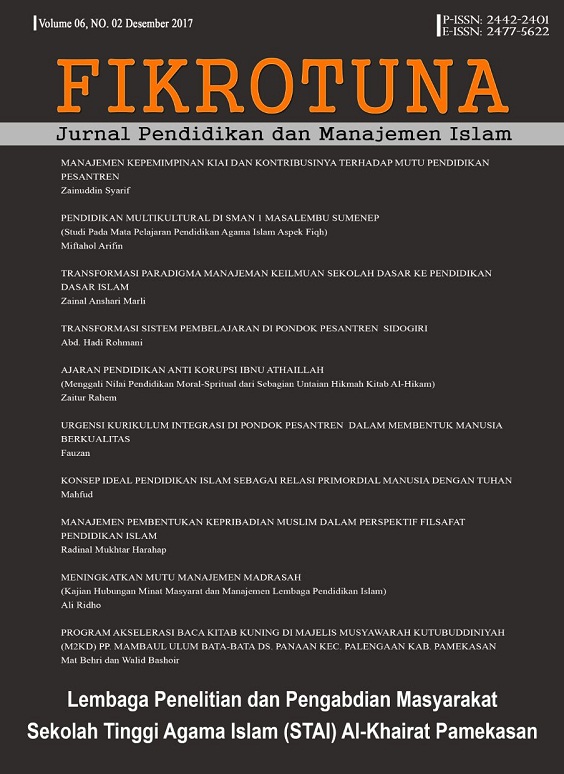 How to Cite
Syarif, Z. (2017, December 28). Manajemen Kepemimpinan Kiai dan Kontribusinya Terhadap Mutu Pendidikan Pesantren. FIKROTUNA, 6(2). https://doi.org/https://doi.org/10.32806/jf.v6i2.3112

This work is licensed under a Creative Commons Attribution-NonCommercial 4.0 International License.