Ajaran Pendidikan Anti Korupsi ibnu Athaillah (Menggali Nilai Pendidikan Moral-Sprititual dari Sebagian Untaian Hikmah Kitab Al-Hikam)
Keywords:
Theology, Sufism, Corruption
Abstract
Corruption here has been ingrained. From year to year, the number of corruption continue to grow. Spread out to various corners of the bureaucracy and social status. Some movement of the Government and tactical systemic organs do. Eradication and the fight against corruption as no betaji. Therefore, one captured, grew so many actors who perform the same action. Back to the sociological typology of Indonesian society, corruption is contrary to the cultural roots of our ancestors. Corruption odds for causing corruption in various aspects of life in Indonesia. There are so many people get hurt and become victims of corrupt practices. Perhaps, therapy metaphysical version of Ibn 'Athaillah through counsels Al-Hikam bidder will be octopus of corruption in Indonesia. At least, this wisdom can be banged strands of consciousness and the hearts of all elements of the Indonesian nation.
References
Aziz, Iwan Jaya, 1994. Ilmu Ekonomi Regional dan Beberapa Aplikasinya di Indonesia, Jakarta: Lembaga Penerbit FE UI.
Al-Hasyimi, Abd. Al-Hamid Muhammad. 1402 H. Lamahat Nafsiyah fi Al-Quran Al-Karim, Makkah: Da'wat Al-Haq.
Danner, Victor. 2003. Sufisme Ibnu 'Athaillah, Kajian Kitab al-Hikam (Surabaya: Risalah Gusti,
Dato' Hj. Tuan Ibrahim bin Tuan Man. Syarah al-Hikam (Bandar Pusat. Pahang: t.p., t.t.)
Elhasany, Imam Sibawaih, 2105. Kitab Al-Hikam, Jakarta: Zaman.
Fukuyama, Francis, 2005. Memperkuat Negara:Tata Pemerintahan dan Tata Dunia Abad 21, Jakarta: PT. Gramedia.
Hamzah, Fahri, 2011. Negara, Pasar, dan Rakyat, Jakarta: Yayasan Faham Indonesia.
Hasbullah, Jousairi, 2006. Social Capital, Jakarta: MR-United Press
Hatta, Moh, Ekonomi Indonesia di Masa Mendatang, dalam Sri Edi
Swasono (editor), 1985. Sistem Ekonomi dan Demokrasi Indonesia, Jakarta: UI Press
Stern, Frederick Martin. 1980. Capitalisme in America, USA: Richard and CO.
Sindhunata, 1982. Dilema Usaha Manusia Rasional, Jakarta: PT. Gramedia
Hikam, Muhammad AS, 1999, Demokrasi dan Civil Society, Jakarta: LP3ES
Ibn Khaldun, 2004. al-Muqaddimah, Beirut: Dar al-Fikr
Joon Chang, Ha, Ilene Grabel, 2008. Membongkar Mitos Neolib: Upaya Merebut Kembali Makna Pembangunan, Jogjakarta: Insist Press
Masyhuri, KH. Agoes Ali, 2015, Belajarlah kepada Lebah dan lalat, Jakarta: Zaman
Machali, Imam (ed.), 2004. Pendidikan Islam dan Tantangan Globalisasi. Yogyakarta: Ar-Ruzz Media
Mazhahiri, Husain, 1999. Pintar Mendidik Anak, Jakarta: Lentera Basritama
Said Abdullah, MH, 2008, Pendidikan Multikultural, Jakarta: SaiPress
Referensi Kamus dan Al-Qur'an: Al-Quran Terjemah Al-Jumânatul Âli, Revisi terjemah oleh Lajnah pentashih Mushaf al-Qur'an Departemen Agama Republik Indonesia, 2004.
Kamus Besar bahasa Indonesia (KBBI), Kemendikbud RI. Kamus Al-Munawwir. Wikipedia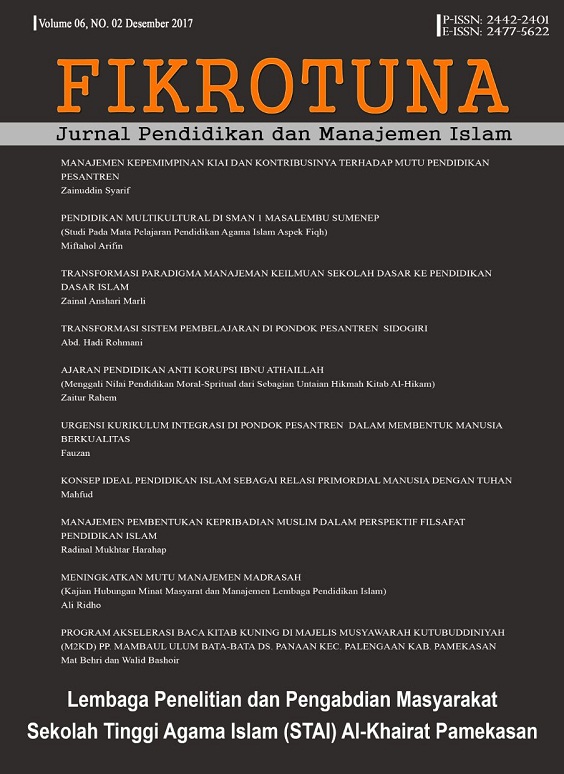 Downloads
How to Cite
Rahem, Z. (2017). Ajaran Pendidikan Anti Korupsi ibnu Athaillah (Menggali Nilai Pendidikan Moral-Sprititual dari Sebagian Untaian Hikmah Kitab Al-Hikam). FIKROTUNA: Jurnal Pendidikan Dan Manajemen Islam, 6(2). https://doi.org/10.32806/jf.v6i2.3115
License
Publishing your paper with Al FIKROTUNA: Jurnal Pendidikan dan Manajemen Islam means that the author or authors retain the copyright in the paper. Al Ihkam granted an exclusive non commercial reuse license by the author(s), but the author(s) are able to put the paper onto a website, distribute it to colleagues, give it to students, use it in your thesis etc, so long as the use is not directed at commercial advantage or toward private monetary gain. The author(s) can reuse the figures and tables and other information contained in their paper published by FIKROTUNA: Jurnal Pendidikan dan Manajemen Islam in future papers or work without having to ask anyone for permission, provided that the figures, tables or other information that is included in the new paper or work properly references the published paper as the source of the figures, tables or other information, and the new paper or work is not direct at private monetary gain or commercial advantage.
FIKROTUNA: Jurnal Pendidikan dan Manajemen Islam provides immediate open access to its content on the principle that making research freely available to the public supports a greater global exchange of knowledge. This journal is licensed under a Creative Commons Attribution-NonCommercial 4.0 International License.This license lets others remix, tweak, and build upon your work non-commercially, and although their new works must also acknowledge & be non-commercial, they don't have to license their derivative works on the same terms.
FIKROTUNA: Jurnal Pendidikan dan Manajemen Islam Open Access articles are distributed under this Creative Commons Attribution-Noncommercial 4.0 International License (CC BY-NC). Articles can be read and shared for noncommercial purposes under the following conditions:
BY: Attribution must be given to the original source (Attribution)
NC: Works may not be used for commercial purposes (Noncommercial)