Multikulturalisasi Pendidikan Islam Sejak Dini di Era Digital
Mufiqur Rahman

IAI Al-Khairat Pamekasan
Keywords:
Multiculturalism, Islamic education, Digitalization
Abstract
The failure to response digitalization evidenzed by the violence of child in the education institution and social environment that KPAI declared as the impact of digital culture and civilization that indicated instead of the failure of home's education. This paper will discuss and share an idea with literature view methode with the urgent of multicultural Islamic education. The Values of Multiculturalsm can be tought early like humanity, tolerance, respecting minority, loving a weak, keeping unity and peace, mentaining the culture. Those values can be implemented by the following methode such as;  1. al-Awamiru wa an-Nawahy (order and forbid),. 2. Taqdimu al-Qudwah al-Toyyibah (modelling), 3. Al-Tsawabu wa al-I'qobu (reward and punishment). 4. Al-Iyha'u (direct method), . 5. Metode Qisshoh(story).
References
A'bbud Abdul Ghina & Hasan Ibrahim A'dul A'l. 1990. at-Tarbiyah al-Islamiyah wa Tahaddiyat al-Asyr. Mesir: Darul fiqr al-A'roby.
Al-Akhwani, Ahmad Fu'ad at-Tarbiyah fi at-Ta'lim. (Mesir : Darul Ma'arif.
Bank, James A & Cherry A. McGee Banks. 2010. Multicultural Education: Issues and Perspective. United State of America, Willey.
Haris, Abd. 2012. Pendidikan Karakter Berbasis Tauhid, Sebuah Pendekatan Filosofis Sidoarjo: Afkarpress.
Hasan, Mohammad Tholhah. 2009. Pendidikan Anak Usia Dini dalam Keluarga Jakarta: Mitra Abadi Press.
Hasan, Mohammad Tolhah. 2018. Multiculturalisation of Islamic Education in Indonesia : an Inevitability. international conference on Islam Nusantara, National integrity, and world peace, March, 27-28.
Hashim, Che Noraini & Hasan Langgulung, "Islamic Religious Curriculum in Muslim Countries: The Experiences of Indonesia and Malaysia" Bulletin of Education & Research, Vol. 30, No. 1, June 2008.
http://m.suara.com/wawancara. Maria Ulfa : "Kekerasan pada Anak Dimulai dari Internet", diakses 10 April 2018.
Kemendikbud. 2017. Mendidik Anak di Era Digital. Jakarta: Kemendikbud.
Rahman, Mufiqur. 2017. "Demokrasi dalam Filsafat Pendidikan Barat Dan Islam (Kajian tentang Nilai-Nilai Demokrasi dan Implemntasinya dengan Konteks Pendidikan Indonesia". Cendekia : Vol 3. No. 2. Desember.
Rahman, Mufiqur. 1946. "Menakar Efektivitas Program Aflatoun dalam Pendidikan Karakter". Jurnal Pendidikan Agama Islam Vol. 3, No. 2, November.
Rosyada, Dede. 2014. "Pendidikan Multikultural Di Indonesia Sebuah Pandangan Konsepsional". Sosio Didaktika: Vol. 1, No. 1.
Tilaar, H.A.R. Multikulturalisme : 2004. Tantangan-Tantangan Besar Masa Depan dalam Tranformasi Pendidikan Nasional. Jakarta : Gramedia.
Wuryanto, AG. "Eka Wenats Digitalisasi masyarakat: Menilik Kekuatan Dan Kelemahan Dinamika Era Informasi Digital dan Masyarakat Informasi", Jurnal Ilmu Komunikasi, Vol. 1, No.2 Desember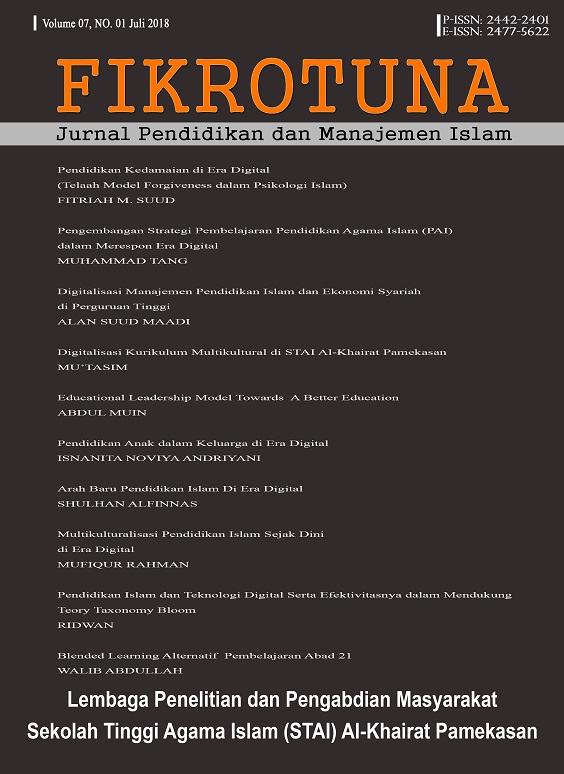 How to Cite
Rahman, M. (2018, July 29). Multikulturalisasi Pendidikan Islam Sejak Dini di Era Digital. FIKROTUNA, 7(1), 818-833. https://doi.org/https://doi.org/10.32806/jf.v7i1.3172
This work is licensed under a Creative Commons Attribution-NonCommercial 4.0 International License.

This work is licensed under a Creative Commons Attribution-NonCommercial 4.0 International License.