Digitalisasi Kurikulum Multikultural di STAI Al-Khairat Pamekasan
Keywords:
Digitalization, multicultural curriculum, higher education, STAI Al-khairat Pamekasan.
Abstract
STAI Al-Khairat at least through its curriculum has done and applied Multicultural values ​​both naturally and through digital media learning. Although multicultural looks hidden, it is not directly mentioned terminologically in concept or in learning. But explicitly or naturalistic multicultural values ​​exist and are taught even applied in the system of everyday student life. In  curriculum of multicultural value education almost taught every semester on religious studies, such as introductory study of Islam, tafseer, hadith, and tasawwuf morality. Values ​​like; al-rahmah (affection), hablunminannas (humanist), al-musawaroh (democracy / prioritizing dialogue), al-a'dl (Justice), al-tasamuh (tolerance), al- ta'ruf (togetherness), al-ta'awun (assistence), as-salam (peace), al-ta'adudiyat (plural), al-'afwu (forgiveness), al-ikhsan (positive thingking), natural and systemic (discipline / honest) discipline has been present in the campus environment.
References
Aly, Abdullah. Studi Deskriptif Tentang Nilai-Nilai Multikultural Dalam Pendidikan Di Pondok Pesantren Modern Islam Assalaam. Jurnal Ilmiah Pesantren, Vol. I. No1. Januari-Juni 2015.
Athiyyah al-Abrosy, Muhammad. At-Tarbiyah Al-Islāmiyah Wa Falasifatihā . Darul Fiqr al-Araby, tanpa tahun.
Haryati,Tri Astutik.Islam Dan Pendidikan Multikultural. Tadrîs. Vol 4. No 2. 2009.
Lash, Scott dan Featherstone, Mike. 2002. Recognition And Difference: Politics, Identity, Multiculture. London: Sage Publication.
Mahfud, Choirul. 2015. Pendidikan Multikultural. Yogyakarta: Pustaka Pelajar,
Munif, 2016. Multikulturalisme dalam Pendidikan Madrasah; Nilai, Implikasi dan Model Pengembangan. Surabaya: Imtiyaz.
Rahman, Mufiqur. 2017. Kerukunan dan Survavilitas Masyarakat Multi Etnis dan Agama di Pamekasan. Bapedda, Pamekasan
Rois, Achmad. Pendidikan Islam Multikultural Telaah Pemikiran Muhammad Amin Abdullah. Epistemé, Vol. 8, No. 2, Desember. 2013
Rustanto., Bambang. 2016. Masyarakat Multikultural di Indonesia. Bandung: PT Remaja Rosda Karya.
SK Mendiknas no. 232/u/2000 Bab 2 PAsal 2 tentang tujuan dana rah Pendidikan.
SK Mendiknas no. 232/u/2000 Bab 2 PAsal 7 tentang kurikulum inti dan kurikulum institusional.
Tholhah Hasan, Muhammad. 2017. Pengertian Dasar tentang Multikulturalisme dan Pendidikan Multicultural. Malang: Pascasarjana 3 Unisma. Bahan kuliah program doctor PAI Multikultural.
Tilaar, H.A.R. 2004. Multikulturalisme; Tantangan-Tantangan Global Masa Depan dalam Transformasi Pendidikan Nasional. Jakarta:Grasindo.
Tim, Pedoman penyusunan KKNI Kemenag Diktis Kopertais Wilyah IV Surabaya.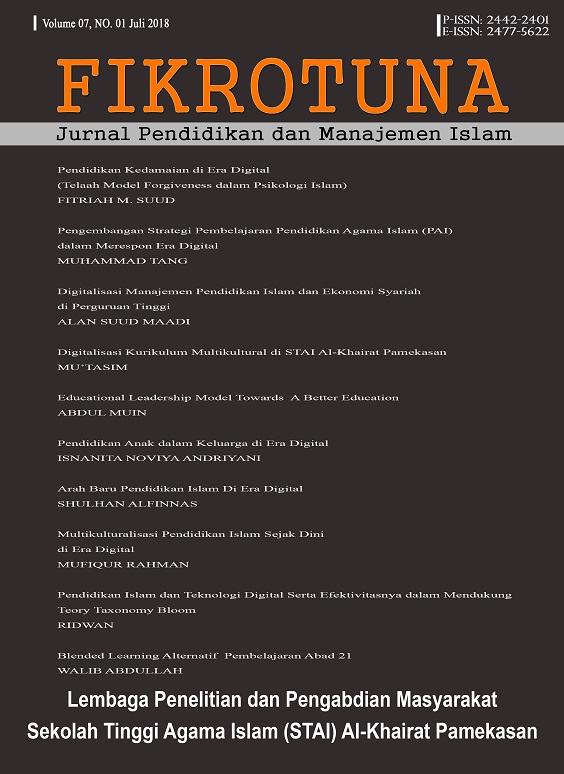 Downloads
How to Cite
Mo' tasim, M. tasim. (2018). Digitalisasi Kurikulum Multikultural di STAI Al-Khairat Pamekasan. FIKROTUNA: Jurnal Pendidikan Dan Manajemen Islam, 7(1), 760–776. https://doi.org/10.32806/jf.v7i1.3176
License
Publishing your paper with Al FIKROTUNA: Jurnal Pendidikan dan Manajemen Islam means that the author or authors retain the copyright in the paper. Al Ihkam granted an exclusive non commercial reuse license by the author(s), but the author(s) are able to put the paper onto a website, distribute it to colleagues, give it to students, use it in your thesis etc, so long as the use is not directed at commercial advantage or toward private monetary gain. The author(s) can reuse the figures and tables and other information contained in their paper published by FIKROTUNA: Jurnal Pendidikan dan Manajemen Islam in future papers or work without having to ask anyone for permission, provided that the figures, tables or other information that is included in the new paper or work properly references the published paper as the source of the figures, tables or other information, and the new paper or work is not direct at private monetary gain or commercial advantage.
FIKROTUNA: Jurnal Pendidikan dan Manajemen Islam provides immediate open access to its content on the principle that making research freely available to the public supports a greater global exchange of knowledge. This journal is licensed under a Creative Commons Attribution-NonCommercial 4.0 International License.This license lets others remix, tweak, and build upon your work non-commercially, and although their new works must also acknowledge & be non-commercial, they don't have to license their derivative works on the same terms.
FIKROTUNA: Jurnal Pendidikan dan Manajemen Islam Open Access articles are distributed under this Creative Commons Attribution-Noncommercial 4.0 International License (CC BY-NC). Articles can be read and shared for noncommercial purposes under the following conditions:
BY: Attribution must be given to the original source (Attribution)
NC: Works may not be used for commercial purposes (Noncommercial)