Educational Leadership Model Towards a Better Education
Keywords:
Leader, Leadership, Effective, Education
Abstract
Schools need a leader who can create better education for learners. The effective leader, who can understand the needs of learners and able to provide a solution, and also produce a better quality of education. In fact, the behavior of leaders relies heavily on his leadership model. Thus, the leadership model will have much effect to the quality of education. Good facilities and qualified teachers will not give anoptimal results without effective leader. Theoretically, many leadership model need to re-discussed so it can be seen the right leadership model for educational leadership. Effective leadership will be required to set up a school system where the applications can be seen from better learning activities and the result is quality learners. This discussion will emphasis on how each model of leadership influence on the quality of education. The results of this research may provide the potential impact on the advancement of education.
References
Berlian, Zainal. 2012, "Penerapan Model Kepemimpinan Transformasional dalam Dunia Pendidikan", Ta'dib, Vol. XVII, No. 02, Edisi Desember.
Bush, T. 2007. Educational Leadership and Management: Theory, Policy, dan Practice. South A frican Journal of Education. Vol. 27, No. 3
Calam, Ahmad dan Qurniati, Amnah 2016. "Merumuskan Visi dan Misi Lembaga Pendidikan", Jurnal Saintikom Vol.15, No. 1, Januari
Caldwell, B. 1992. The Principal as Leader of The Self-managing School in Australia.
Day, C., Armstrong, P. 2016. England: School Leadership Research in England.
Firestone, W A., Riehl, C. 2005. A New Agenda for Research in Educational Leadership. New York: Teachers College Press
Fitri, Rohmah, 2017, "Urgensi Evaluasi Untuk Pendidikan". Fikrotuna, Vol. 5, No. 1. July
Fletcher, J. K., & Kaufer, K. 2003. Shared Leadership: Paradox and Possibility. In C.
Imam Machali, dan Ara Hidayat. 2016. Education Management: Teori dan Praktik Pengelolaan Sekolah/ Madrasah di Indonesia. Jakarta: Kencana.
J. Pearce & C. Conger.Shared Leadership: Refram ing The How and W hays of Leadership. Thousand Oaks: Sage. Journal of Educational Administration, Vol. 30, No. 6.
Leithwood, K. 1994. Leadership for School Restructuring. Educational Administration Quarterly
McLennan A., Thurlow, M. 2003. The Context Of Education Management In South Africa. In: Thurlow, M., Bush, T., & Coleman, M. Leadership And Strategic Management In South African Schools. London: Commonwealth Secretariat.
Miller, T. W., Miller, J. M. 2001. Educational Leadership in The New Millenium: A Vision for 2020. International Journal of Leadership in Education,
Ruchanah, Hj. Siti. 2015 "Kepemimpinan Pendidikan Islam dalam Perspektif Teologis", Cendekia Vol. 13 No. 1
Sebakwane, S. 1997. The Contradiction of Scientific Management as A Mode of Controlling Teachers Work in Black Secondary School: South Africa. International Journal of Educational Development. Switzerland: Springer
Yukl, G. 1998. Kepemimpinan dalam Organisasi. Edisi Ketiga. Edisi Bahasa Indonesia. Jakarta: Prenhallindo.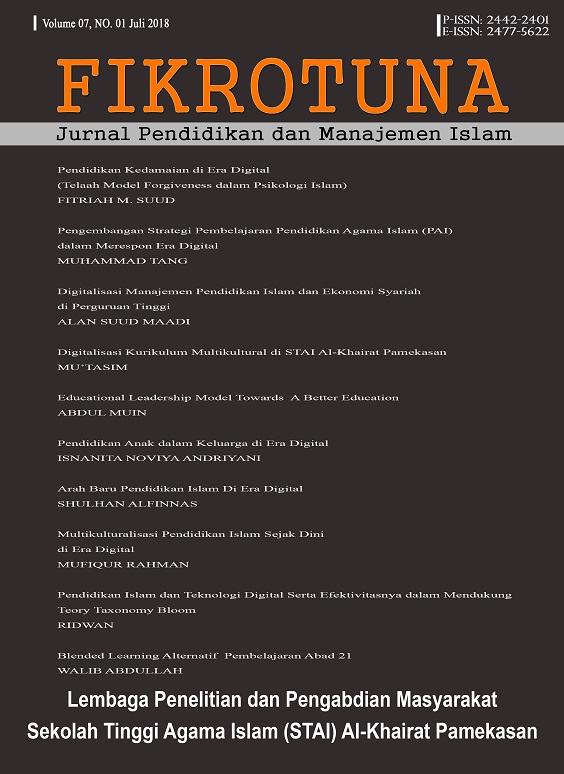 Downloads
How to Cite
Mu'in, A. (2018). Educational Leadership Model Towards a Better Education. FIKROTUNA: Jurnal Pendidikan Dan Manajemen Islam, 7(1), 777–788. https://doi.org/10.32806/jf.v7i1.3177
License
Publishing your paper with Al FIKROTUNA: Jurnal Pendidikan dan Manajemen Islam means that the author or authors retain the copyright in the paper. Al Ihkam granted an exclusive non commercial reuse license by the author(s), but the author(s) are able to put the paper onto a website, distribute it to colleagues, give it to students, use it in your thesis etc, so long as the use is not directed at commercial advantage or toward private monetary gain. The author(s) can reuse the figures and tables and other information contained in their paper published by FIKROTUNA: Jurnal Pendidikan dan Manajemen Islam in future papers or work without having to ask anyone for permission, provided that the figures, tables or other information that is included in the new paper or work properly references the published paper as the source of the figures, tables or other information, and the new paper or work is not direct at private monetary gain or commercial advantage.
FIKROTUNA: Jurnal Pendidikan dan Manajemen Islam provides immediate open access to its content on the principle that making research freely available to the public supports a greater global exchange of knowledge. This journal is licensed under a Creative Commons Attribution-NonCommercial 4.0 International License.This license lets others remix, tweak, and build upon your work non-commercially, and although their new works must also acknowledge & be non-commercial, they don't have to license their derivative works on the same terms.
FIKROTUNA: Jurnal Pendidikan dan Manajemen Islam Open Access articles are distributed under this Creative Commons Attribution-Noncommercial 4.0 International License (CC BY-NC). Articles can be read and shared for noncommercial purposes under the following conditions:
BY: Attribution must be given to the original source (Attribution)
NC: Works may not be used for commercial purposes (Noncommercial)