Digitalisasi Manajemen Pendidikan Islam dan Ekonomi Syariah di Perguruan Tinggi
Keywords:
Management of Islamic Education, Sharia Economics, Digital Era.
Abstract
Management of Islamic education and Sharia Economics has experienced rapid development and progress. The digital era brings significant changes to both dimensions of science in various aspects of life. In addition, Islamic Education Management and Sharia Economics is a national subsystem in direct contact with the pattern of community life. So it is necessary to get around and find solutions by looking at the various opportunities and challenges in printing golden generation is multidimensional. This paper will describe the strategies, opportunities and challenges of Islamic education management and Islamic economics in universities in the digital era with a library research approach. Furthermore, in this paper will also describe the condition of the global level to provide an overview of the Indonesian context. the results of this study that the opportunities and challenges of universities in internal and external aspects. The strategy by improving the scientific culture of digital learning trends and virtual based services.
References
Arifi, Muhammad. 2010. Politik Pendidikan Islam: Menelusuri Ideologi dan Aktualisasi Pendidikan Islam di Tengah Arus Globalisasi. Cet-1, Yogyakarta: Penerbit teras.
Dirkx, J. M.; Amey, M.; and Haston, L. 1999. "Context in the Contextualized Curriculum: Adult Life Worlds as Unitary or Multiplistic?" In Proceedings of the 18th Annual Midwest reserach to Practice Conference in Adult, Continuing, and Community Education, edited by A. Austin, G. E. Nynes, and R. T. Miller. St. Louis: University of Missouri at St. Louis.
Djohar. 2006. Pengembangan Pendidikan Nasional Menyongsong Masa Depan. Yogyakarta: Grafika Indah.
Daulay, Putra, Haidar. 2012. Pendidikan Islam dalam Sistem Pendidikan Nasional di Indonesia. Cet-3. Jakarta: Kencana.
E- Newsletter Universitas Padjadjaran. GENTRA. Edisi 3. Sabtu 17 Februari 2018.
Nata, Abuddin. 2004. Kapita Selekta. Jakarta: Rajagrafindo Persada.
Mahalli, Imam dan Hidayat, Ara. The Handbook of Education Management: teori dan Praktek Pengelolaan Sekolah/Madrasah di Indonesia. Magister Pendidikan Islam UIN Sunan Kalijaga Yogyakarta.
Markum, Enoch, M. 2017. Pendidikan Tinggi dalam PerspektifSejarah dan Perkembangannya di Indonesia. Jakarta: Penerbit Universitas Indonesia.
Nurgiantoro, Burhan. 1995. Teori Pengkajian Fiksi. Yogyakarta: Gajah Mada University Press.
Rahmat, Ginanjar. 2014. "Masa Depan Pendidikan Bernama E-Leraning," dalam Nur Janti, dkk. Online! Geliat Manusia dalam Semesta Maya, cet ke-1. Yogyakarta: Ekspresi Buku Lpm Ekspresi, 2014.
Salim, Emil, dkk. 1997, Manajemen dalam Era Globalisasi, Jakarta: PT. Elex Media Komputindo.
Syaparuddin, "Rekonstruksi Pembelajaran Ekonomi Islam Pada Perguruan Tinggi Agama Islam: Antisipasi Pengembangan Ke Depan":, Jurnal At-Taradhi, Vol 3 No:1, Juni 2012.
Tjiptino, Fandy dan Santoso, Budi, Totok. 2010. Strategi Riset Lewat Internet. Yogyakarta: Andi.
Oey-Gardiner, Mailing Dkk. 2017. Era Disrupsi Peluang dan Tantangan Pendidikan Tinggi Indonesia, Cet-3. Akademi Ilmu Pengetahuan Indonesia (AIPI).
https://ristekdikti.go.id/persaingan-di-era-globalisasi-dan-ekonomi-digital/, diakses 26 Mei 2018.
https://www.ristekdikti.go.id/pengembangan-iptek-dan-pendidikan-tinggi-di-era-revolusi-industri-4-0-2/ diakses 27 Mei 2018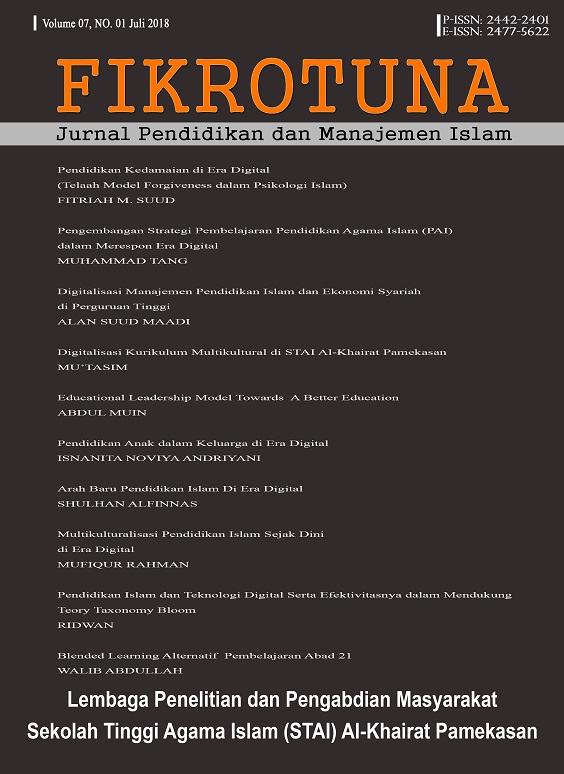 Downloads
How to Cite
Maadi, A. S. (2018). Digitalisasi Manajemen Pendidikan Islam dan Ekonomi Syariah di Perguruan Tinggi. FIKROTUNA: Jurnal Pendidikan Dan Manajemen Islam, 7(1), 741–759. https://doi.org/10.32806/jf.v7i1.3185
License
Publishing your paper with Al FIKROTUNA: Jurnal Pendidikan dan Manajemen Islam means that the author or authors retain the copyright in the paper. Al Ihkam granted an exclusive non commercial reuse license by the author(s), but the author(s) are able to put the paper onto a website, distribute it to colleagues, give it to students, use it in your thesis etc, so long as the use is not directed at commercial advantage or toward private monetary gain. The author(s) can reuse the figures and tables and other information contained in their paper published by FIKROTUNA: Jurnal Pendidikan dan Manajemen Islam in future papers or work without having to ask anyone for permission, provided that the figures, tables or other information that is included in the new paper or work properly references the published paper as the source of the figures, tables or other information, and the new paper or work is not direct at private monetary gain or commercial advantage.
FIKROTUNA: Jurnal Pendidikan dan Manajemen Islam provides immediate open access to its content on the principle that making research freely available to the public supports a greater global exchange of knowledge. This journal is licensed under a Creative Commons Attribution-NonCommercial 4.0 International License.This license lets others remix, tweak, and build upon your work non-commercially, and although their new works must also acknowledge & be non-commercial, they don't have to license their derivative works on the same terms.
FIKROTUNA: Jurnal Pendidikan dan Manajemen Islam Open Access articles are distributed under this Creative Commons Attribution-Noncommercial 4.0 International License (CC BY-NC). Articles can be read and shared for noncommercial purposes under the following conditions:
BY: Attribution must be given to the original source (Attribution)
NC: Works may not be used for commercial purposes (Noncommercial)