Implementasi Pendidikan Karakter Islam di Sekolah Dasar Islam Terpadu Ikhtiar Makassar
Keywords:
Islamic Character Education, Millennial Era
Abstract
This article explores the Implementation of Islamic Character Education in Millenial Era in Integrated Islamic Elementary School Ikhtiar Makassar; the approach used is qualitative descriptive and collecting data through: 1) Observation, 2) Interviews and 3) documentation directly at the Locus of Research. The results of the research carried out illustrated that the SDIT efforts in shaping the character of its students in accordance with the character of Islam and the goal of national education in millenial era carries out various efforts in daily routines in schools, those were: 1) through fostering faith and piety to Allah, 2) through learning process, 3) through the implementation of flag ceremonies and 4) through the enforcement of school rules, attitudes and culture. The values ​​of Islamic characters that are created in these 4 activities include: 1) Love, Obedience, and obeying the commands of Allah and His Messenger, 2) love of science, respect for teachers, cooperation, diligence, confidence, discipline, obedience to regulations agreed, 3) homeland love, nationalism, patriotism and idealism and 4) siddiq character, fathanah, trust, tabligh and just and humble
References
Al-Qur'an dan Terjemahannya. Departemen Agama RI. Bandung: Diponegoro, 2008.
HR al-Bukhâri, no. 3149 dan Muslim, no. 1057
Barnawi dan M. Arifin. Strategi Dan Kebijakan Pembelajaran Pendidikan Karakter. Jogjakarta: Ar-Ruzz, 2013.
Doni, A., Koesoema. Pendidikan Karakter: Mendidik Anak di Zaman Global. Jakarta: Grasindo, 2007.
Elkind, David H. dan Sweet, Freddy. How to Do Character Education. Artikel. 2004.
Gunawan, H. Pendidikan Karakter. Bandung: Alfabeta, 2012.
Lickona, Thomas. Educating for Character: How Our School Can Teach Respect and Responsibility. New York, Toronto, London, Sydney, Aucland: Bantam books, 1991.
Ma'mur, Jamal. Buku Panduan Internalisasi Pendidikan Di Sekolah, Yogyakarta: Diva Press, 2012.
Majid, Abdul.Dan Dian Andayani. Pendidikan Karakter Persepektif lslam, Bandung: Remaja Rosdakarya, 2012.
Muhaimin, Akhmad. Urgensi Pendidikan Karakter di Indonesia, Yogyakarta: Ar-Ruzz Media, 2013.
Mustari, Mohamad. Nilai Karakter Refleksi Untuk Pendidikan, Raja Grafindo Persada: Jakarta, 2014.
Pupuh, Fathurrohman. Strategi Belajar Mengajar, Bandung: PT Refika Aditama, 2007.
Putra, Yanuar Surya. Theoritical Review: Teori Perbedaan Generasi. Among Makarti 9 No. 18. (2016).
Suyitno, Imam..Pengembangan Pendidikan Karakter dan Budaya Bangsa Berwawasan Kearifan Lokal. Jurnal Pendidikan Karakter II, no. 1 (2011)
Syifa, Ainis.. Pendidikan Karakter dalam Perspektif Islam, Jurnal Pendidikan, 08, No. 01, (2014)
Tim Redaksi, Tesaurus Bahasa Indonesia. Jakarta: Departemen Pendidikan Nasional, 2008.
Wibowo, Agus, dan Sigit Purnama. Pendidikan Karakter di Perguruan Tinggi, Yogyakarta: Pustaka Pelajar, 2013.
Zubaedi. Desain Pendidikan Karakter: Konsepsi Dan Aplikasi Dalam Lembaga Pendidikan, Jakarta: Kencana, 2012.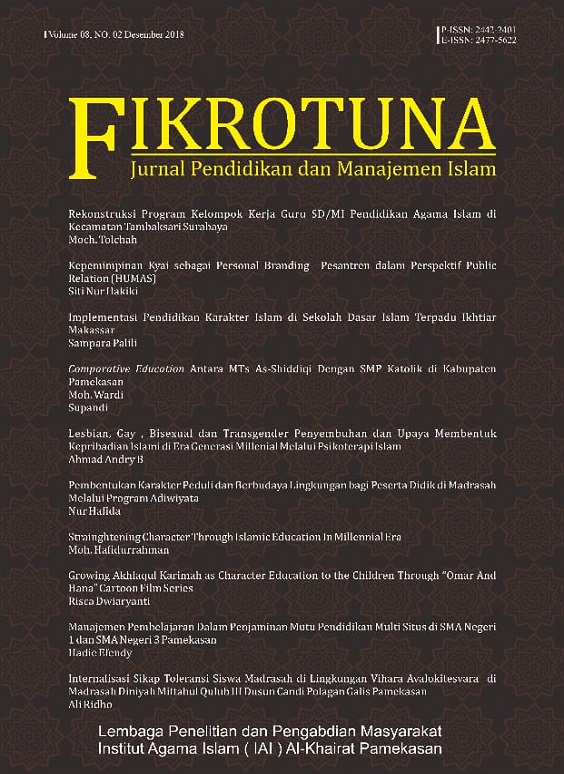 Downloads
How to Cite
PALILI, S. (2018). Implementasi Pendidikan Karakter Islam di Sekolah Dasar Islam Terpadu Ikhtiar Makassar. FIKROTUNA, 8(2), 904–921. https://doi.org/10.32806/jf.v8i2.3252
License

Fikrotuna by http://ejournal.kopertais4.or.id/madura/index.php/fikrotuna/index is licensed under a Creative Commons Attribution-NonCommercial 4.0 International License.