Lesbian, Gay , Bisexual dan Transgender Penyembuhan dan Upaya Membentuk Kepribadian Islami di Era Generasi Millenial melalui Psikoterapi Islam
Ahmad Andry B

Institut Agama Islam Al-Khairat Pamekasan
Keywords:
Millennial Generation, LGBT, Islamic Psychotherapy
Abstract
This article basically discusses how to form a millennial generation of Islamic personality whose main focus is to cure adolescents infected with lesbian, gay, bisexual and transgender (LGBT) viruses.the rapid development of technology and the ease of accessing the internet have become the entrances to the millennial LGBT virus, so as to cure teenagers infected by LGBT virus, one of the is Islamic psychotherapy which uses sufism or tasawwuf approaches including takhalli, tahalli and tajalli. Islamic psychotherapy can cure several diseases, namely mental, spiritual and moral disorders, even delivering humans to Islamic personalities who are pious, clean, holy and find the existence of an essential god.
References
Amin, Munir S..Bimbingan dan Konseling Islam, Jakarta. Amzah, 2010.
Amiruddin.Ms. Psikoterapi Dalam Islam. Dosen Tetap Fakultas Ilmu Tarbiyah dan Keguruan UIN Sumatera Utara
Anshori. Fuad.Aplikasi Psikologi Islam. Yogyakarta. Psikologi, 2000
Cory, D.W. The homosexual in America: A Subjective Approach. New York. Greenberg, 1951.
Daradjat, Zakiah. Ilmu Jiwa Agama. Jakarta. Bulan Bintang, 1970.
Hamdani Bakran. Konseling dan Psikoterapi Islam. Yogakarta. Fajar Pustaka Baru, 2006.
Jalaluddin. Psikologi Agama. Jakarta. PT Raja Grafindo Persada, 2010
Kupperschmidt, B. R. "Multigeneration Employees: Strategies for Effective Management; the Health Care Manager." 19. No. 1 (2000).
Lari, Sayid. Etika dan Pertumbuhan Spiritual, Terj. Muhammad Hasyim Assagaf. Jakarta. Lentera, 2001.
Luntungan dkk. "Strategi Pengelolaan Generasi Y di Industri Perbankan." Jurnal Manajemen Teknologi 13. No.2, (2014).
Lyons, S. An Exploration of Generational Values In Life And At Work. ProQuest Dissertations and Theses, 2004.
Mannheim, K. "The Problem of Generations". Essays on the Sociology of Knowledge, 24. No. 19, (1952): 276-322
Musti'ah. Lesbian, Gay, "Bisexual And Transgender (LGBT): Pandangan Islam, Faktor Penyebab,Dan Solusinya." Jurnal Pendidikan Sosial 3, No 2 (2016).
Prasetyanti. Generasi Millenial dan Jejaring Teman Ahok. Jurnal Polinter Prodi Ilmu Politik FISIP UTA'45 Jakarta 3 No 1. (2017).
Ryder, N. B. "The Cohort as a Concept in the Study of Social Change". American Sociological Review, 30. No.6, (1965) :843–861.
Santoso, Meilani B. "LGBT Dalam Perspektif HAM." Social Work Jurnal. Vol 2. (2008). 154-272
Strauss, W., & Howe, N. Generations: The history of America's future, 1584 to 2069. New York. William Morrow & Co, 1991.
Syukur Amin. Tasawuf Sosial. Yogyakarta. Pustaka pelajar, 2004.
Thouless, Robert H. Pengantar Psikologi Agama, Terj Machnun Husein. Jakarta. Rajawali, 1992.
Zimbardo, Philip G. Essential of Psychology and Life, 10 Th. Ed. London. Foresman and Company, 1979.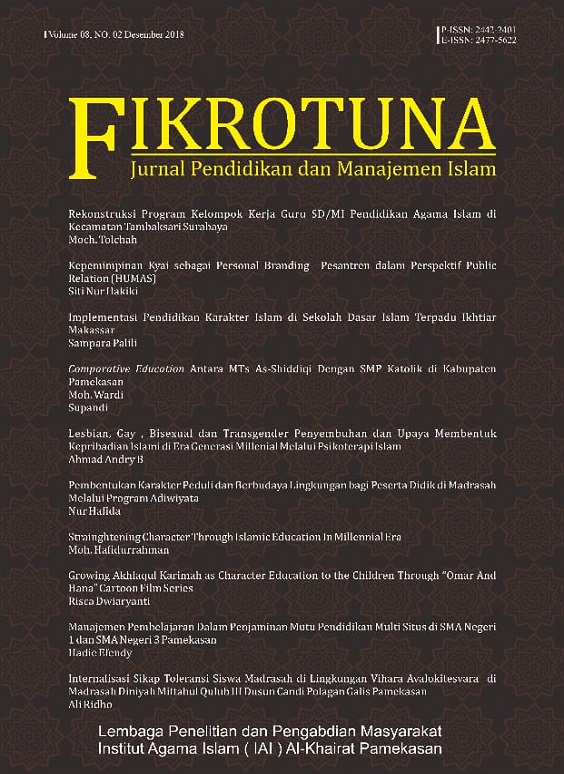 How to Cite
B, A. (2018, December 31). Lesbian, Gay , Bisexual dan Transgender Penyembuhan dan Upaya Membentuk Kepribadian Islami di Era Generasi Millenial melalui Psikoterapi Islam. FIKROTUNA, 8(2), 934-949. https://doi.org/https://doi.org/10.32806/jf.v8i2.3253
This work is licensed under a Creative Commons Attribution-NonCommercial 4.0 International License.

This work is licensed under a Creative Commons Attribution-NonCommercial 4.0 International License.