Comparative Education antara MTS As-Shiddiqi dengan SMP Katolik di Kabupaten Pamekasan
Moh Wardi

STAI Nazhatut Thullab Sampang

Supandi Supandi
Keywords:
comparison of education, Islam, catholic
Abstract
  Building harmonious and peaceful interaction between communities of different religions, is necessary to change the theological paradigm; that is passive, textual, and exclusive, leading towards the theology of inclusive, mutual respect, mutual recognition of existence, thinking and being positive among others. The paradigm of plural education in the future is democratic education, this can only be realized in a democratic society, nation and country. By providing the opportunities for the implementation of harmony and peace. The author describes about the Comparison of Islamic Education with Non-Islam (comparative study in Madrasah Tsanawiyah As-Shiddiqi and Catholic Junior High Schools (SMP) in Pamekasan Regency). The different point of these two educational institutions is the allocation of lesson hour (JTM). In Islamic Education is 2 hours a week in each religious material including Fiqh, Al-Quran, Aqidah and SKI subjects. Whereas in Catholic education is only given about 2 lessons, and the other is the same as other general education. For educational institutions that are specified into Uskupan or Romo, the applied curriculum is a matter of theology, such as seminaries starting from senior high school until university
References
Assegaf, Abdurrahman. Internasionalisasi Pendidikan; Sketsa Perbandingan Pendidikan di Negara-Negara Islam dan Barat, Yogyakarta: Gama Media, 2003.
Azra, Azyumardi. Esai-Esai Intelektual Muslim dan Pendidikan Islam, Jakarta: Logos Wacana ilmu, 1999.
Azra, Azyumardi.Pendidikan Islam, Tradisi dan Modernisasi Menuju Milenium Baru Jakarta: Logos Wacana Ilmu, 1999
Fajar, Malik.Visi Pembaharuan Pendidikan Islam. Jakarta Pusat: CV. Alfa Grafik utama, 1998
Flower, Rapunspel. Cara Pintar Ala Einstein, Terj. Doel Wahab, Bandung: Dar Mizan, 2007
Hasan, Hamid."Pendekatan Multikultural Untuk Penyempurnaan Kurikulum Nasional",Jurnal Pendidikan dan Kebudayaan, Jakarta: Edisi Bulan Januari-November, 2000
Khisbiyah,Yayah.Mencari Pendidikan Yang Menghargai Pluralisme dalam Membangun Masa Depan Anak-anak Kita, Yogyakarta: Kanisius, 2000
Mastuhu, Memberdayakan Sistem Pendidikan Islam, Jakarta: Logos Wacana Ilmu, 1999
Nizar, Samsul.Sejarah Dan Pergolakan Pemikiran Pendidikan Islam, Ciputat: Quantum Teaching, 2005.
Susanto, Edi."Pendidikan Agama Berbasis Pluralitas (Upaya Strategis Menghindari Radikalisme)." KARSA Jurnal Studi KeIslaman, IX No. 1 (April 2006)
Tholkhah, Imam dan Ahmad Barizi, Membuka Jendela Pendidikan, Mengurai Akar Tradisi dan Integrasi Keilmuan Pendidikan Islam. Jakarta: PT. Raja Grafindo Persada
Tilaar, H.A.R. Pluralitasisme, Tantangan-Tantangan Global Masa Depan dalam Transformasi Pendidikan Nasional. Jakarta: PT Grasindo, 2003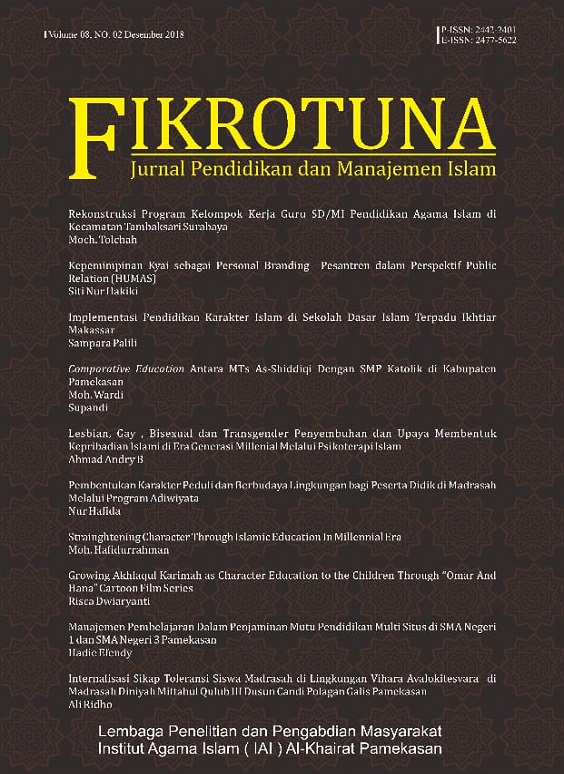 How to Cite
Wardi, M., & Supandi, S. (2018, December 31). Comparative Education antara MTS As-Shiddiqi dengan SMP Katolik di Kabupaten Pamekasan. FIKROTUNA, 8(2), 922-933. https://doi.org/https://doi.org/10.32806/jf.v8i2.3255
This work is licensed under a Creative Commons Attribution-NonCommercial 4.0 International License.

This work is licensed under a Creative Commons Attribution-NonCommercial 4.0 International License.