Dinamika Pendidikan Pesantren
Keywords:
Dynamics, Pesantren Education
Abstract
Pesantren is a form of the normal process of development of the national education system and contains the meaning of authenticity (indigenius) of Indonesia. Along with the times, pesantren have experienced various changes from time to time. Currently the pesantren is in a dilemma position. On the one hand it must preserve its characteristics, on the other hand pesantren have a great responsibility in carrying out the mandate of Islamic da'wah which is always faced with the conditions of the times which are always changing. From time to time pesantren with its elements have experienced many changes to address the various demands that occur in the midst of society. Islamic boarding schools which were originally known as traditional education are now able to survive as an alternative educational institution that educates and continues to exist today and in the future. This writing aims to find and describe the five basic elements of the pesantren and its development, as well as its fundamental values. A qualitative approach with descriptive analysis is an important point to be used as a tool and writing technique. The results show that pesantren always try to respond to the flow of modernization that occurs outside of themselves by taking positive things by developing five basic elements of pesantren without leaving identity as traditional pesantren. At least there are at least five fundamental values ​​that can be taken from the pesantren educational institution, then it can be used as an alternative education that can educate students or students. Includes aspects of tarbiyah / education implementation of lifelong education, ubudiyah / spirituality commitment tafaqquh fi ad-din, khuluqiyah / morality moral service center, ijtima'iyah / pesantren society is a small society and riyadhiyah / entrepreneurship business skills development.
References
Daftar Pustaka

Al-Quran dan Terjemah, 1985. Jakarta: Departemen Agama.
Choirman,Anis, 2010. Dinamika Pendidikan Pesantren, Salatiga.
Daulay, Haidar Putra, 2004. Pendidikan Islam dalam Sistem Pendidikan Nasional di Indonesia, Jakarta: Kencana.
Departemen Agama RI, 2002. Pola Pengembangan Pondok Pesantren, Surabaya: Departemen Agama.
Dhofier, Zamakhsyari, 1984. Tradisi Pesantren, Jakarta: LP3ES.
Fahham, Achmad Muchaddam, 2015. Pendidikan Pesantren: Pola Pengasuhan, Pembentukan Karakter, dan Perlindungan Anak, Jakarta: P3DI Sekjen DPR RI.
Ghazali, Bahri, 2003. Pesantren Berwawasan Lingkungan, Jakarta: Prasasti.
Kementrian Agama RI, "Analisis dan Interpretasi Data pada Pondok Pesantren, Madrasah Diniyah dan Taman Pendidikan Quran Tahun Pelajaran 2011-2012 dalam http//pendis.kemenag.go.id (24 Januari 2013)
Mastuhu, 1994. Dinamika Sistem Pendidikan Pesantren, Jakarta: INIS,.
Masyhud, M. Sulthon Masyhud dan Khusnurdilo, M, 2003. Manajemen Pondok Pesantren, Jakarta: Diva Pustaka,
Mubaraq, Zulfi. 2012. Perilaku Politik Kiai Pandangan Kiai dalam Konspirasi Politik, Malang: UIN-Maliki Press,.
Mutohar, Ahmad dan Anam,Nurul. 2013. ManifestoModernisasi Pendidikan Islam dan Pesantren, Yogyakarta: Pustaka Belajar,.
Tim Penulis, 2004. Intelektualisme Pesantren, Potret Tokoh dan Cakrawala Pemikiran di Era Pertumbuhan Pesantren, Jakarta: Diva Pustaka.
Wahid, Abdurrahman. 2007. Menggerakkan Tradis; Esai-Esai Pesantren, Yogyakarta: LKis Yogyakarta,.
Yatim, Badri. 2014. Sejarah Peradaban Islam, Jakarta: Raja Grafindo Persada.
Ziemek, Manfred. 1986. Pesantren dalam Perubahan Sosial, Jakarta: P3M.
Zuhairini, dkk. 2015. Sejarah Pendidikan Islam, Jakarta: Bumi Aksara.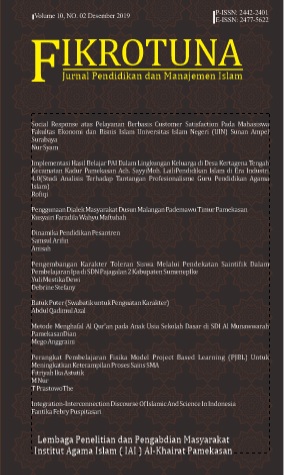 Downloads
How to Cite
samsul, arif, & Anisah, A. (2019). Dinamika Pendidikan Pesantren. FIKROTUNA: Jurnal Pendidikan Dan Manajemen Islam, 10(02), 1271–1291. https://doi.org/10.32806/jf.v10i02.3764
License
Publishing your paper with Al FIKROTUNA: Jurnal Pendidikan dan Manajemen Islam means that the author or authors retain the copyright in the paper. Al Ihkam granted an exclusive non commercial reuse license by the author(s), but the author(s) are able to put the paper onto a website, distribute it to colleagues, give it to students, use it in your thesis etc, so long as the use is not directed at commercial advantage or toward private monetary gain. The author(s) can reuse the figures and tables and other information contained in their paper published by FIKROTUNA: Jurnal Pendidikan dan Manajemen Islam in future papers or work without having to ask anyone for permission, provided that the figures, tables or other information that is included in the new paper or work properly references the published paper as the source of the figures, tables or other information, and the new paper or work is not direct at private monetary gain or commercial advantage.
FIKROTUNA: Jurnal Pendidikan dan Manajemen Islam provides immediate open access to its content on the principle that making research freely available to the public supports a greater global exchange of knowledge. This journal is licensed under a Creative Commons Attribution-NonCommercial 4.0 International License.This license lets others remix, tweak, and build upon your work non-commercially, and although their new works must also acknowledge & be non-commercial, they don't have to license their derivative works on the same terms.
FIKROTUNA: Jurnal Pendidikan dan Manajemen Islam Open Access articles are distributed under this Creative Commons Attribution-Noncommercial 4.0 International License (CC BY-NC). Articles can be read and shared for noncommercial purposes under the following conditions:
BY: Attribution must be given to the original source (Attribution)
NC: Works may not be used for commercial purposes (Noncommercial)