Analisis Efektifitas Pembelajaran Online pada Masa Pandemi Covid-19
SOFYAN BUDI

Islamic State University of Sunan Ampel Surabaya

Isa Anshori

Universitas Islam Negeri Surabaya
Abstract
This study aims to analyze learning in networks in the midst of the COVID-19 outbreak that is sweeping across the globe. It is also sufficient to make some educational institutions make changes in the learning process drastically. Of course, very big impact on the effectiveness of learning. One of them felt a significant impact on the environment of students in Indonesia. This study uses a survey method to fill in a number of questionnaires conducted online with the use of Google forms. This time the survey included students of the city of Mojokerto precisely the students of Majapahit Islamic University. The use of technology used by the campus and its effectiveness in the learning process. The results showed that: (1) the majority of students already had the basic facilities needed to take part in online learning; (2) online learning has flexibility in its implementation and is able to encourage the emergence of learning independence and motivation to be more active in learning; and (3) distance learning encourages the emergence of social distancing behavior and minimizes the emergence of student crowds so that it is considered able to reduce the potential for the spread of Covid-19 in the campus environment.
References
Aji, Rizqon Halal Syah. (2020). "Dampak Covid-19 pada Pendidkan di Indonesia: Sekolah, Keterampilan, dan Proses Pembelajaran". SALAM: Jurnal Sosial & Budaya Syar-i. 7 (5).
Ali, Riyadi Ahmad. (2010). Filsafat Pendidikan Islam.Yogyakarta, (Penerbit Teras: Pustaka Setia).
Anshori,Isa. (2019). "Analisis Kritis Terhadap Anatomi Teori Strukturalisme Claude Levi-Strauss (Larangan Incest dalam Sistem Pernikahan dan Kekerabatan, Serta Relevansinya dengan Pendidikan Islam)." Halaqa : Islamic Education Journal. 3 (1). http://ojs.umsida.ac.id/index.php/halaqa/article/view/2127
Azzahra, Nadia Fairuza. (2020). "Mengkaji Hamabatan Pembelajaran Jarak jauh di Indonesia di Masa Pandemi Covid-19". Artikel CIPS Center for Indonesian Policy Studies.
Firman, dkk. (2020). "Pembelajaran Online di Tengah Pandemi Covid-19". Indonesian Journal of Educational Science (IJES). 2 (2).
Hikmat, dkk. (2020). "Efektifitas Pembelajaran Daring Selama Masa pandemic Covid-19: Sebuah Survey Online". (Paper Presented in Universitas Islam negeri Sunan Gunung Jati, Bandung).
Ikhwan, Ananda Nurul. (2020). "Penggunaan Software Dalam Pembeljaran Kampus Di Masa Pandemi Covid-19: Studi Literatur". (Paper Presented in Universitas Islam Negeri Sumatera Utara, Medan).
Khasanah, Dian Ratu Ayu Uswatun, dkk. (2020). "Pendidikan Dalam Masa Pandemi Covid-19". Jurnal Sinestesia. 10 (1).
Pakpahan, Roida, dkk. (2020). "Analisa Pemanfaatan Teknologi Informasi Dalam Pembelajaran Jarak Jauh Di Tengah Pandemi Virus Corona COVID-19". Journal of Information System, Applied, Management, Accounting and Research. 4 (2).
Pujilestari, Yunita. (2020). "Dampak Positif Pembelajaran Online Dalam Sistem Pendidikan Indonesia Pasca Pandemi Covid-19". 'ADALAH. Buletin Hukum dan Keadilan. 4 (1).
Wibowo, Faris Agung Nur. (2020). "Media Pembelajaran E-Learning saat PJJ (Pendidikan Jarak jauh)". (Paper presented in Universitas Negeri Jember, Jember).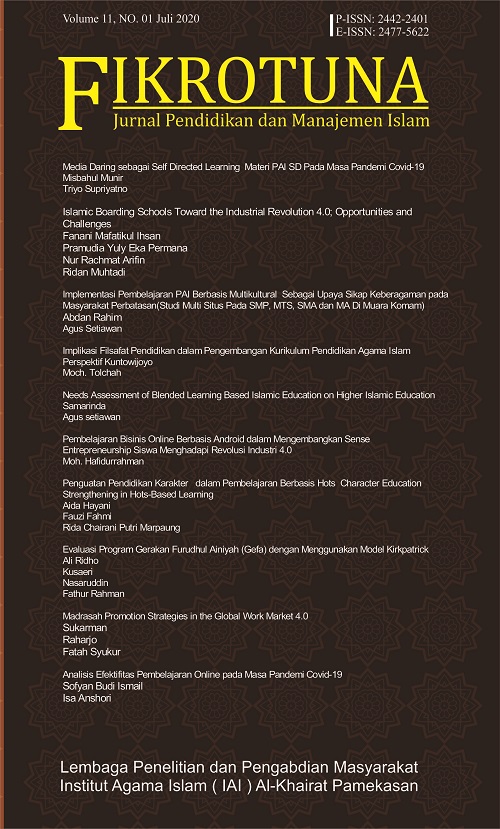 How to Cite
BUDI, S., & Anshori, I. (2020, July 31). Analisis Efektifitas Pembelajaran Online pada Masa Pandemi Covid-19. FIKROTUNA, 11(01). https://doi.org/https://doi.org/10.32806/jf.v11i01.3893
This work is licensed under a Creative Commons Attribution-NonCommercial 4.0 International License.

This work is licensed under a Creative Commons Attribution-NonCommercial 4.0 International License.