Penguatan Pendidikan Karakter dalam Pembelajaran Berbasis Hots Character Education Strengthening in Hots-Based Learning
Aida Hayani

Pascasarjana UIN Sunan Kalijaga Yogyakarta

Fauzi Fahmi

Rida Chairani Putri Marpaung
Keywords:
Strengthening Character Education, Learning, HOTS
Abstract
The problematic phenomenon of the increasing cases of juvenile delinquency that arises today, both in terms of quantity and quality can be used as a measurement of the decline in ethics, morals and character of the nation as the originator of the golden generation of the future. This phenomenon certainly cannot be separated from the role of education, especially education in schools/madrasas. In connection with this phenomenon the government promotes the strengthening of character education to overcome existing problems. The current 2013 curriculum is a government effort to improve the existing system. Improvements are made by changing the content standards and process standards. The hope of the government with curriculum changes can help students to improve their ability to think creatively and innovatively at a high level in preparing young people who excel to face global challenges. This study aims to change the new paradigm in learning that emphasizes the strengthening of HOTS-based character education in order to produce superior generations of the digital age. This study used a qualitative approach with case study design. Data collection techniques through observation, interviews and documentation. High-level abilities can be realized by practicing through learning in the classroom. Supporting learning to improve the ability to think highly is through contextual and meaningful learning.
References
Barak, M. &Dori, Y.J. 2009.Enhancing Higher Order Thinking Skills Among Inservice Science Teachers Via Embedded Sssessment.Published Online: 28 July 2009. Springer Science+ Business Media, B.V. 2009: J Sci Teacher Educ (2009). 20: 459-474. Doi: 10.1007/S 10972-009-9141-Z.
Budi Cahyono, "Analisis Ketrampilan Berfikir Kritis Dalam Memecahkan Masalah Ditinjau Perbedaan Gender," Aksioma, 2017, Https://Doi.Org/10.26877/Aks.V8i1.1510.
Endang Komara, "Penguatan Pendidikan Karakter Dan Pembelajaran Abad 21," Sipatahoenan: South-East Asian Journal For Youth, Sports & Health Education, 2018.
Https://Databoks.Katadata.Co.Id/Datapublish/2017/02/10/84-Anak-Indonesia-Alami-Kekerasan-Di-Sekolah, Diakses Pada Tanggal 28 Oktober 2019 Pukul 15.48 Wib.
Https://Www.Liputan6.Com/News/Read/3476521/Cegah-Tawuran-Siswa-Sd-Di-Purwakarta-Polisi-Bakal-Pimpin-Upacara Diakses Pada Tanggal 20 Agustus 2019 Pukul 16.55
Https://Www.Liputan6.Com/News/Read/3880325/Siswi-Sd-Di-Probolinggo-Dicabuli-Oleh-Dua-Teman-Sekelasnya. Diakses Pada Tanggal 20 Agustus 2019 Pukul 16.47 Wib.
Kemendikbud Ri, Press Workshop: Implementasi Kurikulum 2013, Kementrian Pendidikan Dan Kebudayaan Republik Indonesia (2014).
Merta Dhewa Kusuma Et Al., "The Development Of Higher Order Thinking Skill (Hots) Instrument Assessment In Physics Study," Iosr Journal Of Research & Method In Education (Iosrjrme), 2017, Https://Doi.Org/10.9790/7388-0701052632.
Miles, M.B. &Huberman, A. M. Analisisdata Kualitatif (Terjemahan tjetjeprohendi Rohidi). Jakarta: Ui­Press, 1992.
Nanda Ayu Setiawati, "Pendidikan Karakter Sebagai Pilar Pembentukan Karakter Bangsa," Seminar Nasional Tahunan Fakultas Ilmu Sosial Universitas Negeri Medan, 2017.
Nasution, S., Asas-Asaskurikulum (Edisikedua),Jakarta: Bumiaksara, 2010.
Rasid Yunus, "Transformasi Nilai-Nilai Budaya Lokal Sebagai Upaya Pembangunan Karakter Bangsa," Jurnal Penelitian Pendidikan, 2016.
Ririn Nursanti, "Manajemen Peningkatan Akhlak Mulia Di Sekolah Berbasis Islam", Jurnal Kependidikan, Vol. Ii, No. 2, (November 2014).
Santy Andrianie, "Meningkatkan Keterampilan Empati Siswa Sekolah Dasar Melalui Paket Bimbingan Peningkatan Empati," Jurnal Bikotetik, Volume 01, Nomor 02, (2017).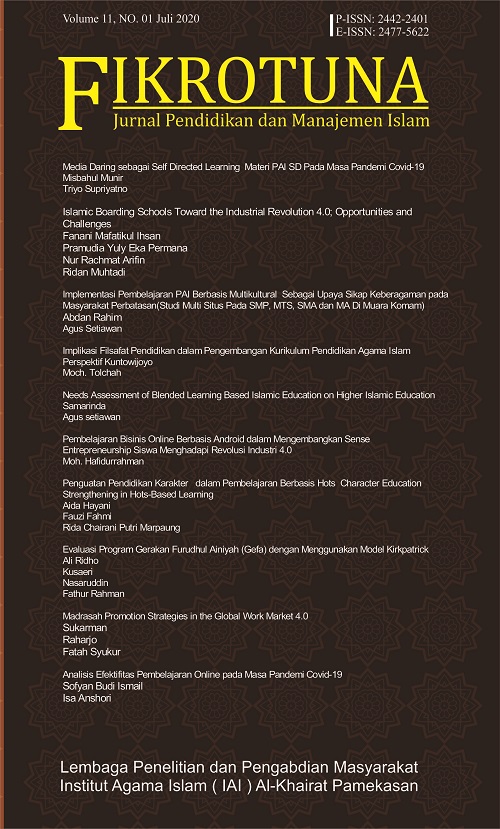 How to Cite
Hayani, A., Fahmi, F., & Putri Marpaung, R. (2020, July 31). Penguatan Pendidikan Karakter dalam Pembelajaran Berbasis Hots Character Education Strengthening in Hots-Based Learning. FIKROTUNA, 11(01). https://doi.org/https://doi.org/10.32806/jf.v11i01.3936
This work is licensed under a Creative Commons Attribution-NonCommercial 4.0 International License.

This work is licensed under a Creative Commons Attribution-NonCommercial 4.0 International License.